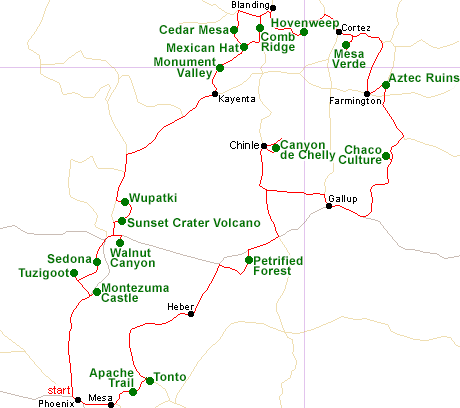 Day 1 - Phoenix to Sedona, 140 miles
The tour begins by driving north along I-17 to the spectacular cliff dwelling of
Montezuma Castle
, followed by a visit to the hill-top ruins at
Tuzigoot
near Clarkdale. Scenic AZ 89A then leads to
Sedona
, Arizona's second most popular destination, at the entrance to Oak Creek Canyon.
Day 2 - Sedona to Kayenta, 190 miles:
The next Indian site is just east of Flagstaff, 40 miles from Sedona, at
Walnut Canyon
, where many cliff dwellings can be seen via a short, steep trail. Also near Flagstaff,
Wupatki National Monument
features several photogenic, preserved, red rock ruins surrounded by flat, sandy desert; toured by a quiet backroad that also passes the volcanic landscapes of
Sunset Crater
. A two hour drive north and east on little-traveled roads through the heart of the Navajo Indian Reservation leads to Kayenta, along the southern approach to Monument Valley.
Day 3 - Kayenta to Blanding, 120 miles:
After a drive through the arcetypal Western scenery of
Monument Valley
, US 163 crosses into Utah and reaches the little village of
Mexican Hat
, at the foot of a high plateau (
Cedar Mesa
), where many ancient sites can be visited by long or short hikes; easiest reached are those along nearby
Comb Ridge
, though the best locations are on the mesa.
Optional extra day: more hiking in the Cedar Mesa region
Day 4 - Blanding to Cortez, 90 miles:
A short drive east of Bluff are two lesser known NPS sites (
Hovenweep
and Canyons of the Ancients), each containing many small ruins set in particularly remote, undeveloped country. The access road crosses into Colorado and soon reaches Cortez.
Day 5 - Cortez to Farmington, 120 miles:
Cortez is the gateway to
Mesa Verde National Park
, which contains the largest and best preserved ruins in the Southwest. One full day spent here is enough to see all major overlooks and hike along a few trails. The main road south leads to Farmington in north New Mexico.
Day 6 - Farmington to Gallup, 185 miles:
Aztec Ruins National Monument
contains ruins of an extensive walled settlement from the 12th century, including a fully reconstructed kiva. Similar relics are seen at the remote
Chaco Culture NHS
to the south; rivalling Mesa Verde to be the most important and spectacular ancient site in the Southwest. Most of the ruins can be seen via roadside overlooks or short hikes. The nearby town of Gallup sits along old
Route 66
, and contains many reminders of the famous road.
Day 7 - Gallup to Chinle, 130 miles:
Deep, sheer-walled
Canyon de Chelly
in Arizona is 90 miles from Gallup; here many cliff-alcove ruins can be seen via overlooks; one (White House) by a mile long trail, and others by Navajo-led tours.
Day 8 - Chinle to Heber, 190 miles:
US 191 provides a quick route back south, with a short detour through
Petrified Forest National Park
, site of amazingly colorful fossilized wood. A little way west, Holbrook is another small town along the course of
Route 66
, from where the road southwest crosses wide-open grasslands to the friendly town of Heber.
Day 9 - Heber to Mesa, 160 miles:
South of Heber, the road winds through pine forests for a while then descends steeply down the edge of a plateau (the Mogollon Rim), and soon returns to desert lands. Hwy 188 runs alongside
Roosevelt Lake
to the cliff dwellings of
Tonto National Monument
; the route back to Mesa and Phoenix is then via the very scenic (though partly unpaved)
Apache Trail
through the
Superstition Mountains
, passing several lakes and great expanses of cactus wilderness.