1.
Hilton Sedona Resort & Spa
90 Ridge Trail Drive, Sedona, AZ 86351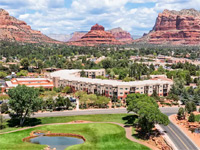 Although located 7.5 miles south of Sedona along Hwy 179 in the village of Oak Creek, the Hilton Resort enjoys the same red rock scenery - north-facing rooms & suites look out towards Bell Rock, Courthouse Butte and many other tall sandstone peaks, while those on the south side have views of the 18-hole golf course. The many other facilities at this luxurious hotel include a full service Spa, two dining outlets, a tennis court, three swimming pools, a well equipped fitness center and 20,000 sq ft of meeting/event space. There are plenty of other restaurants, and small shops, within a few minutes walk in the nearby village.

2.
Hilton Vacation Club Sedona Summit
4055 Navoti Drive, Sedona, AZ 86336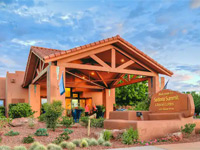 The Sedona Summit became part of the Hilton Vacation Club program in 2022; a group of apartments, suites and rooms spread across several dozen buildings in red rock country along Hwy 89A, 2 miles west of the center of Sedona, within walking distance of a number of trailheads including Schuerman Mountain and Outer Limits; the property is right on the edge of town, bordering undeveloped land. All accommodations include a full kitchen and separate living area. General amenities are a fitness center and outdoor pool. The nearest restaurants are just under a mile, along the main road.
3.
Sky Rock Sedona
1200 W Hwy 89A, Sedona, AZ 86336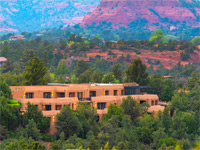 At the east edge of West Sedona, the 108 room Sky Rock hotel (along AZ 89A, one block from Soldier Pass Road) sits on a small hill set back a way from the highway, with excellent views over the suburbs of Sedona to the south and east, and the towering cliffs of Capitol Butte to the north. The hotel is built in the traditional Southwestern adobe style to blend in with the surrounding red rocks and is close to several hiking trails including the Soldier Pass route to the top of Brins Mesa. Sky Rock Lounge serves dinner & evening drinks; for other choices there are many restaurants half a mile or less to the west, along the main road. Facilities include a heated outdoor pool, spa, concierge, guest laundry, and meeting space.

4.
Courtyard Sedona
4105 W Route 89A, Sedona, AZ 86336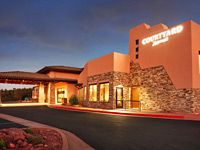 The Courtyard by Marriott hotel in Sedona is located in a scenic, slightly elevated position on the west edge of town at the intersection of Hwy 89A with Red Rock Loop Road; guest rooms have fine views towards Capitol Butte and more distant red cliffs to the east, and the much closer summit of Schuerman Mountain to the west, the
trail
to which starts just the far side of the street. Courtyard Sedona is a three floor, 121 room/suite property offering a restaurant (open for breakfast & dinner), an outdoor-indoor connecting pool, a fitness center and two meeting rooms. The hotel is opposite Yavapai College and the local high school, and between 1 and 3 miles from most facilities in the downtown area.

5.
Residence Inn Sedona
4055 W Route 89A, Sedona, AZ 86336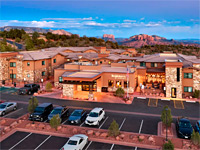 Residence Inn, the first extended stay hotel in Sedona, opened early 2021, along SR 89A on the western approach to town adjacent to another Marriott property, the Courtyard - at the intersection with Red Rock Loop, a short distance from several trails including Schuerman Mountain, Skywalker and Herkenham. The hotel has 90 suites, in studio, one bedroom and two bedroom configurations, divided between three blocks, set back a little from the highway. All feature a full kitchen. Daily hot breakfast and weekday evening receptions are complimentary.

6.
Arroyo Pinion Hotel, an Ascend Collection Member
3119 W Highway 89A, Sedona, AZ 86336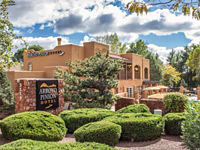 The Arroyo Pinion Hotel has a secluded location towards the west edge of Sedona, just off the main road and largely shielded from it by large trees. Dry Creek Road joins just opposite; this is the quickest route into the Sedona backcountry, and many trails begin just a few miles from the hotel. The property is relatively small, with 45 nicely-decorated rooms, some overlooking the outdoor pool & hot tub; most have views of the red rocks to the north and east. Free enhanced continental breakfast, a fitness center, guest laundry and a meeting room are the other main amenities.
7.
Hampton Inn Sedona
1800 W Highway 89A, Sedona, AZ 86336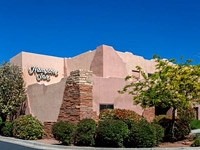 Hampton Inn Sedona is located in the middle of the main commercial area in town, along US 89A one block from a large supermarket, and also within a short walk of many other restaurants & shops. The place is quite small, just 55 rooms, with views either of the sheltered courtyard garden with pool & hot tub, or of the high red slopes of Capitol Butte, which rise up just over one mile north. The Hilton-managed hotel also offers free hot breakfast, guest laundry, a fitness center, a business center and a 50 person meeting room.
8.
Element Sedona
6601 State Route 179, Sedona, AZ 86351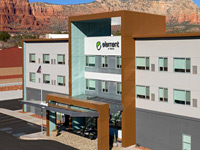 New for spring 2020, the Element is an Oak Creek hotel, 7 miles south of downtown Sedona - along AZ 179 at the central junction with Verde Valley School Road/Jacks Canyon Road. Many of the guest rooms have views of the famous red rock formations of
Bell Rock and Courthouse Butte
, a short distance north, while also within walking distance are many shops, bars and restaurants. The hotel provides good quality free breakfast, and has other amenities of a pool, whirlpool, fitness center and meeting space. All accommodations are equipped with a full kitchen and pull-out sofa bed.

9.
Holiday Inn Express Sedona - Oak Creek
6176 Highway 179, Sedona, AZ 86351
Right at the center of Village of Oak Creek, the 103 room Holiday Inn Express has a pleasant location along Hwy 179 adjacent to shopping and dining, set back from the road and so providing a quiet night's sleep. North-facing rooms enjoy views of the red rocks bordering the town, and guests are less than half a mile from the southern trailhead of the
Bell Rock Pathway
. The hotel features free hot breakfast buffet, free wi-fi, a business center and a secluded outdoor pool, enclosed on three sides by the accommodation blocks.

10.
GreenTree Inn Sedona
2991 W State Route 89A, Sedona, AZ 86336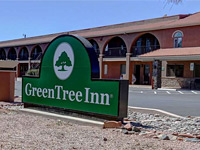 Guest rooms at the GreenTree Inn are divided into four blocks, accessed by exterior corridors and separated by ample parking space, lined by trees and other plants. The hotel is somewhat shielded from the main road (AZ 89A) and provides quiet lodging, especially to the rear. This location is just two blocks from Dry Creek Road, which leads into Sedona's red rock backcountry; in the other direction, the junction with Hwy 179 is 3 miles east. Guests can take advantage of a large outdoor pool and hot tub, plus a business center, free wi-fi and in-room refrigerator & microwave. Complimentary continental breakfast is provided.

11.
Aiden by Best Western @ Sedona
2545 W Highway 89A, Sedona, AZ 86336
The three floor, interior corridor, pet friendly Aiden by Best Western enjoys a peaceful setting in a residential area, 300 feet from the main road (AZ 89A) towards the west side of town. Upper floor rooms have good views, north to Capitol Butte and adjacent peaks, and south over wooded, lower elevation land around Oak Creek. The hotel is two blocks from a shopping center with Safeway supermarket and a selection of restaurants. An outdoor pool, meeting space, free wi-fi and free hot breakfast are the main amenities.

12.
Best Western Plus Arroyo Roble Hotel & Creekside Villas
400 N Highway 89A, Sedona, AZ 86336-4214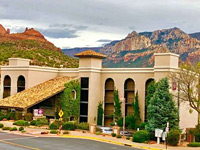 In the east section of Sedona, where most of the gift shops, art galleries and other tourist facilities are found, the 65 room Best Western Arroyo Roble Hotel along Highway 89A has excellent views over the red and white cliffs that surround the town, at the mouth of Oak Creek Canyon. This is an upmarket establishment - one of the top rated hotels in Sedona, and features private balconies and patios, a large outdoor pool, a steam room & spa, landscaped gardens with fountains, and complimentary breakfast. Numerous shops and restaurants are within easy walking distance.