Downtown Flagstaff Hotels
Arizona Hotels > Hotels in Downtown Flagstaff
The historic center of
Flagstaff
extends half a mile along Santa Fe Avenue (
Route 66
) and includes about 15 blocks to the north; the busy railway runs past to the south, separating downtown from the residential area beyond. Central attractions include Heritage Square, Wheeler Park, several dozen restaurants, many bars, plus public facilities like the library, courthouse and post office, though most hotels, and large stores, are found a mile or so south, close to the campus of
Northern Arizona University
.
All this area is overlooked by the wooded slopes of
Observatory Mesa
, which rise up to the west, just beyond the railway, while the much higher summits of the San Francisco peaks are visible to the north. The mesa is also home to
Lowell Observatory
, one mile from the city center; this contains the fifth largest telescope in the US, benefitting from the clear air at this high elevation (7,200 feet).
Please refer to the
disclosure notice
for information about the affiliate (commissionable) links on this page.

1.
DoubleTree by Hilton Hotel Flagstaff
1175 West Route 66, Flagstaff, AZ 86001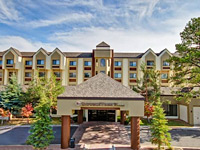 The largest and best equipped of several Hilton hotels in Flagstaff is the DoubleTree, which has a central location just one mile southwest of downtown, along Route 66, though this is the quiet, western section of the historic old road, just over a mile from the start of undeveloped pine forest. The resort-like property is set back a little from the main road, surrounded by trees and backing on to a patch of woodland, yet is within a short walk of many restaurants and shops, including Safeway supermarket. The main amenities at the upscale, full service hotel are the Japanese-style Sakura restaurant, a cafe, lounge bar, outdoor pool, indoor spa, 24 hour fitness center, complimentary airport shuttle, business center and 6,400 sq ft of function space. The hotel opened spring 2014 after conversion from another brand (Radisson).

2.
Residence Inn Flagstaff
100 N Humphreys Street, Flagstaff, AZ 86001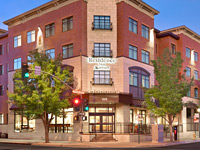 The all-suite Residence Inn by Marriott was newly constructed summer 2017, at the northeast corner of Aspen Avenue and Humphreys Street (US 180), opposite Wheeler Park, one block from old Route 66 and within easy walking distance of all the attractions of downtown Flagstaff. Parking is in a detached area on the far side of the road to the south. The hotel has 110 guest rooms, all containing a kitchenette and separate living area. Features include a spacious lobby, a patio with fireplace, an indoor pool, a fitness center and a dining area where the free full breakfast is served. Weekday evening receptions are also complimentary.

3.
Embassy Suites Flagstaff
706 South Milton Road, Flagstaff, AZ 86001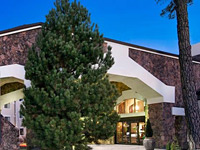 Sites within walking distance of Embassy Suites Flagstaff include Northern Arizona University, Sherwood Forest Shopping Center and the historic city center along old Route 66 - the all-suite Hilton hotel has an easy-to-reach location along Milton Road, adjacent to the university campus and near a good selection of restaurants. All the suites have two bedrooms, a kitchenette (microwave, coffee maker, refrigerator), two phones and free internet access. Guests here to work can take advantage of A/V equipment, meeting space and other business facilities, while for relaxation the hotel has the usual pool, hot tub and fitness center. Cooked-to-order breakfast and nightly manager's reception are both complimentary.

4.
Howard Johnson by Wyndham Flagstaff University West
801 W Route 66, Flagstaff, AZ 86001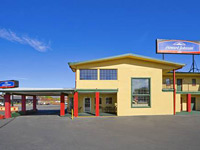 Free continental breakfast, free wi-fi, guest laundry and a microwave/refrigerator in each room are the limited amenities of Howard Johnson Inn Flagstaff University West, a typical small, two story, exterior corridor motel near Northern Arizona University and the city center - the historic downtown section of Route 66 is just over half a mile north. There are plenty of restaurants and shops nearby, including a supermarket (Safeway) one block southwest.

5.
Super 8 by Wyndham Flagstaff Conference Center NAU Downtown
602 W Route 66, Flagstaff, AZ 86001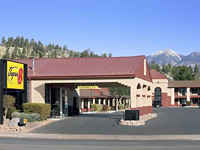 Although it occupies an old-style, exterior corridor building mostly one story, Super 8 Flagstaff Conference Center has an attractive design, painted in red and cream, with bushes partly screening the rooms from the central parking lot, in the middle of which is a cluster of buildings including the motel's indoor pool/hot tub and a restaurant. Other amenities are free continental breakfast, free wi-fi and a copy/fax service. The Super 8 is 0.7 miles from downtown Flagstaff and 0.2 miles from the edge of the NAU campus.

6.
Rodeway Inn Flagstaff Downtown
122 West Route 66, Flagstaff, AZ 86001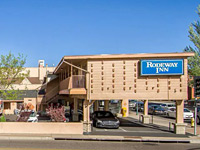 Recently renovated after being acquired by the Rodeway Inn chain, this small (25 room) property is one of the most central motels in town, located right on historic Main Street (Route 66), opposite Flagstaff railway station, and so just a few blocks away from the many coffee shops, bars, restaurants and antique shops in the downtown area. The rooms are not particularly spacious but bright and clean, and equipped with microwave/refrigerator; rates are low. Basic free continental breakfast is provided.