1.
Holiday Inn Express Flagstaff
2320 E Lucky Lane, Flagstaff, AZ 86004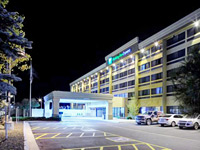 Flagstaff's Holiday Inn Express hotel has an ideal position for cross-country travelers, right next to exit 198 of interstate 40 - just off Butler Avenue, which leads to the center of Flagstaff 2 miles to the west. On the other side of I-40, Butler Avenue passes the Aspen Valley Golf Club and Continental Country Club, while various side roads head further south into the Coconino National Forest towards Walnut Canyon National Monument. Most of the hotel's 156 rooms have views over the San Francisco Peaks north of Flagstaff, and are equipped with a refrigerator & microwave. Services include free local area shuttle, free hot buffet breakfast, indoor/outdoor pool, arcade room, fitness center, hot tub and a business center.

2.
Ramada by Wyndham Flagstaff East
2350 E Lucky Lane, Flagstaff, AZ 86004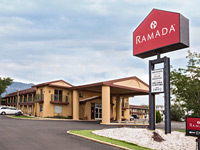 The easterly of two Ramada properties in Flagstaff is one of the closest hotels to the Butler Avenue intersection of I-40 (exit 198) - on the north side, in the middle of a long strip of other hotels. There are several restaurants close by, but not many other facilities; the main shopping areas in town are several miles east or west. The hotel occupies an older, exterior corridor building, and it provides the basic amenities, of free continental breakfast, free wi-fi, guest laundry, a small fitness center and a southeast-facing outdoor pool.

3.
SureStay Plus Hotel by Best Western Flagstaff I-40
2285 E Butler Avenue, Flagstaff, AZ 86004-6015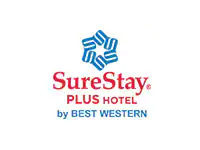 Another of the many hotels around exit 198 of I-40, the SureStay Plus by Best Western provides affordable lodging to Flagstaff visitors in a two floor, exterior corridor building of 87 rooms, half overlooking a nice central garden area with outdoor pool. The building is not particularly new but well enough maintained, and the inn has a decent range of facilities, comprising hot tub (indoor), free breakfast, guest laundry, sauna, and a refrigerator/microwave in each room.

4.
Comfort Inn Flagstaff Lucky Lane
2480 E Lucky Lane, Flagstaff, AZ 86004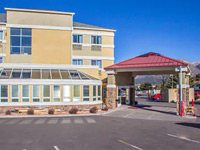 Although one of the cheaper motels in Flagstaff, the three story Comfort Inn Lucky Lane still has a decent range of facilities, with 65 interior corridor rooms, free continental breakfast, an indoor pool, hot tub, fitness center and guest laundry. Some of the larger rooms have a microwave, refrigerator and a balcony offering views of the surrounding hilly land - the motel is situated towards the east side of Flagstaff, 2 blocks away from the Butler Avenue exit of I-40, around which are found the nearest restaurants.

5.
Quality Inn Flagstaff
2500 East Lucky Lane, Flagstaff, AZ 86004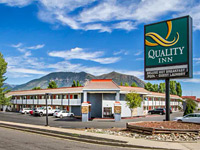 The easternmost of Flagstaff's two Quality Inn hotels is part of a small group of lodging along Lucky Lane, the I-40 frontage road near exit 198. Accommodation is priced towards the cheaper end of the market, with 122 small to medium sized rooms in a typical motel-style, 2 floor building comprising 3 blocks arranged around a central courtyard garden and outdoor pool. Free breakfast is served but this comes with several hot items, unlike the basic continental fare at many similar motels. For shopping and dining, the nearest center is 1.5 miles east along Walgreens Street.

6.
Days Hotel by Wyndham Flagstaff
2200 East Butler Avenue, Flagstaff, AZ 86004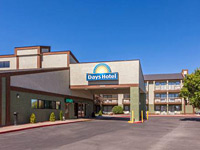 Days Hotel Flagstaff sits in a rather barren neighborhood in between I-40 and the railway, accessed from the Butler Avenue exit of the interstate. There are several restaurants close by but not many other services; most shops and entertainment outlets are several miles away to the east, west or in the downtown district. The motel is close to unspoilt countryside though, on the south side of I-40. The exterior corridor property offers a large indoor pool, fitness center, sauna, hot tub, and a microwave/refrigerator in each guest room. Meals and drinks are available from an adjacent restaurant/lounge.

7.
Econo Lodge Flagstaff Route 66
1560 E Route 66, Flagstaff, AZ 86001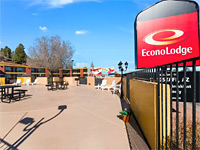 On old Route 66 in Flagstaff (Santa Fe Avenue), the recently renovated Econo Lodge offers comfortable, clean accommodation in a generally quiet area (though close to the railroad), with extensive pine woodland to the rear. The two floor motel is less than a mile north of exit 198 of I-40 (Butler Street) and 2 miles from Flagstaff's historic town center, and it has 56 rooms, a heated outdoor pool, coin-operated laundry facilities and a pleasant dining area where free continental breakfast is served.

8.
Super 8 by Wyndham Flagstaff I-40 Exit 198 Lucky Lane
2540 E Lucky Lane, Flagstaff, AZ 86004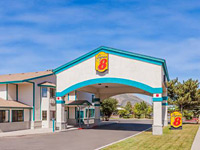 The Super 8 is the easternmost of a line of hotels along Lucky Lane, the northern I-40 frontage road, and it has the traditional exterior corridor design, with rooms on two floors facing east or west, with views of the tree lined neighborhood and a wooded hillside in the distance. The free continental breakfast comes with hot waffles, while for lunch & dinner there are two restaurants adjacent to the east, and others within walking distance in the other direction, around the Butler Avenue exit of I-40. Snacks can also be purchased from Wal-Mart, 0.3 miles away. Other amenities are free wi-fi, guest laundry and an outdoor pool.

9.
Rodeway Inn Flagstaff
2140 E Route 66, Flagstaff, AZ 86004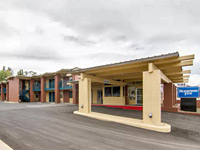 The budget-priced, exterior-corridor Rodeway Inn offers only free coffee, free wi-fi and coin-operated laundry, plus a microwave & refrigerator in all guest accommodations. The two storey building is situated on the north side of Route 66, 2 miles east of downtown Flagstaff - near a few restaurants and shops, and one mile from a Walmart superstore. Guest rooms face west, looking out across the adjacent businesses towards the wooded slopes of McMillan Mesa.
10.
Motel 6 Flagstaff - Butler Avenue
2010 E Butler Avenue, Flagstaff, AZ 86004
Motel 6 Flagstaff is centered on an enclosed courtyard garden with outdoor pool; rooms are accessed by exterior corridors, either around the perimeter or on the inside, next to the garden. Like most motels of this brand, rates are low but facilities very limited; coin-operated laundry, free coffee and wi-fi (for a small charge) are the only other amenities, but the location is easily-reached, just off I-40 at the Butler Avenue exit (298). Half a dozen restaurants are within a few minute's walk.
11.
Motel 6 Flagstaff East - Lucky Lane
2440 E Lucky Lane, Flagstaff, AZ 86004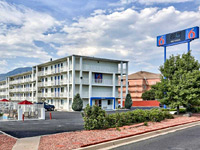 One of a dozen hotels serving the Butler Avenue exit of I-15, Motel 6 Flagstaff East is a four floor, exterior corridor property offering low rates and basic amenities: free coffee, wi-fi and a small outdoor pool, which is rather isolated at a corner of the parking lot, adjacent to the main road. The motel is about half way (3 miles) between NAU and the surrounding shopping area to the west, and Flagstaff mall in the east, though there are many restaurants close by, around the interstate exit.