Arizona Hiking Trails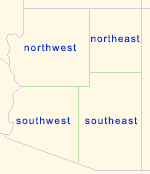 For details of all Arizona trails featured on this website, see the listings pages:
Northeast
(9), including Canyon de Chelly, Petrified Forest National Park and the Painted Desert
Northwest
(95), including Grand Canyon, Lake Mead and Sedona
Southeast
(38), including Chiricahua National Monument, Saguaro National Park, Superstition Mountains and Santa Catalina Mountains
Southwest
(13), including Organ Pipe Cactus National Monument and South Mountain Park
Top Ten Trails
Below are suggestions for the
top ten hikes in Arizona
, in alphabetical order. Five are from the Grand Canyon, two in Sedona, and the remainder are at Lake Mead, Picacho Peak and Saguaro National Park.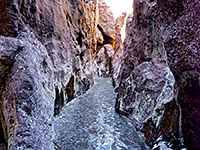 1. Arizona Hot Springs, Lake Mead National Recreation Area
Length 3.1 miles (5 km), elevation change 760 feet (232 meters)
Difficulty Easy to moderate; just a little scrambling near the end
Rating

★★★★★



Warm springs in a short, unusually colorful slot canyon bordering Lake Mohave along the Colorado River, reached by the White Rock Canyon Trail starting from US 93. This meets the lake after following a deepening, quite narrow ravine through dark volcanic rocks. The canyon also contains cascades and a 20 foot waterfall, climbed using a metal ladder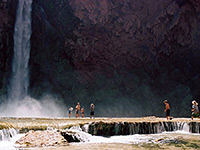 2. Havasu Canyon, Grand Canyon National Park
Length 10.5 miles (16.9 km), elevation change 4650 feet (1417 meters); to Mooney Falls
Difficulty Moderate to strenuous - steep only at the beginning, easier thereafter, but very long, for a day hike
Rating

★★★★★



In the remote Havasupai Indian Reservation, this famous trail descends Hualapai and Havasu Canyons to the Colorado River, past Supai village, Havasu Falls, Mooney Falls and many other beautiful cascades and waterfalls. Many people camp for at least one night, but day trips are possible, Mooney Falls being the usual turn-around point. The route starts in a wide, exposed canyon but the cliffs soon close in and most of the remainder is confined.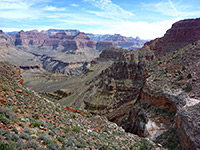 3. Hermit Trail, Grand Canyon National Park
Length 9 miles (14.5 km), elevation change 4340 feet (1323 meters)
Difficulty Strenuous and steep in places, but drinking water is available at 2 locations (needs treatment)
Rating

★★★★★



A mostly unmaintained but popular hike from Hermits Rest at the end of the West Rim Drive, the Hermit Trail winds steeply down the cliffs on the east side of Hermit Creek, then, after a short section of the Tonto Trail, continues descending to the Colorado. The round trip can be done by experienced hikers in one long day, but for overnight trips, backcountry camping is available either beside the Colorado or at the Hermit Creek campsite, about 1.5 miles from the river.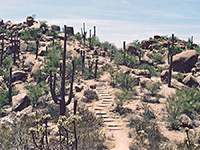 4. Hugh Norris, Saguaro National Park
Length 4.9 miles (7.9 km), elevation change 2130 feet (649 meters)
Difficulty Strenuous
Rating

★★★★★



This is the longest trail in the park, and has the greatest elevation gain. It climbs up a short, steep canyon then follows a ridge of increasing height all the way to the summit of Wasson Peak, for unsurpassed views of the surrounding mountains and desert. En route are many fine saguaro and other cacti, mixed with large rounded bounders, all surrounded by coarse granitic sand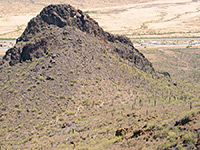 5. Hunter Trail, Picacho Peak State Park
Length 2 miles (3.2 km), elevation change 1400 feet (427 meters)
Difficulty Strenuous
Rating

★★★★★



An exciting path to the summit of an extinct volcano, surrounded by flat desert plains half way between Tucson and Casa Grande. The route is steep and exposed towards the top, aided by cables and railings. Spectacular views from the summit; many saguaro and other desert plants en route.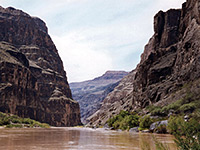 6. Lava Falls Trail, Grand Canyon National Park
Length 1.5 miles (2.4 km), elevation change 2540 feet (774 meters)
Difficulty Relatively short but very strenuous, owing to the steep gradient and the unstable ground
Rating

★★★★★



The Lava Falls Trail offers an extremely steep, difficult hike across loose scree and lava blocks, from the rim to the Colorado River. But the route is quite short, and makes an excellent half day hike. The trailhead is located at the end of a rather rough 2 mile track branching off the road to Toroweap overlook - and about 60 miles from a paved highway, along the Mnt Trumbull loop road.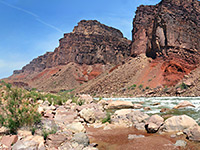 7. New Hance Trail, Grand Canyon National Park
Length 8 miles (12.9 km), elevation change 4530 feet (1381 meters)
Difficulty Strenuous, steep, remote, no water sources along the trail
Rating

★★★★★



Also known as Red Canyon Trail, this is a lesser used path that starts from an unmarked trailhead on the rim half a mile southwest of Moran Point, and descends gradually down colorful Red Canyon to the Colorado. The route was constructed by a miner (John Hance) in the 1880s, to replace an older trail in this area, down Hance Creek. New Hance is a difficult hike - vying with the Boucher Trail to be the most strenuous on the South Rim - but still one that can be done as a round trip in one day.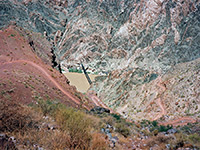 8. South Kaibab Trail, Grand Canyon National Park
Length 6.5 miles (10.5 km), elevation change 4820 feet (1469 meters)
Difficulty Steep, strenuous and lacking any water sources, though restrooms and an emergency phone are available
Rating

★★★★★



Another busy but strenuous rim to river route, with no water along the way, the South Kaibab Trail runs for much of its length along a narrow ridge, so views in all directions are quite unobstructed. This is the best (and shortest) trail for an all day, round trip hike to the Colorado River - but for fit hikers only; it involves the greatest elevation change of any south rim route. The path begins near Yaki Point, a location only reachable by the park shuttlebus.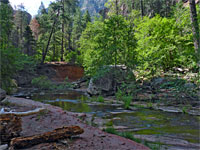 9. West Fork of Oak Creek, Sedona
Length 3 miles (4.8 km), elevation change 200 feet (61 meters); can be much longer
Difficulty Moderate
Rating

★★★★★



Perhaps the best hike in the Sedona area, along a deep, narrow, forested canyon with a permanent stream bordered by dramatic red rocks. The canyon is explorable for many miles beyond the end of the official trail, where wading and even swimming are required in a few places.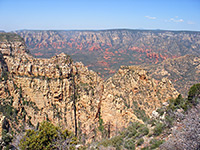 10. Wilson Mountain, Sedona
Length 4.5 miles (7.2 km), elevation change 2450 feet (747 meters)
Difficulty Strenuous
Rating

★★★★★



This is the most strenuous trail in the Sedona area, and with the highest elevation gain, but of course the views at the top of the mountain are excellent. The first 2 miles of the trail is steepest - the remainder is mostly level, as it follows the flat top of Wilson Mountain northwards, ending at a promontory overlooking Sterling Canyon. Starting point is near Midgely Bridge, 2 miles north of the AZ 89A/AZ 179 junction.


Location of the Top Ten Hikes