1.
Courtyard Flagstaff
2650 South Beulah Blvd, Flagstaff, AZ 86004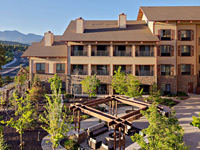 One of two Marriott properties to be built in Flagstaff in 2009, the Courtyard is now the closest hotel to the I-17/I-40 intersection, situated on a small hill along Beulah Boulevard, a short walk from Wal-Mart and several other large stores. Decor is bright and elegant, and the hotel has a range of modern facilities including a large touch-screen information board in the lobby, a suite of guest-use computers in the business center, and private media booths with personal TV and internet/charger connections. The 164 room/suite Courtyard also provides a restaurant (serving breakfast, lunch & dinner), fitness center, hot tub, laundry, and various facilities for business/meetings/events.

2.
Hilton Garden Inn Flagstaff
350 West Forest Meadows Street, Flagstaff, AZ 86001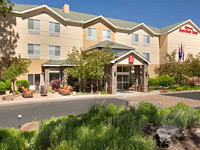 Two miles south of downtown Flagstaff, the Hilton Garden Inn welcomes guests to a cozy-looking three floor building shielded from the surrounding roads by a line of trees, and backing on to a quiet side-street. A free shuttle is operated to Flagstaff Airport, 4 miles south. The hotel has two dining outlets on-site, Great American Grill providing freshly-cooked breakfast, and Coco's Bakery (adjacent), which serves lunch & dinner. Snacks and drinks can be purchased 24 hours a day from the Pavilion Pantry convenience store; these include meals cookable using the microwaves installed in every guest room. Leisure facilities are the usual pool (indoor), hot tub, fitness center and sauna.
3.
Hampton Inn & Suites Flagstaff
2400 S Beulah Blvd, Flagstaff, AZ 86001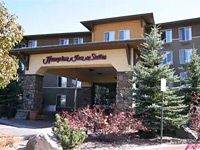 The more central of the two Hampton Inn hotels in Flagstaff is part of a group of shops, restaurants, businesses and other lodging around the north end of I-17, at the I-40 intersection. The 129 rooms & suites face north or south; some have distant views of the San Francisco Peaks. Apart from the good sized parking lot, all facilities are indoor; these include an indoor pool/hot tub, a fitness center, 24 hour business center and two meeting rooms. Hot breakfast is complimentary (take-out version available, Mon-Fri), as is wi-fi.

4.
SpringHill Suites Flagstaff
2455 Beulah Road, Flagstaff, AZ 86001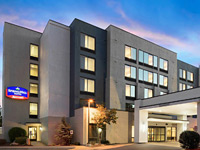 Open summer 2009, the new SpringHill Suites by Marriott hotel in Flagstaff (formerly AmeriSuites) occupies a substantial, five floor building on Beulah Boulevard, one block from the I-40/I-17 intersection on the south side of town, and within a short walk of various restaurants and large stores. There are 112 suites available, all in a studio configuration (equipped with a microwave, sink & refrigerator), plus a fitness center, business center, guest laundry and meeting space. Free hot buffet breakfast is prepared each morning, and an on-site convenience store sells drinks & snacks 24 hours a day.

5.
Aiden by Best Western @ Flagstaff
2000 S Milton Road, Flagstaff, AZ 86001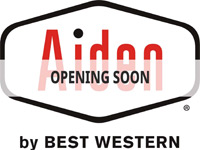 Aiden by Best Western is situated close to the Northern Arizona University precinct, along Milton Road, in a residential area less than half a mile north of the junction of I-17 and I-40, surrounded by patches of pine woodland and close to the edge of the Coconino National Forest. Most of the guest rooms have spectacular views across town towards distant mountains. Hotel amenities include an outdoor pool, an elevated fitness center with floor-to-ceiling windows, and free hot breakfast; for other meals there are several nearby restaurants, closest being Denny's right next door.

6.
Comfort Inn Flagstaff I-17 & I-40
2355 S Beulah Blvd, Flagstaff, AZ 86001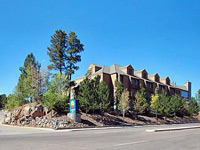 Comfort Inn Flagstaff has a relatively quiet location away from the railway, a mile southeast of downtown Flagstaff and 2 blocks from the I-40/I-17 intersection. The 85 rooms & suites are on 3 floors, some overlooking the hotel's outdoor pool/hot tub, others having more distant views northwards to the often snow-capped San Francisco Peaks, and all benefiting from floor-to-ceiling windows. The mini suites have additional amenities like a microwave, refrigerator and extra storage. Within walking distance south along Beulah Boulevard are a selection of restaurants, bars, and various shops including Wal-Mart. Free continental breakfast is served.

7.
Sleep Inn Flagstaff
2765 S Woodlands Village Blvd, Flagstaff, AZ 86001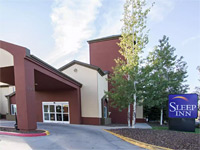 The Sleep Inn of Flagstaff provides 58 comfortable, clean and welcoming rooms at economical rates. Standard rooms have a coffee maker & ironing facilities; also available are mini suites featuring a microwave, refrigerator and extra sofa bed. The interior corridor hotel is relatively new, and is located on the south side of town adjacent to the I-17/I-40 intersection, part of a shopping complex that contains various restaurants and stores including a Wal-Mart - over a mile from the railway tracks, noise from which can affect some properties in the downtown area. Inside the building are a pool, hot tub and dining area for the free continental breakfast.

8.
Baymont by Wyndham Flagstaff
2005 South Milton Road, Flagstaff, AZ 86001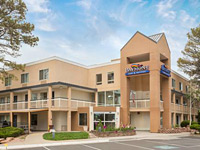 Near the south edge of Flagstaff, the Baymont Inn is a well maintained, good value, three floor hotel, with 131 rooms - on the small side, but clean and most are equipped with a microwave and refrigerator. It offers some of the closest lodging to the Northern Arizona University (NAU) - half a mile away along Milton Road. Access is easy as the I-17/I-40 junction is just two blocks south, as is a large shopping center and a selection of restaurants. The inn has tree-lined grounds with an outdoor heated pool & hot tub at the rear, and a fitness center inside. Free deluxe continental breakfast is offered - including a few hot items.

9.
Days Inn by Wyndham Flagstaff I-40
2735 S Woodlands Village Boulevard, Flagstaff, AZ 86001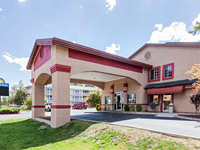 Budget-priced Days Inn Flagstaff I-40 has a modern, interior corridor design, and a convenient location near the I-40/I-17 intersection - towards the west edge of the city adjoining the Woodlands Village shopping district, which includes Wal-Mart and many fast food restaurants. Complimentary amenities at the two story motel are wi-fi, continental breakfast and a weekday newspaper, while also available are a business center and guest laundry.