1.
Courtyard Farmington
560 Scott Avenue, Farmington, NM 87401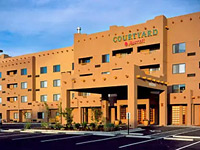 Courtyard Farmington is one of many hotels on Scott Avenue towards the east edge of town, backing on to the Animas River. Footpaths lead along the wooded river banks, starting right next to the hotel. The inn has an attractive adobe design and offers some of the nicest lodging in the area, receiving good reviews for its cleanliness, spacious rooms & friendly staff. Guests can take advantage of free hot breakfast, an indoor pool & whirlpool, fitness center, and a welcoming lobby with newspapers, coffee & snacks. Meeting space comprises five rooms, total area 5,000 sq ft.
2.
Hampton Inn & Suites Farmington
1500 Bloomfield Boulevard, Farmington, NM 87401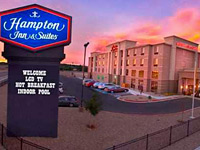 Hilton Hotels have one representative in Farmington, NM; the 73 room/suite Hampton Inn, located, like most other lodging in town, along US 64 near the Animas River. All accommodations are equipped with a microwave, refrigerator, coffee maker & ironing facility, while the studio suites have a kitchenette and sofa sleeper. Wi-fi and hot breakfast are complimentary. Leisure facilities are a fitness center, hot tub & indoor saltwater pool, and a 24 hour business center is provided for people here to work.

3.
TownePlace Suites Famington
4200 Sierra Vista Drive, Farmington, NM 87402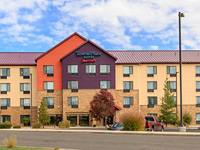 The colorful exterior of the TownePlace Suites by Marriott makes the four story building easily recognizable when approaching along Main Street in Farmington; the hotel is situated towards the northeast of town, a short walk from Animas Valley Mall, plus many restaurants and other stores. Both short and extended stay guests are well catered for by the large, modern accommodations (studio, one bed or two bed layouts), all of which contain a full kitchen and separate areas for living & working. Hotel facilities are a free hot breakfast, a good sized indoor pool, a fitness center and five meeting rooms.

4.
Holiday Inn Express Farmington (Bloomfield)
2110 Bloomfield Blvd, Farmington, NM 87401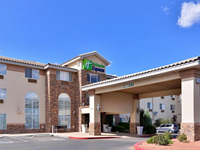 The 100 room Holiday Inn Express hotel in Farmington is located towards the southeast of town, along Bloomfield Boulevard (US 64, the main highway across northwestern New Mexico). Most major sites in the town are within a few miles including the Four Corners Regional Airport, further west along US 64. The main hotel facilities are an indoor pool, whirlpool, 24 hour business center and free hot breakfast buffet. Outdoor cooking can be enjoyed using the bbq grills on the secluded patio. Of the many natural and cultural attractions of north New Mexico, one of the closest is the
Aztec Ruins National Monument
, 14 miles north of the hotel along Route 516.

5.
Best Western Plus The Four Corners Inn
4751 Cortez Way, Farmington, NM 87401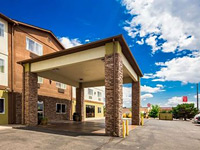 Besides Animas Valley Mall just across the street, Best Western Four Corners Inn is also within easy walking distance of many restaurants and several other large stores including Wal-Mart, Target and Albertson's. The new-looking, three floor hotel has a relatively quiet location, 300 feet from the main road (Hwy 516), with a garden area at the rear. Rooms are available with a refrigerator and whirlpool bath. The low rates and good location are the main reasons to stay, though the hotel also offers the standard range of amenities; guest laundry, fitness center, pool/ht tub, free wi-fi and free hot breakfast.

6.
Fairfield Inn & Suites Farmington
2850 E Main Street, Farmington, NM 87402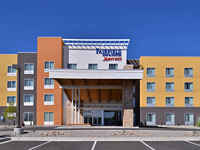 The 80 room/suite Fairfield Inn is the third Marriott hotel in Farmington, and it has an east-central location in town along Hwy 516 (Main Street), at the junction with Browning Parkway that links with US 64. The Animas River flows past on the far side of the highway, though the immediate surroundings are quite developed, a mix of small shops, restaurants and other businesses. The hotel features bright, colorful decor in the guest rooms and public areas, which include a welcoming lobby, meetings space and a dining room for the free daily hot breakfast. Other amenities are a 24 hour market, indoor pool/whirlpool and a fitness center.

7.
Comfort Inn Farmington
555 Scott Avenue, Farmington, NM 87401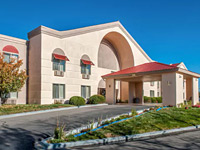 Like the majority of Farmington hotels, the Comfort Inn is situated a mile east of the downtown area along Scott Avenue, near the Animas River and San Juan Shopping Center. Nearby attractions include Animas Valley Mall and Pinion Golf Course, both 2 miles northeast along Hwy 516. The 59 room, pet friendly hotel has an outdoor pool at the rear, and interior facilities of a business center, free wi-fi and a dining area where the free hot breakfast is served. There are two restaurants adjacent.

8.
Comfort Suites Farmington
Cortland Drive, Farmington, NM 87401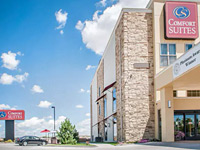 Comfort Suites Farmington offers 73 oversized rooms equipped with a microwave, refrigerator, sofa bed and extra comfortable bedding. The hotel is built along a quiet side road just off US 64 (Broadway Avenue), 2 miles east of downtown. Free hot breakfast is provided and there are a small selection of restaurants within walking distance. A 24 hour business center is available for those here to work, plus meeting space for events of up to 104 people. For leisure the Comfort Suites offers the usual fitness center, hot tub and pool.

9.
Baymont by Wyndham Farmington
1901 E Broadway Avenue, Farmington, NM 87401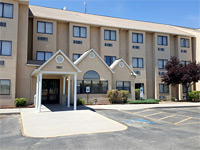 Farmington's Baymont Inn sits in a lightly developed area near the southeast corner of town along US 64 (Broadway Avenue), opposite one restaurant though a mile or so away from most other facilities. The three story inn provides basic, affordable accommodation in 63 interior corridor rooms, all containing a microwave & refrigerator, and some with a sofa bed. Free continental breakfast, free internet access, a business center and an exercise room are the other main amenities.

10.
Travelodge by Wyndham Farmington Hwy 64
2530 Bloomfield Hwy, Farmington, NM 87401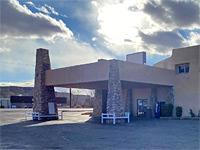 Free wi-fi, free continental breakfast, coin-operated laundry and an outdoor pool are the main amenities of Travelodge Farmington, together with a microwave/refrigerator in all guest rooms. A few kitchenette suites are also available. Accommodations are on the ground floor, in several connected blocks, facing the central parking lot. The motel has an easterly location in town along US 64, in a rather anonymous neighborhood; the nearest restaurants are a few blocks west.

11.
Travelodge by Wyndham Farmington
652 E Main Street, Farmington, NM 87401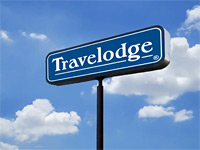 All guest rooms at the budget-priced, pet friendly Travelodge Farmington are on the ground floor, in three blocks, accessed directly from the parking lot. The motel provides amenities of free wi-fi, coin-operated laundry, vending machines, and a microwave/refrigerator in all accommodations. There are several restaurants within walking distance.

12.
Rodeway Inn Farmington
1601 E Broadway Avenue, Farmington, NM 87401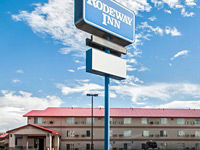 Rodeway Inn Farmington provides some of the most economical lodging in town, though still with a decent range of amenities that includes free deluxe continental breakfast, a games room, guest laundry, newsstand and sun deck, though no swimming pool. Select accommodations contain a sofa bed and hot tub bath. The 2 floor, interior corridor inn sits alongside the main road through town (US 64; Broadway Avenue), half a mile or less from many restaurants and shops.