ALBUQUERQUE
All Albuquerque hotels

Fairfield Inn & Suites Albuquerque North
Open January 2018
4875 Pan American West Freeway NE, Albuquerque, NM 87109
Marriott hotel with a quiet location near Interstate 25, within walking distance of a good selection of shops and restaurants, plus a 24 screen movie theater.
ALBUQUERQUE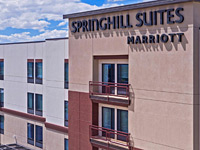 All Albuquerque hotels

SpringHill Suites Albuquerque North/Journal Center
Open May 2018
5910 Holly Avenue NE, Albuquerque, NM 87113
Located along a short side road near the Paseo Del Norte exit of Interstate 25, ten miles from the city center.
CARLSBAD
All Carlsbad hotels

Quality Inn & Suites Carlsbad
Open March 2018
4200 National Parks Hwy, Carlsbad, NM 88220
Occupies a newly constructed building on the east side of US 180/62 from El Paso, in a lightly developed area, 16 miles from Carlsbad Caverns National Park.
CLOVIS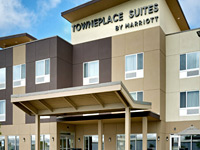 All Clovis hotels

TownePlace Suites Clovis
Open September 2018
4612 N Prince Street, Clovis, NM 88101
Part of a small group of hotels at the north edge of Clovis, also including a Marriott sister property, the Fairfield Inn. The neighborhood is semi-rural, though with a few restaurants within walking distance.
EDGEWOOD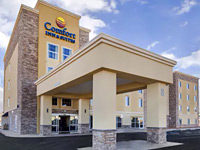 All Edgewood hotels

Comfort Inn & Suites Edgewood
Open December 2017
8 Marietta Court, Edgewood, NM 87015
The first chain hotel in Edgewood; an interior corridor, pet friendly property adjoining a row of businesses on the south side of the interstate, including several restaurants.
LAS CRUCES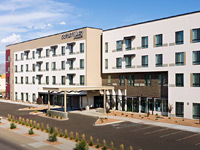 All Las Cruces hotels

Courtyard Las Cruces
Open May 2019
456 E University Avenue, Las Cruces, NM 88001
The fourth Marriott hotel in Las Cruces, with an easy-to-reach location at the University Avenue exit of Interstate 10, close to New Mexico State University.
SANTA FE
All Santa Fe hotels

Fairfield Inn & Suites Santa Fe
Open January 2018
3625 Cerrillos Road, Santa Fe, NM 87507
81 room/suite property, part of the long line of businesses along Cerrillos Road, 4.5 miles southwest of the city center and 3.5 miles from the I-25 intersection.
TUCUMCARI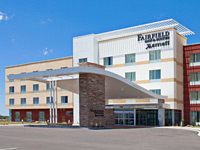 All Tucumcari hotels

Fairfield Inn & Suites Tucumcari
Open May 2018
1901 S Mountain Road, Tucumcari, NM 88401
The first Marriott hotel in Tucumcari; also provides the first accommodations at the Mountain Road exit of I-40, 2 miles southeast of the city center.