.
ALBUQUERQUE

Comfort Suites Albuquerque
Open March 2020
1401 Woodward Road SE, Albuquerque, NM 87106
Part of a small group of hotels at the edge of the desert on the southern approach to the city, Interstate 25, at the Sunport Boulevard exit, just over a mile from the international airport.
ALBUQUERQUE

Holiday Inn Express & Suites Albuquerque East
Open November 2019
10501 Copper Pointe Way NE, Albuquerque, NM 87123
Built alongside Interstate 40 behind a small shopping complex that includes Walmart and Sam's Club, 8 miles east of the city center and 7 miles from the international airport.
ALBUQUERQUE

SpringHill Suites Albuquerque North/Journal Center
Open May 2018
5910 Holly Avenue NE, Albuquerque, NM 87113
Located along a short side road near the Paseo Del Norte exit of Interstate 25, ten miles from the city center.
CARLSBAD
All Carlsbad hotels

Quality Inn & Suites Carlsbad
Open March 2018
4200 National Parks Hwy, Carlsbad, NM 88220
Occupies a newly constructed building on the east side of US 180/62 from El Paso, in a lightly developed area, 16 miles from Carlsbad Caverns National Park.
CLOVIS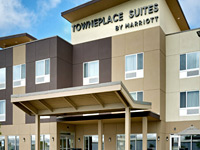 All Clovis hotels

TownePlace Suites Clovis
Open September 2018
4612 N Prince Street, Clovis, NM 88101
Part of a small group of hotels at the north edge of Clovis, also including a Marriott sister property, the Fairfield Inn. The neighborhood is semi-rural, though with a few restaurants within walking distance.
LAS CRUCES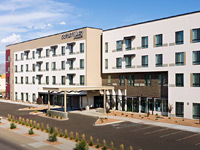 All Las Cruces hotels

Courtyard Las Cruces
Open May 2019
456 E University Avenue, Las Cruces, NM 88001
The fourth Marriott hotel in Las Cruces, with an easy-to-reach location at the University Avenue exit of Interstate 10, close to New Mexico State University.
TUCUMCARI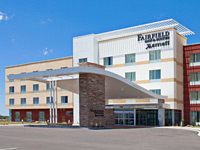 All Tucumcari hotels

Fairfield Inn & Suites Tucumcari
Open May 2018
1901 S Mountain Road, Tucumcari, NM 88401
The first Marriott hotel in Tucumcari; also provides the first accommodations at the Mountain Road exit of I-40, 2 miles southeast of the city center.