.
ALBUQUERQUE

Comfort Suites Albuquerque
Open March 2020
1401 Woodward Road SE, Albuquerque, NM 87106
Part of a small group of hotels at the edge of the desert on the southern approach to the city, Interstate 25, at the Sunport Boulevard exit, just over a mile from the international airport.
ALBUQUERQUE

Holiday Inn Express & Suites Albuquerque East
Open November 2019
10501 Copper Pointe Way NE, Albuquerque, NM 87123
Built alongside Interstate 40 behind a small shopping complex that includes Walmart and Sam's Club, 8 miles east of the city center and 7 miles from the international airport.
ALBUQUERQUE

SpringHill Suites Albuquerque University Area
Open August 2020
1101 Central Avenue NE, Albuquerque, NM 87106
Along Central Avenue just east of the I-25 intersection (exit 224), less than half a mile from both University of New Mexico and Central New Mexico College.
ALBUQUERQUE

TownePlace Suites Albuquerque Old Town
Open July 2020
2510 12th Street NE, Albuquerque, NM 87104
Part of the Avanyu Plaza development, on the north side of I-40 at the 12th Street exit, 2 miles north of downtown Albuquerque.
ALBUQUERQUE

Tru by Hilton Albuquerque North I-25
Open August 2020
4949 Jefferson Street NE, Albuquerque, NM 87109
Modern, mid range property with an easy-to-reach location right beside I-25 at the Jefferson Street exit, close to a few restaurants; the city center is 6 miles south.
CARLSBAD
All Carlsbad hotels

MainStay Suites Carlsbad
Open November 2020
3621 San Jose Blvd, Carlsbad, NM 88220
Interior corridor property in a lightly-developed area towards the south side of the city along San Jose Boulevard, close to the US 180 intersection.
LAS CRUCES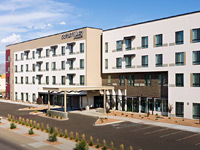 All Las Cruces hotels

Courtyard Las Cruces
Open May 2019
456 E University Avenue, Las Cruces, NM 88001
The fourth Marriott hotel in Las Cruces, with an easy-to-reach location at the University Avenue exit of Interstate 10, close to New Mexico State University.
SANTA FE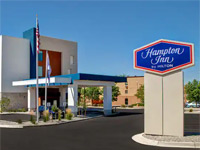 All Santa Fe hotels
Hampton Inn Santa Fe South
Open August 2020
3430 Cerrillos Road, Santa Fe, NM 87501
Latest addition to the many accommodation choices along Cerrillos Road; located on the south side,1 mile from Santa Fe Place and 5 miles from the city center.