1.
TownePlace Suites Clovis
4612 N Prince Street, Clovis, NM 88101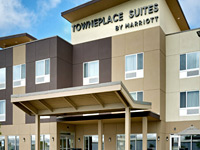 The TownePlace Suites is part of a small group of hotels at the north edge of Clovis, also including a Marriott sister property, the Fairfield Inn. The neighborhood is semi-rural, though with a few restaurants within walking distance, and a Walmart supermarket. The three floor property contains 71 suites, available in two bedroom, one bedroom and studio configurations; all are equipped with a full kitchen, and have long distance views over the flat surroundings. General amenities are a bbq area, fitness center, outdoor pool, coin-operated laundry and a 288 square foot meeting room. Hot breakfast is complimentary.

2.
Holiday Inn Express Hotel & Suites Clovis
4728 N Prince Street, Clovis, NM 88101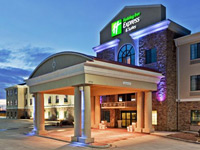 The northernmost hotel in Clovis, NM, is the 80 room/suite Holiday Inn Express, built at the edge of the countryside along Hwy 209 from Tucumcari - in a generally quiet neighborhood but within walking distance of various restaurants, and stores including Wal-Mart. Other large shops can be found 1.5 miles south. Free wi-fi, a business center, one meeting room, an indoor pool/hot tub and free hot breakfast are the main amenities of this clean and modern hotel, which opened summer 2009. All accommodations contain a refrigerator, microwave and coffee maker.

3.
Best Western Cannon A.F.B.
201 Schepps Blvd, Clovis, NM 88101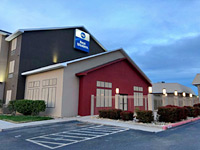 Best Western Cannon A.F.B. has a pleasant location at the edge of the countryside on the east side of Clovis - part of a small group of hotels and restaurants along US 60/70/84. The pet friendly hotel is slightly quieter than its neighbors as the building is set back a little from the highway, along a side road. The 66 rooms & suites are spacious and well equipped, all containing a microwave and refrigerator; most have long distance views over the surrounding flat farmland. The hotel's pool and hot tub are indoors, as are the fitness center, guest laundry and a meeting room. Free hot breakfast is served, plus free receptions on weekday evenings.

4.
Fairfield Inn & Suites Clovis
4305 N Prince Street, Clovis, NM 88101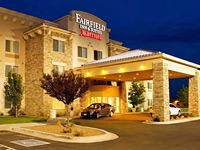 The Fairfield Inn of Clovis, NM, is one of few hotels on the north side of town, along Route 209 (Prince St)reet - 2 miles from the center but offering a quieter, more relaxing stay than places in the middle of Clovis beside the main highway. The clean, new residence has a semi-rural location next to the fairways of the Chaparral Country Club, but within a mile of various restaurants and shops including the North Plains Mall. On offer are the usual Fairfield amenities of free breakfast (with hot sandwich), an outdoor pool, hot tub and fitness center.

5.
Quality Inn Clovis
2920 Mabry Drive, Clovis, NM 88101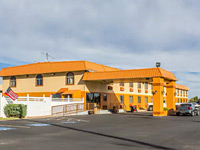 Like most Clovis hotels, the Quality Inn sits along US 60/70 on the southeastern approach to town, bordered by open fields to the north and the railway line to the south. The motel occupies a relatively old, two floor building, but with interior corridors, the 55 rooms looking out over the spacious parking lot at the front. Wi-fi and continental breakfast are the complimentary amenities, while also available are an outdoor pool and a business center. Pets are welcome, for a small fee.

6.
Days Inn & Suites by Wyndham Clovis
2700 Mabry Drive, Clovis, NM 88101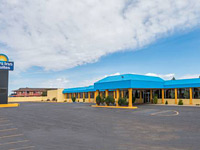 Days Inn Clovis occupies a distinctive, red roofed building of 120 rooms, on 2 exterior corridor floors extending round three sides of a secluded courtyard garden. This is a full service hotel including a restaurant/bar in the lobby area (Main Street Cafe), a fitness center, indoor pool, racquetball court, games room, sauna and whirlpool. Most of the important sites in Clovis are within 3 miles, such as North Plains Mall to the north, along Prince Street. The free breakfast comes with a few hot items.

7.
Travelodge by Wyndham Clovis
1720 Mabry Drive, Clovis, NM 88101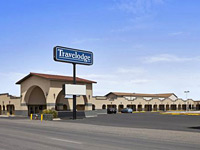 All rooms at Travelodge Clovis are on the ground floor, arranged around three sides of the parking lot, with views south across the main road (US 60/70/84) and a railway line towards Curry County Fairgrounds beyond. There are two restaurants s short distance west (Mexican and a steakhouse) and others towards the city center, one mile away. The only motel facilities are free continental breakfast and free wi-fi.

8.
Econo Lodge Clovis
1400 E Mabry Drive, Clovis, NM 88101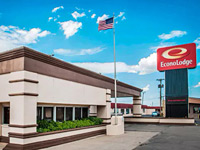 The Choice Hotels group is represented by several hotels in Clovis, including the Econo Lodge, which is located on the southeast approach to town (US 60/70, Mabry Drive). This is a small roadside motel charging reasonable rates but above average in terms of cleanliness, facilities and service. The lodge provides free continental breakfast, and has amenities of an indoor pool, guest laundry, picnic area, and a microwave/refrigerator in each of the 46 rooms. There is one restaurant adjacent and others 3 blocks east or west.

9.
Super 8 by Wyndham Clovis
2912 Mabry Drive, Clovis, NM 88101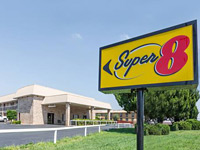 Super 8 Clovis caters for guests in 96 rooms & suites on two exterior corridor floors, and is situated close to the east edge of Clovis along Mabry Drive (US 60/70/84); the hotel overlooks farmland to the front and rear, and is one mile from the town center. The inn offers free continental breakfast, an exercise facility, laundry, outdoor heated pool/hot tub, and large, comfortable rooms with microwaves, refrigerators & other amenities. Wi-fi is also complimentary.
10.
Motel 6 Clovis
1616 Mabry Drive, Clovis, NM 88101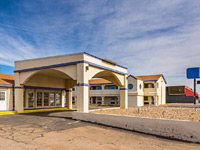 Like most hotels in Clovis, the Motel 6 is located east of the town center along US 60, eight miles from the Texas stateline; on the north side of the road in a rural/residential neighborhood, though also close to the railway lines. The exterior corridor property has a walled outdoor pool, in the middle of the parking lot, and all the guest rooms are equipped with microwaves & refrigerators. Wi-fi and morning coffee are complimentary. There is one restaurant adjacent and others close by, to the west.