New Mexico - Map
Interactive New Mexico map
, showing all parks, preserves, trails and other locations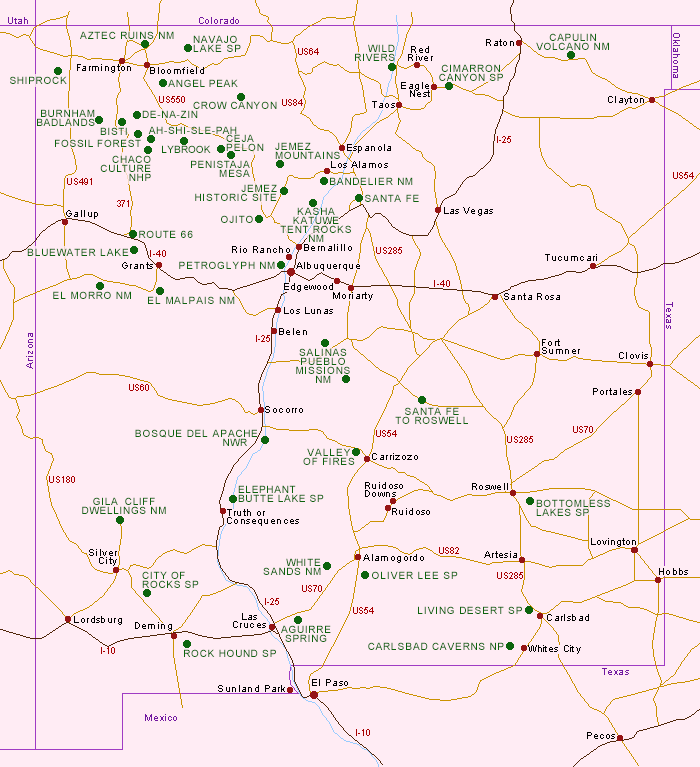 Switch to
New Mexico Hotels Map
Click on the green circles on the New Mexico map for detailed descriptions of national parks, national monuments and other scenic areas
New Mexico Driving Distances
Overview Map of the Southwest
Other state maps:
Arizona
,
California (North)
,
California (South and Central)
,
Colorado
,
Idaho
,
Nevada
,
Oregon
,
Texas
,
Utah
,
Wyoming
Delorme New Mexico Atlas
This atlas covers all features in the state of New Mexico at a scale of 1:300,000, with contour lines at 300 foot intervals. The state is divided into 46 individual map pages, marked with latitude and longitude divisions, and the atlas also includes detailed street maps (at 1:29,000) for Albuquerque, Santa Fe, Las Cruces, Roswell, Farmington and Clovis. Other pages list such as items as historic sites, scenic drives, recreation areas, campgrounds and unique natural features, of which New Mexico has 16.
Buy from amazon.com
Affiliate disclosure