Maps of Utah
This is the overview map of Utah; for more detail see the
interactive Utah map
, which includes all parks, preserves, trails and other locations.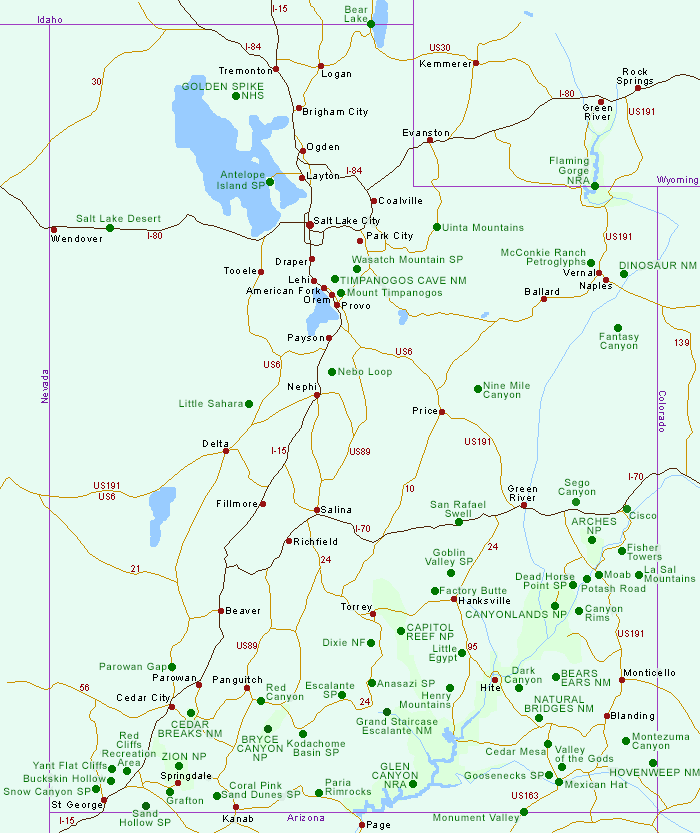 Switch to
Utah Hotels Map
Click on the green circles on the Utah map for detailed descriptions of national parks, national monuments and other scenic areas
Utah Driving Distances
Overview Map of the Southwest
Other state maps:
Arizona
,
California (North)
,
California (South and Central)
,
Colorado
,
Idaho
,
New Mexico
,
Nevada
,
Oregon
,
Texas
,
Wyoming
Delorme Utah Atlas
This is the best atlas for driving in Utah, showing all roads, paved and unpaved, right down to 4WD tracks and jeep trails. At a scale of 1:250,000, or 1 inch to 4 miles, it covers the state in 46 sections and includes topographical features, with contour lines at 300 foot intervals. The atlas also contains summary details of recreation areas, campgrounds, unique natural features, historic sites, hunting areas, scenic drives and other such information.
Buy from amazon.com
Affiliate disclosure
Utah Maps
Maps of specific places in Utah: Arches, Bryce Canyon, Canyonlands, Canyonlands - Island in the Sky, Capitol Reef, Capitol Reef - central trails, Cedar Mesa, Dinosaur, Flaming Gorge, Glen Canyon, Golden Spike, Grand Staircase-Escalante, Monument Valley, Monument Valley - Valley Drive, Natural Bridges, Nine Mile Canyon, Uinta Mountains, Zion, Zion - Zion Canyon


PDF maps of Utah national parks and monuments, from the NPS: Arches, Bryce Canyon, Canyonlands, Capitol Reef, Cedar Breaks, Dinosaur, Glen Canyon, Golden Spike, Hovenweep, Natural Bridges, Zion