.
BOISE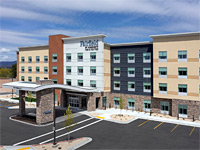 All Boise hotels

Fairfield Inn & Suites Boise West
Open May 2022
7881 W Emerald Street, Boise, ID 83704
Close to Boise Towne Square mall; on the north side, also within walking distance of many other shops and restaurants.
BOISE
All Boise hotels

Home2 Suites by Hilton Boise Downtown
Open October 2020
202 S 6th Street, Boise, ID 83702
Provides good quality, long stay accommodations, with a selection of studio and one bedroom suites, all including a fully equipped kitchenette.
BURLEY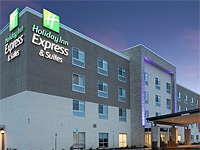 All Burley hotels

Holiday Inn Express & Suites Burley
Open June 2021
801 N Overland Avenue, Burley, ID 83318
The closet hotel to the Burley I-84 exit, along Overland Avenue, situated between a golf course and a row of restaurants & shops, including Walmart.
COEUR D'ALENE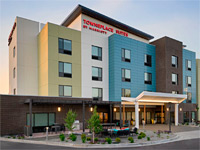 All Coeur d'Alene hotels

TownePlace Suites Coeur d'Alene
Open September 2023
1381 N Northwood Center Court, Coeur d'Alene, ID 83814
The second Marriott hotel in Coeur d'Alene, situated at the busy intersection of Interstate 90 and Northwest Boulevard, a half mile walk from the shores of the Spokane River.
EAGLE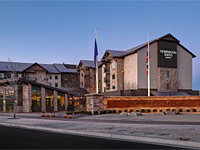 All Eagle hotels

Homewood Suites by Hilton Eagle Boise
Open December 2020
710 E Riverside Drive, Eagle, ID 83616
Upscale, all-suite/extended stay property beside Hwy 44 at the Palmetto Drive intersection, adjoining the Saint Alphonsus Medical Center.
HAILEY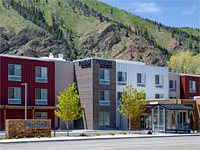 All Hailey hotels

Fairfield Inn & Suites Hailey Sun Valley
Open January 2021
711 N Main Street, Hailey, ID 83333
Marriott hotel with a north-central location in Hailey along Main Street (west side), close to a cinema, a supermarket and several restaurants.
ISLAND PARK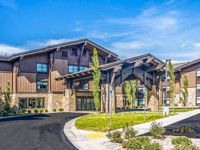 All Island Park hotels

SpringHill Suites Island Park Yellowstone
Open September 2020
4292 N Highway 20, Island Park, ID 83429
Marriott hotel overlooking the Henrys Fork River, along US 20, close to a few restaurants and other facilities but otherwise surrounded by hilly, forested land.
MERIDIAN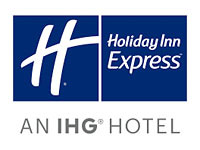 All Meridian hotels

Holiday Inn Express & Suites Meridian - Boise West
Open April 2023
2920 E Freeway Drive, Meridian, ID 83642
Replaces an earlier hotel of this brand, just down the street; set back from the access road at the edge of a small business park beside Interstate 84.
POCATELLO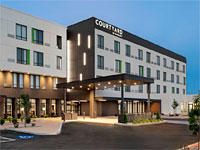 All Pocatello hotels

Courtard Pocatello
Open June 2023
290 Vista Drive, Pocatello, ID 83201
Part of the main group of hotels in town, around the Center Street exit of Interstate 15; a scenic, elevated setting, at the foot of grassy hills.
POCATELLO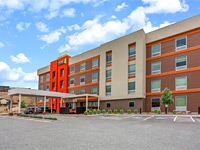 All Pocatello hotels

Home2 Suites by Hilton Pocatello
Open December 2021
2325 Via Caporatti Drive, Pocatello, ID 83201
Offers modern, extended stay/all-suite lodging - rooms are available in studio and one bedroom floorplans, all with a sofa bed and kitchenette.