1.
Holiday Inn Nampa
16245 N Merchant Way, Nampa, ID 83687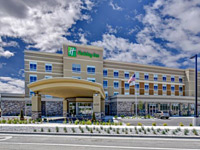 The four storey, 85 room Holiday Inn looks set to become the top hotel in Nampa following its summer 2017 opening, located in a developing commercial area on the west side of the city, at the Midland Boulevard exit of Interstate 84. Shopping centers in the vicinity include Karcher Mall on the far side of the freeway, and Treasure Valley Marketplace one block north. There are several restaurants within walking distance, and one onsite, open for breakfast, lunch, dinner and evening room service. The hotel has a pool, fitness & business centers, and meeting space.
2.
Hampton Inn & Suites Nampa at the Idaho Center
5750 East Franklin Road, Nampa, ID 83687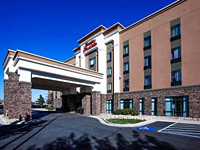 Next to the Idaho Center and within walking distance of shops, restaurants and other services, the Hampton Inn is a large, modern hotel with 101 nicely furnished rooms and a good range of amenities including the usual pool, hot tub & fitness center, and facilities for meetings & business. Free hot breakfast is served each morning. The studio suites have a microwave, refrigerator and sofa bed. The hotel is part of a recently developed area 0.4 miles north of I-84 exit 38 - 3 miles from downtown Nampa and 15 miles from Boise.

3.
Holiday Inn Express Hotel & Suites Nampa
4104 East Flamingo Avenue, Nampa, ID 83687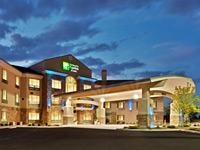 The Holiday Inn Express is one of Nampa's newest hotels, built 2008 in a lightly developed area on the east side of town adjacent to I-84 (exit 38), just across the interstate from Riverside Golf Course. Other nearby places, within a mile, include Mercy Hospital, Idaho Center, Gateway Shopping Center and Nampa Municipal Airport. The hotel offers bright, spacious and modern accommodations, with amenities of free hot breakfast buffet (served in the atrium lobby), free wi-fi, an indoor pool, fitness center, business center and two meeting rooms. The nearest restaurants are 0.3 miles southeast, along Garrity Boulevard.

4.
Best Western Plus Peppertree Nampa Civic Center Inn
205 3rd Street South, Nampa, ID 83651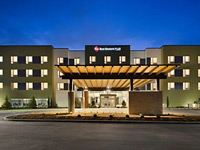 Unlike most Nampa hotels, the Best Western Plus has a downtown location, along 3rd Street adjacent to the Nampa Civic Center and the City Hall, bordering a residential district to the rear. There are several restaurants nearby, and many more a few blocks south, in the central area. Free full breakfast is provided by the hotel, together with an indoor pool, hot tub, fitness center and bar. The hotel has 82 rooms, all equipped with a refrigerator. I-84 access is from exit 35, Northside Boulevard.

5.
Fairfield Inn & Suites Boise Nampa
16150 N Midland Boulevard, Nampa, ID 83687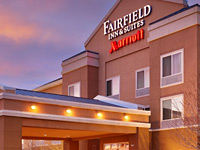 Marriott's representative in Nampa is the 88 room Fairfield Inn along Midland Boulevard, the northern I-84 frontage road at exit 33 - a quiet, rural area but within one mile of many restaurants and large stores, on both sides of the interstate, including Karcher Mall and Treasure Valley Marketplace. The hotel opened in 2009 and has earned a good reputation for customer service, the clean & modern accommodations, the easy-to-reach location and the range of choices at the free continental breakfast. It also has an exercise room, indoor pool, whirlpool, guest laundry and a 250 sq ft meeting room.

6.
Sleep Inn Nampa
1315 Industrial Road, Nampa, ID 83687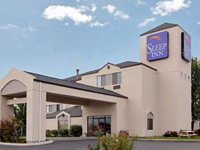 Sleep Inn Nampa is a typical highway-side motel, situated in a quiet, rather industrial neighborhood south of I-84 exit 36 (Franklin Boulevard), and it features 81 spacious rooms, a heated indoor pool/whirlpool, guest laundry, meeting space for up to 75 persons, and basic business services. The free continental breakfast includes hot items, and hot coffee & tea are available 24 hours in the lobby, plus free cookies in the evening. Sites within 2 miles include Nampa Airport, Ridgecrest Golf Course and the Idaho Center.

7.
Super 8 by Wyndham Nampa
624 Northside Boulevard, Nampa, ID 83687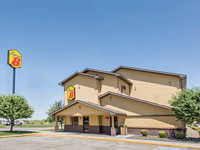 The Super 8 is a good choice for budget accommodation in Nampa, ID, offering 62 basic but clean and comfortable rooms that all contain a microwave & refrigerator. The staff are very friendly and despite the low rates the motel still provides free continental breakfast and free wi-fi, plus guest laundry, an outdoor hot tub and a lobby computer. The three floor, interior corridor property faces interstate 84 at the Northside Boulevard exit (no. 35), near Broadmore Country Club and one mile from the city center.

8.
Rodeway Inn & Suites Nampa
130 Shannon Drive, Nampa, ID 83687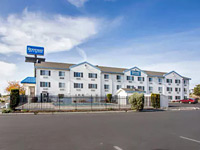 Rodeway Inn Nampa is bordered by a golf course to the south and I-84 to the north; the 61 room, interior corridor inn sits next to the Northside Road exit of the interstate, close to a couple of restaurants. Exterior amenities are a pool and a spacious parking lot, while inside, the motel has a business center, guest laundry and a dining room where the free continental breakfast is served. All accommodations feature a refrigerator, coffee maker and pillow top mattresses; some contain a microwave. Wi-fi is also complimentary.