1.
Residence Inn Boise West
7303 West Denton Street, Boise, ID 83704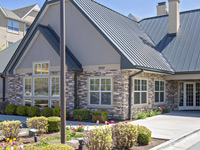 Guests at the Residence Inn by Marriott Boise West appreciate the attentive staff, the good location near I-184 & Boise Town Square Mall, the free hot buffet breakfast and the well equipped accommodations - all 104 suites (studio, one bedroom or two bedroom) contain a fully-equipped kitchen, plus an extra sofa bed, large work desk and separate living area. The hotel also offers free wi-fi, free receptions on weekday evenings, guest laundry, a sports court, indoor pool/hot tub, fitness center and a 40 person meeting room. Access is from exit 1B of the interstate (Cole Road), and the inn is just 0.2 miles from the entrance to the mall.

2.
SpringHill Suites Boise West
6325 North Cloverdale Road, Boise, ID 83713
SpringHill Suites Boise is many people's choice of the top hotel in town - a handsome, new, fully featured all-suite property with a quiet and scenic location at the edge of the countryside near the Boise River, ten miles from the city center, near Cloverdale, Meridian and Eagle. There are plenty of restaurants nearby and also a business park (Boise Research Center), though north-facing rooms have views over undeveloped farmland towards distant mountains. The rooms have a pantry, refrigerator & microwave, plus separate areas for sleeping, working & dining, while the hotel provides free breakfast buffet, free wi-fi and daily housekeeping. A pool and fitness center are also available.

3.
Hilton Garden Inn Boise Spectrum
7699 West Spectrum Street, Boise, ID 83709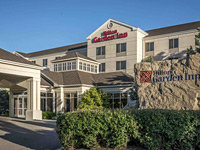 Hilton Garden Inn Boise Spectrum is the larger of two adjacent Hilton hotels on the west edge of the city near the Boise Spectrum/Edwards Stadium entertainment complex and its associated shops & restaurants. Freshly cooked breakfast (plus all-day room service) is available at the on-site Great American Grill, and snacks can be purchased 24 hours a day at the Pavilion Pantry convenience store. Rooms are nicely decorated, with modern amenities and luxurious bedding, and include several kinds of suite. Leisure facilities are the usual pool, hot tub and 24 hour fitness center, while for those here to work the hotel has a business center, meeting space for up to 300 people, and all-day catering.

4.
Homewood Suites by Hilton Boise
7957 West Spectrum Way, Boise, ID 83709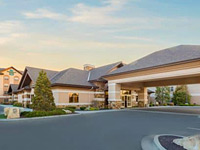 One block south of I-84 exit 50, Homewood Suites by Hilton Boise provides modern, all suite lodging in a quiet neighborhood - near Edwards Boise Stadium Cinema though set back from the access road at the edge of a residential area. Suites are available in two bed, one bed or studio layouts, all equipped with a full kitchen and executive desk. There are many restaurants within walking distance, and several large stores including Wal-Mart, though free hot breakfast is served each morning at the hotel, plus free receptions on weekday evenings. The Homewood Suites also has all the expected amenities for leisure, business and meetings.
5.
Hampton Inn & Suites Boise/Spectrum
7499 West Overland Road, Boise, ID 83709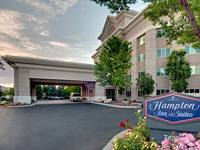 With the Boise Spectrum complex adjacent and Towne Square Mall just up the street, guests at Hampton Inn Boise have a wide choice of shopping, dining and entertainment nearby. The large, modern property is built beside I-84 at the Overland Road exit, five miles west of the city center and four miles from the international airport (free shuttle provided). A pretty garden area greets visitors at the front, followed by an elegant lobby with plenty of space for relaxing. Nearby is the dining area where free hot breakfast is served each morning. The 133 spacious accommodations include 35 studio or one bedroom suites, with such amenities as a hot tub bath, terrace, extra large living area, kitchenette or full kitchen. Other facilities are a convenience store, pool, fitness center and business center.

6.
Candlewood Suites Boise - Towne Square
700 North Cole Road, Boise, ID 83704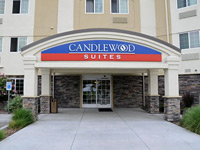 The Candlewood Suites hotel in Boise is situated at the edge of a residential area alongside I-184, opposite the huge Boise Town Square Mall; 3.5 miles west of the city center and 5 miles from the airport. The high quality, all-suite/extended stay accommodation comprises 84 one or two bed rooms, all featuring a full kitchen; food for cooking can be purchased from the on site, 24 hour convenience store or from a supermarket (Albertson's) a few blocks north. Business travelers are served by a meeting room, free wi-fi and a business center, while leisure amenities are a fitness center and a patio with bbq grills - no pool, however.

7.
Fairfield Inn & Suites Boise West
7881 W Emerald Street, Boise, ID 83704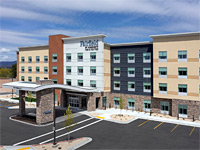 The Fairfield Inn by Marriott, open summer 2022 is now the closest hotel to Boise Towne Square mall; on the north side, also within walking distance of many other shops and restaurants. I-184 access, half a mile, is from exit 50, Cole Road. The four floor property contains 106 guest rooms & suites, and offers the expected facilities of business & fitness centers, meeting space and a pool. Free hot breakfast is provided.