1.
Courtard Pocatello
290 Vista Drive, Pocatello, ID 83201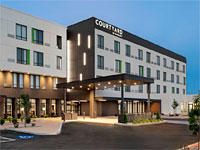 The Courtyard by Marriott is a 2023 addition to the accommodation choices in Pocatello, part of the main group of hotels in town, around the Center Street exit of Interstate 15; a scenic, elevated setting, at the foot of grassy hills to the north. There are several restaurants close by, and a number of healthcare facilities, while the Holt Arena is just across the freeway. The Courtyard has an onsite restaurant/bar, an indoor pool & fitness center, a convenience store, and a large, welcoming lobby.
2.
Hampton Inn & Suites Pocatello
151 Vista Drive, Pocatello, ID 83201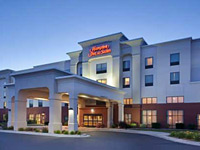 Hampton Inn & Suites Pocatello receives favorable reviews for its quiet location, the friendly staff, the spacious, well equipped accommodations and the above average free continental breakfast. The hotel has a slightly elevated location so that most rooms have long distance views over the city towards distant mountains. There are a few restaurants nearby and Portneuf Medical Center is just across the road though the neighborhood is quite lightly developed - the hotel is situated on the southeast edge of town, reached from I-15 exit 69 (Center Street). Amenities include an indoor pool & whirlpool, fitness center with machines & free weights, a 24 hour business center and a 50 person meeting room.

3.
Home2 Suites by Hilton Pocatello
2325 Via Caporatti Drive, Pocatello, ID 83201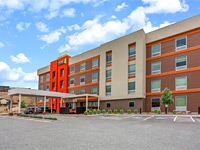 Home2 Suites by Hilton Pocatello offers modern, extended stay/all-suite lodging - rooms are available in studio and one bedroom floorplans, all with a sofa bed and kitchenette (microwave, full refrigerator, sink, dishwasher, cooktop). Wi-fi and hot breakfast are complimentary. The hotel has a quiet location along a side road near the Center Street exit of Interstate 15, close to Portneuf Medical Center, a short walk from a selection of restaurants. Other amenities at the pet friendly hotel are an indoor pool, fitness center and a patio area with bbq grills.

4.
TownePlace Suites Pocatello
2376 Via Caporatti Drive, Pocatello, ID 83201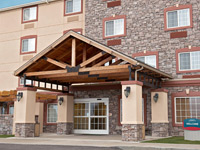 Marriott is represented in Pocatello by the recently built TownePlace Suites, which accommodates guests in 93 modern, spacious suites with studio, one bed or two bed layouts, all featuring a full kitchen, executive desk, free wi-fi and separate areas for sleeping & living. The hotel has a quiet setting beside a residential area 0.3 miles east of interstate 15 (exit 69), near Portneuf Medical Center and 1.5 miles from downtown Pocatello. Free continental breakfast is provided, there is one restaurant adjacent (Ruby Tuesday's), and the TownePlace Suites also has all the usual facilities for leisure, meetings and business.

5.
Holiday Inn Express & Suites Pocatello
200 Via Venitio, Pocatello, ID 83201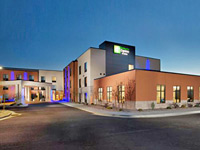 The 80 room/suite Holiday Inn Express Pocatello has a pleasant location on the east side of I-15, far enough from the interstate to escape the traffic noise. The position is elevated, allowing guest rooms to have sweeping views across town to the surrounding hills. The sparsely developed neighborhood is mostly residential, but with Portneuf Medical Center a short distance south, and several shops, bars and restaurants within walking distance. All the usual Holiday Inn Express amenities are available, including a business center, meeting space, fitness center and swimming pool. Free hot buffet breakfast is provided.

6.
Best Western Pocatello Inn
1415 Bench Road, Pocatello, ID 83201-2444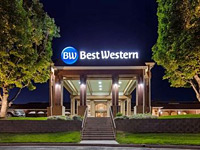 Pocatello's Best Western is one of a group of hotels on the east side of I-15 exit 71, at the edge of a residential area though a short walk from restaurants and other businesses. Nearby locations include Highland Golf Course (1 mile), Holt Arena (1.5 miles) and Idaho State University (2 miles). Free hot breakfast is prepared each morning, while dinner & drinks are available from the on-site CottonClub Lounge. The hotel occupies a large site, with 149 rooms in several interconnected blocks, and also has a 24 hour pool/hot tub, a business center and extensive meeting space. A free shuttle is provided to Pocatello Airport, 9 miles west along I-86.

7.
Fairfield Inn & Suites Pocatello
205 Via Venito, Pocatello, ID 83201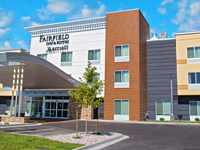 The second Pocatello hotel from the Marriott organization is the Fairfield Inn & Suites, built beside the main I-15 exit for the city (69; Clark Street), though on the east side, away from the main built-up area, instead looking across mostly undeveloped fields and hills. In the vicinity are a gas station, several restaurants and the Portneuf Medical Center. The hotel offers 90 guest rooms, free hot breakfast, a pool, business center and fitness center.

8.
Quality Inn Pocatello
1333 Bench Road, Pocatello, ID 83201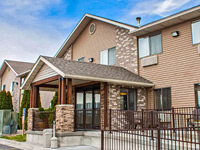 Comfort Inn Pocatello is easily reached from exit 71 of I-15 - the property sits right beside the interstate, part of a busy neighborhood of restaurants, gas stations and other hotels, 2 miles from the city center. The place is quite small, with two floors and 52 rooms, including suites that offer extra space and amenities such as a microwave, refrigerator and sofa bed. Rates are quite low but the staff are efficient, the rooms clean and the hotel has a decent range of facilities - free deluxe continental breakfast, an indoor pool, hot tub, newsstand, guest-use computer and free wi-fi. Pets are welcome, for a fee.

9.
Days Inn by Wyndham Pocatello University Area
835 South 5th Avenue, Pocatello, ID 83201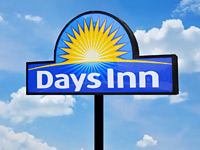 One of few hotels in the center of Pocatello, the Days Inn offers 54 refrigerator/microwave-equipped rooms, free continental breakfast, guest laundry, a newsstand and basic business services. The inn has exterior corridors and plenty of free parking, and is located along 5th Avenue, at the edge of the Idaho State University campus, 1.8 miles from exits 67 or 69 of interstate 15. There are many restaurants a short walk away along the main road.

10.
Super 8 by Wyndham Pocatello
1330 Bench Road, Pocatello, ID 83201-2401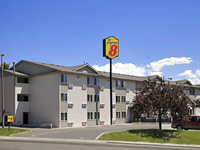 The affordable, pet friendly Super 8 Pocatello caters for guests in a three floor building with interior corridors, occupying a slightly elevated site on the east side of I-15 (at the Pocatello Creek Road exit), within walking distance of a selection of fast food restaurants and also a streamside sports park. The city center is 2 miles south. Wi-fi is complimentary, as is the eight-item continental breakfast; laundry and a business center are the only other amenities.