BEAVERTON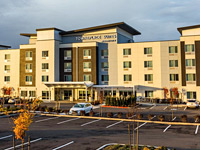 All Beaverton hotels

TownePlace Suites Portland Beaverton
Open November 2018
3900 SW 114th Avenue, Beaverton, OR 97005
Located at the intersection of Canyon Road and Hwy 217, at the edge of an extensive commercial area with many restaurants and shops. The immediate surroundings are quite peaceful, adjoining a belt of trees, beyond which is a residential estate.
BEND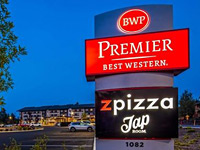 All Bend hotels

Best Western Premier Peppertree Inn at Bend
Open July 2018
1082 SW Yates Drive, Bend, OR 97702
Situated alongside the scenic byway from the Three Sisters peaks, and close to parkland along the Deschutes River. The campus of Oregon State University is also within walking distance.
BEND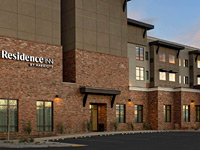 All Bend hotels

Residence Inn Bend
Open December 2018
500 SW Bond Street, Bend, OR 97702
Located in a tree-lined neighborhood on the west side of US 97, one mile south of downtown - in between a residential estate and a business/commercial district that includes a selection of restaurants & shops, and a 16 screen cinema.
CHILOQUIN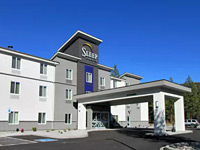 All Chiloquin hotels

Sleep Inn & Suites Chiloquin
Open October 2018
34333 Hwy 97 N, Chiloquin, OR 97624
Built beside the Kla-Mo-Ya Casino, along US 97 a few miles north of Upper Klamath Lake - a peaceful and scenic location, surrounded by wooded hills.
EUGENE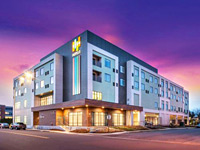 All Eugene hotels
EVEN Hotel Eugene
Open January 2018
2133 Centennial Loop, Eugene, OR 97401
One of the first representatives of the new wellness-orientated brand from IHG, has a quiet, tree-lined location on the south side of I-105 at the Coburg Road exit, close to Eugene Country Club, Cuthbert Amphitheater, Autzen Stadium and the Willamette River.
EUGENE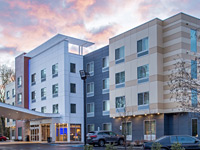 All Eugene hotels

Fairfield Inn & Suites Eugene East Springfield
Open January 2018
3003 Franklin Boulevard, Eugene, OR 97403
Built in a wooded, lightly developed neighborhood east of Interstate 5 and south of the Willamette River; the city center is 3 miles west, and Springfield is 1.5 miles east.
GRANTS PASS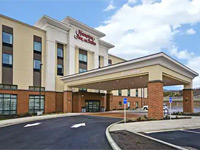 All Grants Pass hotels
Hampton Inn & Suites Grants Pass
Open December 2018
110 NE Morgan Lane, Grants Pass, OR 97526
Situated beside Interstate 5 at the 6th Street exit, within walking distance of many restaurants and shops.
HILLSBORO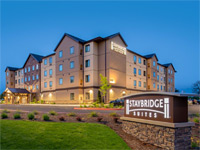 All Hillsboro hotels

Staybridge Suites Hillsboro North
Open March 2019
6225 NE Casper Place, Hillsboro, OR 97214
All-suite hotel of four floors and 80 rooms, all equipped with a full kitchen. The property adjoins a small business park on the north edge of the city, at the intersection of US 26 and Brookwood Parkway/Helvetica Road.
KEIZER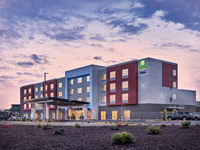 All Keizer hotels

Holiday Inn Express & Suites Keizer
Open November 2018
6150 Keizer Station Blvd NE, Keizer, OR 97303
Part of the Kezier Station shopping center, on the west side of I-5 at the Chemawa Road exit, and so within walking distance of a good selection of restaurants and stores.
MEDFORD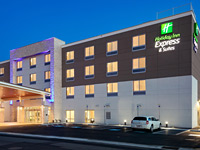 All Medford hotels

Holiday Inn Express & Suites Medford
Open December 2018
1375 Center Drive, Medford, OR 97501
Addition to the accommodation choices along the southern approach to Medford - a four floor, 91 room/suite property situated beside I-5 at the Garfield Street exit, close to a good selection of shopping and dining
PORTLAND
Hampton Inn & Suites Portland-Pearl District
Open November 2017
354 NW 9th Avenue, Portland, OR 97209
A large, mid rise property about half a mile north of downtown Portland, in the Pearl district, occupying most of one block between Flanders and Everett streets, 9th and Park avenues.
PORTLAND

Holiday Inn Express & Suites Portland Airport - Cascade Station
Open July 2018
9189 NE Cascades Parkway, Portland, OR 97220
Latest addition to the large number of hotels near Portland Airport; situated on the west edge of the Cascade Station development, adjacent to the FBI building.
PORTLAND

Hyatt Regency Portland at the Oregon Convention Center
Open April 2020
373 NE Holladay Street, Portland, OR 97232
The second largest hotel in Oregon, with 600 guest rooms and over 32,000 square feet of event space; a 14 floor property that occupies an extensive site immediately north of the Oregon Convention Center.
ROSEBURG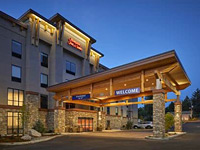 All Roseburg hotels
Hampton Inn & Suites Roseburg
Open May 2018
1620 NW Mulholland Drive, Roseburg, OR 97470
Accessed from the most central of Roseburg's I-5 intersections, Garden Valley Blvd (exit 125), opposite to Roseburg Health Care.
SPRINGFIELD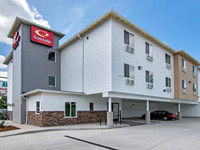 All Springfield hotels

Econo Lodge Inn & Suites Springfield
Open July 2018
1920 Main Street, Springfield, OR 97477
Occupies a newly constructed building, along Main Street east of the city center, 2.7 miles from Interstate 5.