.
BEAVERTON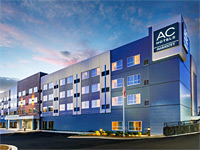 All Beaverton hotels

AC Hotel Portland Beaverton
Open March 2021
15705 NW Blueridge Drive, Beaverton, OR 97006
Upscale, European-style, full service hotel on the north side of Beaverton, two blocks south of US 26.
BEAVERTON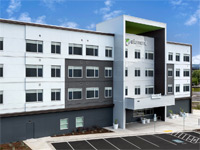 All Beaverton hotels
Element Portland Beaverton
Open February 2021
15655 NW Blueridge Drive, Beaverton, OR 97006
Element Portland Beaverton provides good quality, extended stay accommodations, with a range of modern suites equipped with full kitchen and sofa bed.
BEND
All Bend hotels

Holiday Inn Express & Suites Bend South
Open September 2020
61070 S Hwy 97, Bend, OR 97701
The southernmost hotel in Bend, at the south end of the extensive commercial district along Bus US 87, close to the Murphy Road intersection with Hwy 97.
BOARDMAN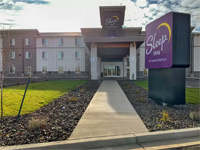 All Boardman hotels

Sleep Inn Boardman
Open December 2020
115 SE Front Street, Boardman, OR 97818
Beside I-84 (south side) at the Main Street exit, in a lightly developed neighborhood though within walking distance of several restaurants.
CLACKAMAS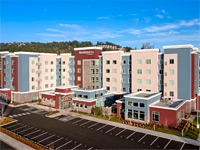 All Clackamas hotels

Residence Inn Portland Happy Valley
Open June 2022
9191 SE Sunnyside Road, Happy Valley, OR 97086
Extended stay hotel adjoining Clackamas Towne Center Mall, also within walking distance of many other restaurants and shops, and of hiking trails in the Three Creeks Natural Area.
KLAMATH FALLS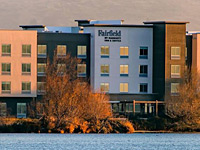 All Klamath Falls hotels

Fairfield Inn & Suites Klamath Falls
Open October 2020
460 Timbermill Drive, Klamath Falls, OR 97601
The first Marriott hotel in Klamath Falls, has a spectacular location right on the edge of Lake Ewauna; part of the Timber Mill Shores development.
PORTLAND

Courtyard Portland East
Open October 2020
2811 NE 181st Avenue, Portland, OR 97230
Part of a business district near the northeast edge of Portland, at the 181st Avenue exit of Interstate 84, 2.5 miles from Blue Lake Regional Park adjoining the Columbia River, and ten miles from Gresham.
PORTLAND

Moxy Portland Downtown
Open February 2021
585 SW 10th Avenue, Portland, OR 97205
12 floor hotel at the edge of downtown, near the Pearl and Culture districts - at the corner of Alder Street and 10th Avenue, two blocks from Pioneer Courthouse Square.
PORTLAND

Tru by Hilton Portland Airport
Open April 2021
7077 NE 82nd Avenue, Portland, OR 97220
Part of a small group of hotels along 82nd Avenue, a short distance south of the international airport, and is set back from the main road; partly shielded by trees, and adjoining a Hilton sister property, the Home2Suites.
REDMOND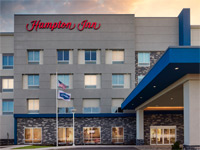 All Redmond hotels
Hampton Inn Redmond Bend Airport
Open March 2021
3901 SW 21st Street, Redmond, OR 97756
Benefits from a relatively quiet location at the end of a side road off Airport Way near the US 97 intersection, on the southeast side of Redmond, a short distance from the Deschutes Expo Center.
SALEM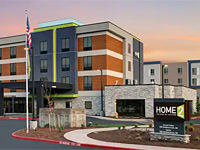 All Salem hotels

Home2 Suites by Hilton Salem
Open April 2021
390 Hawthorne Avenue SE, Salem, OR 97301
Built next to a Hilton sister property (Hampton Inn), along Hawthorne Avenue, in a business district on the west side of I-5 near the Santiam Highway intersection.
SHERWOOD
All Sherwood hotels
Hampton Inn Sherwood
Open August 2020
22000 SW Meinecke Parkway, Sherwood, OR 87140
The first chain hotel in Sherwood, 16 miles southwest of Portland; a central location along Hwy 99 in a leafy, mostly residential district, adjacent to one restaurant.
THE DALLES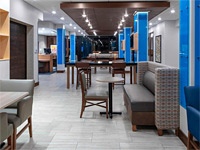 All The Dalles hotels

Holiday Inn Express & Suites The Dalles
Open April 2020
2920 W 6th Street, The Dalles, OR 97058
Part of the main commercial district in The Dalles, along I-84 to the northwest; within walking distance of various shops & restaurants, and a cinema, and 0.7 miles from the Columbia River.
TIGARD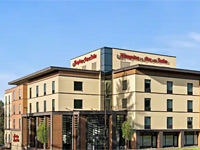 All Tigard hotels
Hampton Inn & Suites Portland Tigard
Open April 2021
11799 SW 69th Avenue, Tigard, OR 97223
Situated at the edge of a quiet, tree-lined residential neighborhood along Dartmouth Street, near the Haines Street exit of Interstate 5.