1.
DoubleTree by Hilton Hotel Portland - Beaverton
15402 NW Cornell Road, Beaverton, OR 97006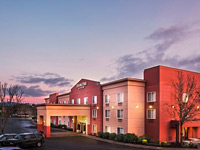 DoubleTree by Hilton Hotel Portland is located in the Silicon Forest area on the north side of Beaverton, easily reached from the Cornell Road exit of US 26, 15 minutes (9 miles) from Hillsboro Airport. Highlights of the full service, three floor, 98 room property are a large indoor pool, 24 hour fitness center, free shuttle to locations within a 5 mile radius, and the on-site restaurant/bar (PressNW), which is open for breakfast, lunch, dinner, room service & evening drinks. The hotel's conference room can cater for events of up to 110 people, theater style.

2.
AC Hotel Portland Beaverton
15705 NW Blueridge Drive, Beaverton, OR 97006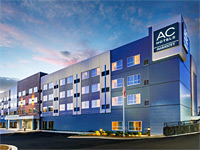 AC Hotel Beaverton and the adjacent Element hotel opened summer 2021 - a pair of upscale Marriott properties just off 158th Avenue on the north side of Beaverton, two blocks south of US 26. The neighborhood has a mix of business premises, residences, and the varied sports facilities of the Howard M. Terpenning Recreation Complex. The 117-room AC Hotel features European-style decor and ambience, with an onsite restaurant/lounge and all the expected facilities for business, meetings and recreation.
3.
EVEN Hotel Portland - Beaverton
11784 NW Cedar Falls Drive, Beaverton, OR 97229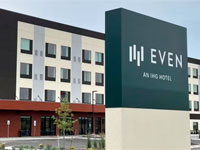 New for 2024, the EVEN Hotel is part of a residential neighborhood in the Cedar Mill district, on the north side of US 26, seven miles west of downtown Portland. There are several restaurants close by, and also the Cedar Mill Wetlands, a riparian park with trees and pools. The hotel, like all of this brand, focusses on wellness, offering fitness facilities and healthy eating to frequent travelers, especially the business market; features include a market, restaurant, bar, and business center.

4.
Courtyard Portland Beaverton
8500 SW Nimbus Avenue, Beaverton, OR 97008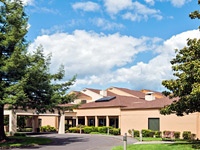 Marriott are represented in Beaverton by several properties, including the Courtyard hotel, built close to Hwy 217 in a business park, part of the Silicon Forest technology district of west Portland, and also near to Washington Square Mall. Besides the freeway, travel to other places is facilitated by the WES railway, as the Hall/Nimbus stop is right next to the hotel. The 137 room/suite property has the traditional design for this brand, based around a sheltered courtyard garden, and it offers high quality accommodation with attentive staff and a decent range of facilities, including an indoor pool, a restaurant (open for breakfast only), a well equipped fitness center and 1,274 sq ft of meeting space.

5.
Homewood Suites by Hilton Hillsboro/Beaverton
15525 NW Gateway Court, Beaverton, OR 97006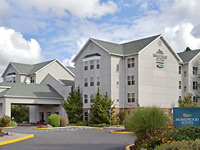 On the north side of Beaverton near Oak Hills, Five Oaks and Cedar Mill, the Homewood Suites by Hilton is an upscale, extended stay/all-suite hotel serving the Silicon Forest technology corridor, and well connected to other Portland area locations by US 26 which runs by just to the north. The hotel's two room suites all feature a large work desk, separate sleeping/living areas and a full kitchen; part of an attractive, modern building that also contains a fitness center, business center, meeting space and dining area for the free hot breakfast. Rooms are in two blocks, either side of a sheltered garden with outdoor pool. Also complimentary are weekday receptions, when snacks, beer and wine are provided.

6.
Hilton Garden Inn Portland/Beaverton
15520 NW Gateway Court, Beaverton, OR 97006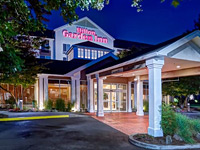 The Hilton Garden Inn is one of three modern hotels in a small, tree-lined business area at the Bethany Boulevard exit of US 26 on the north side of Beaverton, 9 miles east of Hillsboro and 9 miles west of downtown Portland. There are several restaurants nearby and many more 2 miles away at the Streets at Tanasbourne, while onsite, Charley's On Sunset is open for breakfast, lunch, dinner & room service, and the Pavilion Pantry provides snacks and take away food. Accommodation comprises 150 oversized rooms, all with luxurious bedding, dual phone lines, executive desk, refrigerator, microwave, coffee maker and ironing facilities.

7.
TownePlace Suites Portland Beaverton
3900 SW 114th Avenue, Beaverton, OR 97005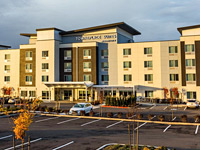 The third Marriott hotel in Beaverton is situated a short distance east of downtown - by the intersection of Canyon Road and Hwy 217, at the edge of an extensive commercial area with many restaurants and shops. The immediate surroundings are quite peaceful, adjoining a belt of trees, beyond which is a residential estate. The TownePlace Suites contains 98 suites (two bedroom, one bedroom and studio), and all include a fully equipped kitchen plus sofa bed. Hot buffet breakfast is complimentary, and a convenience store sells snacks, sundries and cookable meals, which may also be prepared using the bbq facilities.
8.
Element Portland Beaverton
15655 NW Blueridge Drive, Beaverton, OR 97006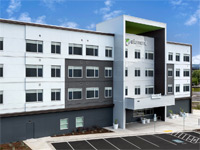 Element Portland Beaverton provides good quality, extended stay accommodations, with a range of modern suites equipped with full kitchen and sofa bed. Wi-fi and daily hot breakfast buffet are complimentary. The hotel opened spring 2021, sharing a site with another new Marriott property (AC Hotel) - along 158th Avenue, 4 miles northwest of the city center. In the vicinity are various shops and restaurants, the Tualatin Hills Athletic Center and the trails and creeks of Tualatin Hills Nature Park.

9.
Best Western Portland West Beaverton
9900 SW Canyon Road, Portland, OR 97225-2912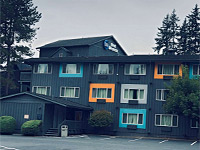 On the east side of Beaverton, the Best Western hotel offers 140 spacious rooms & suites, in several blocks around a secluded garden with pine trees and gazebo - along Canyon Road, in a quiet, wooded neighborhood. There are several restaurants close by to the west, while the Beaverton Transit Center is 1.3 miles away, near the city center. The hotel provides free hot breakfast each morning. Other amenities include a hot tub, fitness center and cocktail lounge.

10.
Fairfield Inn & Suites Portland West/Beaverton
15583 NW Gateway Court, Beaverton, OR 97006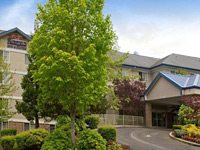 Fairfield Inn Beaverton is easily reached and conveniently located, being just 0.4 miles from US 26, within 15 minutes of Hillsboro, Tigard and Portland, and 70 miles from the Pacific coast. The hotel has a good reputation for cleanliness, customer service, affordability, the comfortable bedding and the range of choices for the free breakfast. Nearby are various business, shops, restaurants and parks, including Tualatin Hills, Willow Creek and Surry West Path. Other amenities are the expected pool, hot tub, business center and meeting space.

11.
Comfort Inn & Suites Beaverton West
13455 SW Tualatin Valley Hwy, Beaverton, OR 97005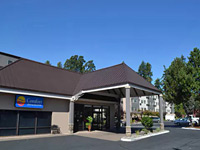 One of the few hotels in the center of Beaverton, the Comfort Inn has 103 rooms, a fitness center, a business center, a meeting room, guest laundry and a dining area for the free hot breakfast, all contained within a 3 floor building along Tualatin Valley Highway a few blocks west of downtown - in a mixed residential/commercial area close to a few restaurants, one right next door. The hotel operates a free shuttle to places within a 5 mile radius, and has other amenities of an outdoor pool, basic business services and guest laundry. Some rooms are available with wet bar and a whirlpool bath.

12.
Rodeway Inn & Suites Portland
10207 SW Parkway, Beaverton, OR 97225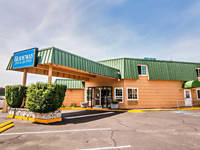 Rodeway Inn Portland has a prominent position at the major intersection of highways 217 and US 26 in the Cedar Hills district, half a mile from Providence St Vincent Medical Center. The Sunset Transit Center on the TriMet system is a short walk away, on the far side of US 26. Rooms at the inn are on two floors, accessed by interior corridors, with views south over the parking lot or north, across a line of trees that partly shields the motel from the freeway and railway just beyond. Wi-fi, continental breakfast and all-day coffee are complimentary.
13.
Motel 6 Beaverton
12255 SW Canyon Road, Beaverton, OR 97005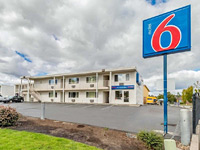 Centrally located in Beaverton along Canyon Road, the Motel 6 is a small, exterior corridor, budget-priced establishment that offers free wi-fi, coin-operated laundry and a refrigerator/microwave in selected rooms. The motel is set back slightly from the main road behind an Asian restaurant, so accommodations are relatively quiet. There are many other shopping and dining outlets nearby, including the varied stores at Beaverton Town Square one block south.