1.
Courtyard Portland North Harbour
1231 North Anchor Way, Portland, OR 97217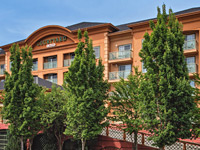 The northernmost Marriott hotel in Oregon sits beside I-5 at the Marine Drive exit, and north-facing rooms have impressive views over Portland Harbor and the Columbia River towards distant Mount Helens, a vista also appreciated from the 7,500 sq ft landscaped patio garden, which also features a fountain, gazebo and floral walkways. Courtyard Portland North Harbour is just 120 feet from the water's edge, part of a lightly developed area close to Delta Park East, within walking distance of a few restaurants. The Courtyard Cafe is open for breakfast, lunch & dinner, and this too has beautiful views over the river. Other amenities at the 4 floor, 129 room/suite hotel are meeting space, a business center, indoor pool/whirlpool and a courtesy shuttle to Portland International Airport (PDX), 8 miles away by road.

2.
Residence Inn Portland North Harbour
1250 North Anchor Way, Portland, OR 97217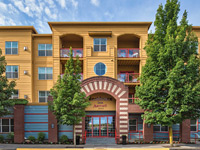 The Residence Inn is the middle of three adjacent Marriott hotels beside the Hwy 99 exit of I-5, just as the interstate bridges across to Hayden Island then continues over the Colombia River to Washington. Sites in the vicinity include Portland International Raceway, Heron Lakes Golf Course and Delta Park, plus there are several restaurants within walking distance of the hotel, and shopping on the island. The hotel and its rooms are elegantly decorated in a range of bright colors, and all accommodations are furnished with such upscale features as granite counters, pillowtop mattresses, designer curtains and stainless steel appliances in the full kitchen contained within all 102 suites (available in studio, one bed and two bed configurations). An airport shuttle, hot breakfast, evening reception and wi-fi are all complimentary.

3.
Holiday Inn Portland - Columbia Riverfront
909 N Hayden Island Drive, Portland, OR 97217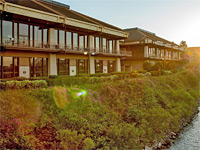 The Red Lion Hotel became Holiday Inn Portland late 2021, still offering full-service amenities in combination with a spectacular setting, extending over 1,000 feet along the waterfront of the Columbia River, immediately east of the I-5 bridge, lined by trees and floral bushes, with ample parking space at the front. Guest rooms are equipped with a refrigerator, microwave & coffee maker, and many have a private balcony overlooking the river. Locations within range of the hotel's free shuttle include Portland International Raceway, Jantzen Beach Center and the Portland Expo Center. There is one restaurant on the premises and many others within walking distance,

4.
Holiday Inn Express Hotel & Suites Portland-Jantzen Beach
2300 N Hayden Island Drive, Portland, OR 97217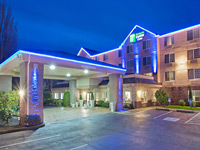 The Holiday Inn Express has a peaceful location in the middle of Hayden Island, which separates Portland Harbor from the main channel of the Columbia River, and is reached from I-5 exit 308, by driving along a short side road that first passes through Jantzen Beach SuperCenter, a collection of stores and restaurants. This location is 8 miles from downtown Portland and 12 miles (by road) from Portland International Airport. Like all hotels of this brand, the 74 room Holiday Inn Express provides free hot breakfast buffet, and has other amenities of a sauna, whirlpool, swimming pool, business center and meeting space.

5.
Best Western Inn at the Meadows
1215 N Hayden Meadows Drive, Portland, OR 97217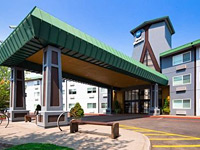 All guests at Best Western Inn at the Meadows are treated to free full breakfast every morning, while for lunch & dinner there are half a dozen restaurants adjacent. Portland Meadows race track is a quarter of a mile east, on the far side of a shopping complex with several large stores including Lowe's. I-5 runs past to the west, leading to downtown Portland (5 miles south) and Vancouver, WA (3 miles north, via Hayden Island). The 146 rooms at the Best Western all have a refrigerator and microwave, contained within a handsome, three floor property that also offers a coin-operated laundry, business center and meeting space. Also available is an outdoor hot tub, though no pool.

6.
Fairfield Inn & Suites Portland North Harbour
1200 North Anchor Way, Portland, OR 97217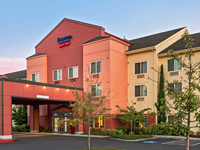 One of three Marriott hotels near Portland North Harbor, the Fairfield Inn is painted in an eye-catching range of bright colors, and it provides comfortable, reliable, affordable lodging to guests visiting such nearby attractions as Hayden Island, Delta Park, Portland International Raceway, Portland Meadows and Portland Metropolitan Exposition Center. A complimentary shuttle is operated to the international airport, 8 miles east. The hotel's free deluxe continental breakfast comes with extra items like quiche and a hot sandwich, while the other amenities include a convenience store, fitness center (both open 24 hours a day), indoor pool/hot tub, video arcade and guest laundry.

7.
Rodeway Inn & Suites Portland
1401 Hayden Island Drive, Portland, OR 97217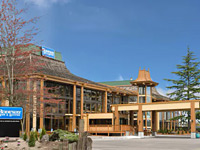 The only amenities of Rodeway Inn Portland are free wi-fi and free coffee, but the place has a fine location, adjoining a residential estate on Hayden Island, within sight of the Columbia River. Jantzen Beach Center is just across the street and there are plenty of restaurants within walking distance. Downtown Portland is ten miles south. Accommodations at the motel include several types of suite in addition to the regular rooms.
8.
Motel 6 Portland North
1125 N Schmeer Road, Portland, OR 97217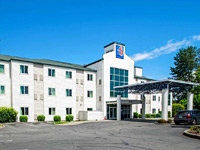 Motel 6 Portland North backs on to the sizeable parking lot for Portland Meadows, the main horse racing venue in Oregon. Guests are also within walking distance of a pleasant footpath along Columbia Slough to the south. The hotel is a modern property with interior corridors, offering low rates and a convenient location just off Interstate 5. There are many restaurants and shops within a quarter of a mile. Interior facilities are a hot tub and coin-operated laundry. Wi-fi is complimentary.