1.
Courtyard Portland East
2811 NE 181st Avenue, Portland, OR 97230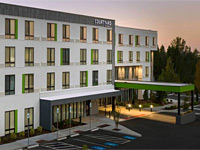 Open summer 2020, the Courtyard by Marriott hotel is part of a business district near the northeast edge of Portland, at the 181st Avenue exit of Interstate 84, 2.5 miles from Blue Lake Regional Park adjoining the Columbia River, and ten miles from Gresham. There are many restaurants within walking distance to the south, on the far side of the freeway, and also one on the premises, complete with full service bar, firepits and patio seating. The 91 room hotel also offers a fitness center, pool, gift shop and a 702 square foot meeting room.

2.
Four Points by Sheraton Portland East
1919 NE 181st Avenue, Portland, OR 97230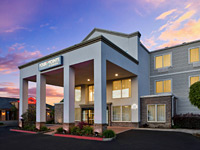 The Four Points by Sheraton has an easterly location in Portland at the 181st Avenue exit of Interstate 84, 12 miles from the city center, in a mainly business/industrial district though within walking distance of several restaurants. All guest rooms are equipped with a microwave, refrigerator and pillowtop mattresses, while the suites have one or more of a sofa bed, wet bar, a whirlpool and separate dining area. The onsite restaurant, Elmer's, serves breakfast, lunch and dinner, plus drinks in the evenings. Also available are meeting space, an indoor pool and a 24 hour fitness center.
3.
Hampton Inn Portland East
3039 NE 181st Avenue, Portland, OR 97230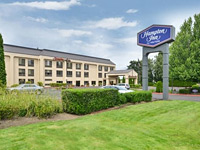 Hampton Inn Portland East enjoys a quiet, semi-rural location seven miles east of Portland International Airport, one block from I-84 at the 181st Avenue exit (13); close to Gresham, Wood Village and Troutdale; downtown Portland is ten miles away. The inn is quite small, with 60 rooms, all equipped with a refrigerator, microwave, coffee maker and work desk. The free breakfast comes with a selection of hot items; for other meals over a dozen restaurants can be found half a mile south, on the far side of the interstate. A fitness room, indoor pool, business center and meeting space are the other principal amenities.

4.
Ramada by Wyndham Portland
9707 SE Stark Street, Portland, OR 97216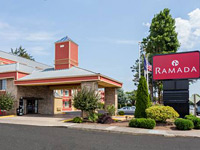 Along Stark Street beside the I-205 intersection in the eastern suburbs of Portland, the Ramada hotel occupies a brightly colored three floor building with 84 rooms and interior corridors. There are several large stores within walking distance including Home Depot, Target and Office Max, plus well over a dozen restaurants. Also in the vicinity are Adventist Medical Center, Multnomah University and several city parks. Complimentary amenities at the Ramada are internet access, hot breakfast, all-day coffee and a shuttle to Portland Airport, 6 miles north along the freeway. The pet friendly hotel also has the usual meetings, business and leisure facilities.

5.
Comfort Inn Portland
8225 NE Wasco Street, Portland, OR 97220
In the eastern suburbs of Portland, the Comfort Inn is an affordable, mid range, interior corridor hotel of 66 refrigerator/microwave-equipped rooms, an indoor pool/hot tub, exercise room and meeting space for 50 people. Free enhanced continental breakfast is served, and there are several hot tub suites available in addition to the regular accommodations. The inn sits in a largely residential neighborhood just south of I-84 exit 5 (82nd Avenue), near several restaurants and within 2 miles of such locations as Multnomah Bible College, Rose City Golf Course and Rocky Butte State Park.

6.
Econo Lodge Portland Near Clackamas Town Center
4512 SE 82nd Avenue, Portland, OR 97266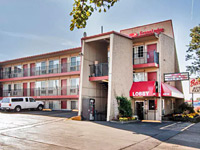 Clackamas Towne Center Mall is 4 miles due south of Econo Lodge - a small motel of three exterior corridor floors and 38 rooms, built at the corner of Holgate Boulevard and 82nd Avenue. Just to the north is an extensive shopping area, with many restaurants and several large stores including Wal-Mart. Rooms contain a refrigerator and microwave, while the lodge offers free wi-fi, free coffee & pastries, a copy/fax service and a newsstand.
7.
Motel 6 Portland Central
3104-06 SE Powell Boulevard, Portland, OR 97202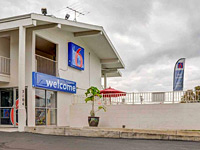 Motel 6 Portland is situated along US 26 (Powell Boulevard), the main route across southeast Portland, lined by many shops and restaurants. The city center is 3 miles away. Rooms at the motel are divided into three exterior corridor blocks, mostly set back from the main road and so providing a quiet night's sleep. The one main facility is an outdoor pool, this right at the front. Wi-fi and free morning coffee are the only other amenities.
8.
Motel 6 Portland Mall - 205
9225 SE Stark Street, Portland, OR 97216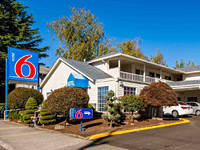 Scenic landscapes within 2 miles of Motel 6 Portland Mall include Mt Tabor City Park, Rocky Butte Park and Kelly Butte Natural Area, though the immediate neighborhood is fully built-up, a mix of residential and commercial properties. The motel sits beside the Stark Street exit of I-205, 6.5 miles south of the international airport. The majority of rooms overlook the secluded parking area, away from the main road. All feature a microwave, refrigerator and free wi-fi. The motel also has a meeting room and a coin-operated laundry facility.