1.
The Nines, a Luxury Collection Hotel, Portland
525 SW Morrison Street, Portland, OR 97204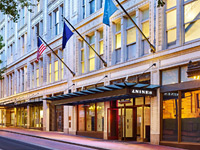 The Nines is one of the most central of Portland hotels, adjacent to Pioneer Courthouse Square along 6th Avenue, and half a block from the Pioneer Place/SW 5th Ave MAX station on the transit system. The luxurious, 331 room property occupies the upper nine floors of the 15 story Meier & Frank Building, which dates from 1909. The luxurious accommodations include a variety of guest rooms and several classes of suite, all beautifully decorated and equipped with high quality fixtures & fittings. Two onsite restaurants are Urban Farmer Steakhouse, serving breakfast, lunch & dinner, and Departure, specializing in Asian-style cuisine, dinner only. The hotel can stage meetings and events for up to 900 guests.

2.
The Hi Lo, Autograph Collection
320 SW Stark Street, Portland, OR 97204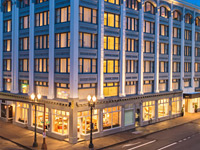 A new Marriott hotel opened in downtown Portland spring 2017, a member of the prestigious Autograph Collection of upscale, boutique residences - the six floor, 110 room property occupies the Oregon Pioneer Building (originally Railway Exchange Building) along Stark Street, built in 1910. Amenities include a renowned restaurant - Huber's Cafe, the oldest in the city, together with a fitness center, business center and three meeting/event rooms. Several suites are available in addition to the regular accommodations. Guests are three blocks from Waterfront Park along the Willamette River, and two blocks from the nearest MAX station (Oak/SW 1st Avenue).
3.
Crowne Plaza Portland-Downtown Convention Center
1441 NE 2nd Avenue, Portland, OR 97232
With a central location, full range of amenities, luxurious rooms and excellent customer service, the Crowne Plaza is one of the top hotels in Portland. The ten story building has a prominent location beside I-5 at the Weidler Street exit, within walking distance of the Rose Garden Arena (Moda Center), Oregon State Hospital, Oregon Convention Center and many other places. The nearest MAX light rail station (Rose Quarter) is one block south, and the hotel operates a free shuttle to places within a 5 mile radius. There is one restaurant on-site (Palm Garden) serving breakfast, lunch & dinner, and also the Speckled Rooster lounge, open from 3 pm to midnight. Event facilities comprise 4 rooms totaling over 9,000 sq ft in area, catering for events of up to 630 people, while for leisure the Crowne Plaza offers an indoor pool, whirlpool, sun deck, sports court and fitness center.
4.
Portland Marriott City Center
520 Southwest Broadway, Portland, OR 97205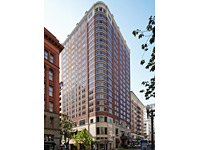 The smaller of two full service Marriott hotels in downtown Portland is an elegant, 20 story, boutique property of 249 large and well decorated rooms & suites, an all day restaurant/bar (Mez on Broadway), a concierge lounge, 3,500 sq ft of meeting space and a 24 hour fitness center. The location along Broadway puts many shops, bars and restaurants within way reach, plus a movie theater (Regal Fox Tower Stadium), department store (Nordstorm Downtown) and numerous other businesses. Portland Airport is 9 miles northwest, and the hotel is easily accessed from either I-5 or I-405.
5.
Portland Marriott Downtown Waterfront
1401 SW Naito Parkway, Portland, OR 97201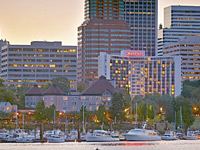 Portland Marriott Downtown has a spectacular setting overlooking a waterfront park beside the Willamette River, near Hawthorne Bridge and within a few blocks of many city center locations such as Portland State University, Portland Plaza, One Main Place and the KOIN Center. There are numerous restaurants & bars close by, and one on-site, featuring Northwest cuisine, and newly installed in 2012. The lobby has also been redesigned, welcoming guests into a 16 floor, 497 room/suite building that also contains a swimming pool, 24 hour fitness center, full service business center and over 40,000 sq ft of meeting space (28 individual rooms), enough for events of 1,000 people.

6.
The Duniway Portland, a Hilton Hotel
545 SW Taylor Street, Portland, OR 97204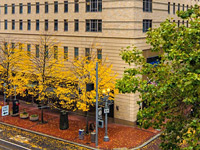 The Duniway Portland is a boutique, city center hotel, which came under Hilton management in 2017; a high-rise, 327 room/suite property along Taylor Street, one block from Pioneer Courthouse Square. Accommodations feature local decor and furnishings, 65 inch TVs, and refrigerators, while the suites, all on the top floor, have a separate living area with sofa bed. The onsite restaurant, Jackrabbit, is open all day for breakfast, lunch & dinner, while drinks and snacks are available from the lobby bar. The hotel also has a convenience store, indoor pool, business & fitness centers and function space catering for up to 150 guests.

7.
Hilton Portland & Executive Tower
921 SW Sixth Avenue, Portland, OR 97204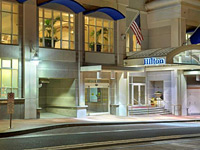 The tower of Hilton Portland rises 23 stories above the downtown area, and with a total of 782 guest rooms (tower plus main building) the hotel is the largest anywhere in Oregon. The Pioneer Square South station of the MAX light railway is just one block north, enabling easy travel to area locations, and I-405 runs past half a mile away. Both buildings have their own restaurant/bar, business center and fitness center, and together they provide a massive 66,000 sq ft of meeting/event space. The rooms are uniformly elegant, beautifully decorated, and furnished with extra comfortable bedding and a wide range of amenities; those in the Executive Tower are more modern, while those in the main building are more traditionally styled.

8.
DoubleTree by Hilton Hotel Portland
1000 NE Multnomah Street, Portland, OR 97232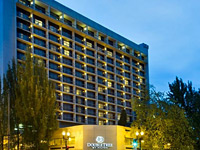 Sites within a short walk of the luxurious, full service DoubleTree Hotel Portland include Oregon Convention Center, the Lloyd Center, Carrington College and Rose Garden Arena, together with many bars and restaurants - some close to the hotel, others around Burnside Street a few blocks south. Like most city center properties the DoubleTree features a tall tower, hence most of the 476 rooms enjoy long distance rooms over the surroundings, across to the Willamette River and beyond. The MAX light railway (green, red and blue lines) runs right past to to south. Amongst the many facilities are two restaurants, an outdoor pool, a 24 hour fitness center, banquet space, a meetings center and a free local area shuttle (2 mile radius)

9.
AC Hotel Portland Downtown
888 SW Third Avenue, Portland, OR 97204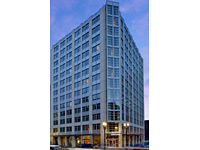 The AC Hotel is a luxurious, contemporary, mid rise (13 story) property newly constructed in 2016, located on the corner of Taylor Street and 3rd Avenue in downtown Portland, three blocks from the waterfront of the Willamette River, and five blocks from Portland State University. The stylish, Spanish-influenced design and decor are complemented by locally-produced artworks, reflecting the history and culture of the city. Features of the 204 room hotel include a 24 hour fitness center, 1,220 sq ft of function space, library and restaurant/bar. The nearest MAX station (Pioneer Place/SW 5th Ave) is two blocks west.

10.
Courtyard Portland City Center
550 SW Oak Street, Portland, OR 97204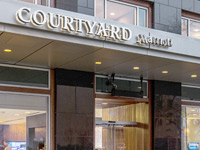 The most central of several Courtyard hotels in Portland is a typically large (16 floor), stylishly decorated and well managed property of 253 rooms & suites, within walking distance of Nordstrom Downtown Portland, Roseland Theater, Pioneer Square, Regal Fox Tower and many restaurants/bars in the surrounding Pearl District - between I-405 and the Willamette River, half a mile north of Oregon State University. The list of facilities is headed by the on-site restaurant (The Original), open all day, and serving traditional American cuisine with contemporary variations; also available are a comfortable lobby, a 24 hour convenience store, a fitness center, business center and nine meeting rooms.

11.
Courtyard Portland Downtown/Lloyd Center
435 NE Wasco St, Portland, OR 97232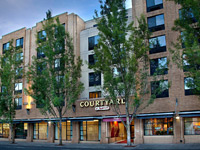 The Lloyd Center is 2 blocks east of Courtyard Portland Downtown; also within walking distance are Oregon Convention Center and the Rose Garden, while the proximity to I-5, I-84, I-405 and the MAX light railway (red line) enable quick travel to other area locations. The 186 rooms & suites feature the luxurious Marriott bedding with triple sheeting and pillow top mattresses, plus a large work desk and coffee making/ironing facilities; some have a sofa bed, hot tub bath and private balcony. The lobby level, continental-style Charley's On Grand restaurant is open all day, and provides room service, while the hotel's other main facilities are a fitness center, indoor pool, patio, business center and meeting space.

12.
Residence Inn Portland Downtown/RiverPlace
2115 SW River Parkway, Portland, OR 97201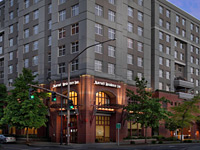 With 9 floors and 258 spacious, luxurious rooms (all equipped with a full kitchen), the Residence Inn is one of the largest all-suite hotels in downtown Portland, and it has a scenic location on the west bank of the Willamette River, a short walk from Waterfront City Park and a marina. Rooms on the north side are quieter since they face away from the I-5/I-405 intersection, just to the south. Complimentary amenities include a local area shuttle, internet access and hot breakfast, while leisure facilities are an indoor pool and a fitness center, which has a variety of machines, free weights and other equipment. The hotel also offers a business center and four meeting rooms; largest single capacity is 100, theater-style.

13.
Residence Inn Portland Downtown/Pearl District
1150 NW 9th Avenue, Portland, OR 97209
Open spring 2014, Residence Inn Portland Downtown is part of the Pearl District, a few blocks north of the city center, overlooking the Willamette River through separated from it by railway lines and a road; Portland Union Station is 0.3 miles south. The nearest light rail station (NW 9th & Lovejoy) is 2 blocks away. The all-suite accommodations are available in one bedroom, two bedroom and studio configurations, all with a full kitchen; food for cooking can be ordered via the free grocery delivery service. Wi-fi, hot breakfast and evening receptions are complimentary, and there are numerous restaurants within a few blocks. The property has six floors and 229 rooms, all with fine views of the river or the city.

14.
Embassy Suites Portland - Downtown
319 SW Pine Street, Portland, OR 97204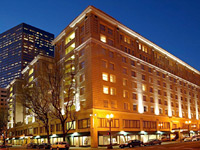 The Embassy Suites in downtown Portland takes up one block between 3rd and 4th Avenues, occupying the venerable Multnomah Building, which was constructed in 1912. The green and yellow lines of the MAX light railway run past 2 blocks east (Oak/SW 1st Ave station), enabling quick travel to other Portland locations. Guests at the Embassy Suites enter through a particularly impressive lobby, and can take advantage of a wide range of facilities and amenities, including a restaurant (Portland Prime), lounge/bar, fitness room, indoor pool, video arcade, gift shop, barber shop, business center and 14,000 sq ft of meeting/banquet space. Both cooked-to-order breakfast and nightly light dinner are complimentary.
15.
Hampton Inn & Suites Portland-Pearl District
354 NW 9th Avenue, Portland, OR 97209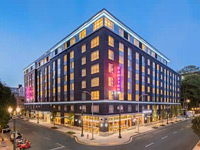 The Hampton Inn is a large, mid rise property about half a mile north of downtown Portland, in the Pearl district, occupying most of one block between Flanders and Everett streets, 9th and Park avenues. Nearby are numerous bars, restaurants, galleries and shops, and many other attractions are within range of the streetcar service; the nearest stop (NW 10th & Gilsan is just 600 feet away. The hotel has a restaurant on the premises (Tanner Creek Tavern), and it provides free hot breakfast, also available in a take out version, Monday to Friday. A 24 market, an indoor saline pool, business/fitness centers and a small meeting room are the other principal facilities.

16.
Holiday Inn Express Hotel & Suites Portland-NW Downtown
2333 NW Vaughn Street, Portland, OR 97210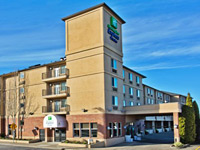 The most central of several Holiday Inn Express hotels in Portland, OR, sits along Vaughn Street near the US 30 junction, just over a mile from the city center and half a mile from the nearest streetcar stop (NW 23rd & Marshall). Within walking distance are a selection of shops, bars and restaurants, in the busy Nob Hill District, plus various corporate buildings and the Legacy Good Samaritan Medical Center. The hotel provides free hot breakfast with various hot items, and has the usual leisure facilities of a pool, hot tub and fitness center. Event facilities comprise two rooms, totaling 1,250 square feet.

17.
Surestay Hotel By Best Western Portland City Center
2401 SW 4th Avenue, Portland, OR 97201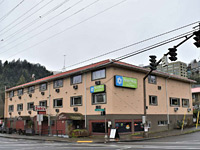 Surestay Hotel Portland is set amidst wooded surroundings at the edge of the hills bordering the city to the west; a generally quiet neighborhood, though right next to I-405, which runs out-of-sight to the north. Guest rooms are divided between two blocks, accessed by exterior or interior corridors, and one building is shared with a restaurant/bar. There are several other dining places nearby, and many more on the far side of the interstate, in and around the campus of Portland State University. Guests at the Best Western appreciate the good location, the reasonable rates, the helpful staff and the free continental breakfast.

18.
Quality Inn Portland Downtown Convention Center
431 NE Multnomah Street, Portland, OR 97232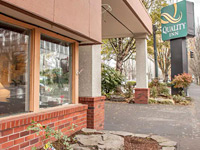 Quality Inn Portland is situated two blocks north of Oregon Convention Center along Grand Avenue, and a similar distance from the Moda Center, on the far side of Interstate 5. Travel to other city center locations is facilitated by the light rail system - the NE Grand & Multnomah station is right outside. The three floor hotel is quite well shielded by large trees from the surrounding roads, centered on a rather cramped parking lot; there is no room for an outdoor pool, but it does have a fitness center, business center and meeting space. Free hot breakfast is provided each morning.

19.
Econo Lodge Portland City Center
1889 SW 4th Avenue, Portland, OR 97201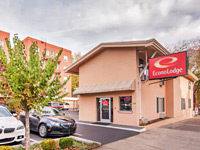 Although facilities are limited, Econo Lodge Portland City Center charges low rates and has a fine central location along 4th Avenue on the Portland State University campus, a few blocks from the I-5/I-405 intersection. One of the smallest chain hotels in the state, the lodge contains 19 large, simply furnished rooms, complete with microwave & refrigerator, and it has amenities of free continental breakfast, free internet access and a copy/fax service. There are several restaurants nearby, especially 2 blocks west along 6th Street, and many other sites within walking distance including Portland Plaza, Waterfront City Park and the KOIN Center.

20.
Rodeway Inn Portland Convention Center
305 N Broadway, Portland, OR 97227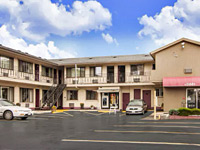 As well as Portland Convention Center, half a mile south, the Rodeway Inn is also one of the closest motels to Rose Garden Arena and Portland Memorial Coliseum, both just one block away. The small (20 room) exterior corridor inn is located in the Lloyd District on Broadway, just east of the Willamette River bridge and close to the I-5 intersection (exit 302A); it offers free continental breakfast, free internet access and a refrigerator & coffee maker in each room.
21.
Motel 6 Portland Downtown
518 NE Holladay Street, Portland, OR 97232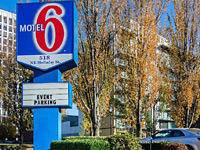 Motel 6 Portland Downtown is a small, exterior corridor establishment of just 35 rooms, along Grand Avenue, right beside the NE Grand/Pacific station on the Portland metro system. All accommodations feature free wi-fi and a microwave/refrigerator, but there are no other major amenities. This location is two blocks from Oregon Convention Center and close to plenty of restaurants. The nearest shopping mall (Lloyd Center) is half a mile east.