1.
DoubleTree by Hilton Hotel Portland - Tigard
9575 SW Locust Street, Tigard, OR 97223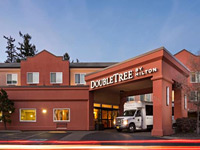 The second Hilton Hotels property in Tigard opened fall 2014, after conversion from another brand. The DoubleTree has a quiet location adjoining a residential neighborhood, 0.2 miles from Hwy 217, and a similar distance from Washington Square Mall. Downtown Portland is ten miles away. There are plenty of restaurants within walking distance and one onsite, open all day and also providing room service. All guest rooms and suites are equipped with a microwave and refrigerator. A 1,500 sq ft meeting room caters for events of up to 100 people. Leisure amenities are an indoor pool, a 24 hour fitness center and a patio with barbecue facilities.

2.
Courtyard Portland Tigard
15686 SW Sequoia Parkway, Tigard, OR 97224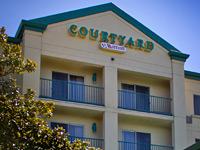 Near the south edge of the Portland metropolitan area, Courtyard Portland Tigard provides high quality, full service accommodation, with excellent customer service and a good range of facilities. The on-site Bistro restaurant serves breakfast, dinner & evening drinks, and there are several other restaurants within walking distance though most of the neighborhood is a business district, on the west side of I-5 near exit 291. The Courtyard greets guests with a stylish lobby, equipped with media wall and plenty of comfortable seating; the hotel has the usual leisure facilities of pool, whirlpool and fitness center, plus a business center and meeting space. Locations within 2 miles include Sumerfield Golf Course, Bridgeport Village and Oswego Lake.

3.
Embassy Suites Portland - Washington Square
9000 SW Washington Square Road, Tigard, OR 97223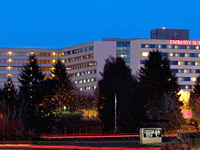 Highlight of Embassy Suites Portland - Washington Square is the floor to ceiling atrium lobby, containing tropical plants, a waterfall and dining area where the free hot, cooked-to-order breakfast is served, Also complimentary are the manager's receptions, staged every evening between 5.30 and 7 pm. The 9 story building is situated next to Hwy 217 on the north side of Tigard, in between Washington Square Mall and Redtail Golf Course, and 8 miles southwest of downtown Portland. Amongst the many other amenities of this all-suite, full service hotel are a fitness center, business center, gift shop, indoor pool, local area shuttle and 15,000 sq ft of meeting/event space. With 356 two-room suites, the Embassy Suites is claimed to be the fourth biggest hotel in Oregon.
4.
Hampton Inn & Suites Portland Tigard
11799 SW 69th Avenue, Tigard, OR 97223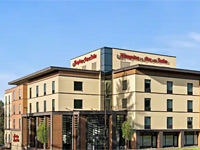 The 152-room Hampton Inn opened winter 2021, situated at the edge of a quiet, tree-lined residential neighborhood along Dartmouth Street, near the Haines Street exit of Interstate 5. There are several stores within walking distance to the west, including Costco and Walmart, plus a selection of restaurants just a little further. Downtown Portland is 7 miles northeast. The main amenities are free hot breakfast, an indoor pool & hot tub, two meeting rooms and a 24 hour fitness center.

5.
Comfort Inn & Suites Tigard
10830 SW Greenburg Road, Tigard, OR 97223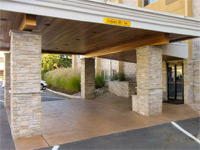 Comfort Inn Tigard has a secluded location close to Hwy 217 just off Greenburg Road, backing on to a patch of woodland - towards the north side of the city, 8 miles from downtown Portland. Neighborhood attractions include Washington Square Mall, RedTail Golf Center, and a number of city parks. All accommodations are equipped with a microwave and refrigerator. Continental breakfast is complimentary. The hotel also offers a fitness center, business center and guest laundry facility.

6.
Best Western Plus Northwind Inn & Suites
16105 SW Pacific Highway, Tigard, OR 97224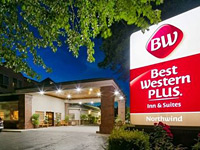 Best Western Plus Northwind Inn is part of a peaceful, tree-lined neighborhood along Hwy 99 on the southwestern approach to Tigard, 10 miles from Portland and 2.5 miles from interstate 5. Besides the many shops and restaurants nearby, the AAA Three Diamond-rated hotel is also close to golf courses (Summerfield & King City), city parks, and Tualatin River National Wildlife Refuge. Guests have a choice of standard rooms, all containing a microwave and refrigerator, or several types of suite. Free full breakfast is served each morning; other facilities are an indoor pool/hot tub, an exercise room and a 90 person meeting room.

7.
Comfort Suites Portland Southwest
11340 SW 60th Avenue, Portland, OR 97219
Serving Tigard, Metzger and Lake Oswego as well as southwest Portland, the Comfort Suites is a compact property of 52 good sized rooms, all containing a sofa bed, microwave, coffee maker & refrigerator; a few have a hot tub bath. The free breakfast includes a few hot items, and there are several restaurants within walking distance to the west, along Hwy 99 on the far side of interstate 5. Nearby locations are Portland Community College (0.4 miles), George Fox University (1.3 miles) and Washington Square Mall (2.1 miles). The hotel provides the usual leisure amenities of a pool (indoor), hot tub and fitness center.
8.
Motel 6 Tigard - Portland Southwest
11455 SW Pacific Highway, Tigard, OR 97223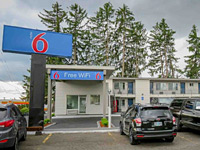 The Motel 6 is a northeast Tigard hotel, along Hwy 99W a little way west of the I-5 intersection - part of a long line of restaurants, shops and other businesses, bordering a residential district to the rear. The pet friendly accommodations are in two linked, two story, exterior corridor blocks, overlooking the parking lot. Wi-fi and morning coffee are complimentary.
9.
Motel 6 Tigard - Portland South - Lake Oswego
17950 SW McEwan Road, Tigard, OR 97224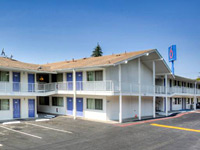 Motel 6 Portland South is surrounded by a good-sized parking area including several truck spaces, with an outdoor pool at the front and large trees along the perimeter. Like most properties of this economically-priced chain the rooms are on two floors of an exterior corridor building, and some contain a microwave & refrigerator. Guest laundry and free morning coffee are the only other amenities. The motel is situated on the south side of Tigard, near Tualatin and Rivergrove, beside exit 290 of Interstate 5.
10.
Motel 6 Portland - Tigard West
17959 SW McEwan Road, Tigard, OR 97224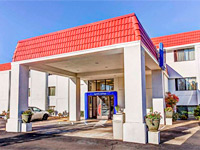 There are two restaurants adjacent to Motel 6 Tigard West, and many others within walking distance; most are on the far side of I-5, around Bridgeport Village Mall. The motel is accessed from exit 290 of the interstate (Bridgeport Road), and sits right opposite another property of the same brand, the main difference being that rooms are contained within a newer, interior corridor building. Amenities are a secluded outdoor pool (at the rear), wi-fi and free morning coffee. Accommodations include studio suites with microwave and refrigerator.