1.
Holiday Inn Portland West - Hillsboro
2575 NW Aloclek Drive, Hillsboro, OR 97124
The full service, 110 room Holiday Inn Portland West is a late 2016 addition to the hotel choices in Hillsboro, built along a side street off Cornell Road, within walking distance of trails along the wooded corridor of Rock Creek Park. There are many business premises in the vicinity, including Intel, while the Streets at Tanasbourne Mall is one mile east. The onsite restaurant provides all-day dining, and evening drinks, while the meeting facilities can accommodate events of up to 63 people. There are many more restaurants a quarter of a mile west, together with a supermarket. Other amenities include a market, fitness & business centers and an indoor pool.

2.
Courtyard Portland Hillsboro
3050 NW Stucki Place, Hillsboro, OR 97124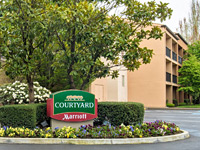 Courtyard Portland Hillsboro is one of a pair of adjacent Marriott hotels in the Tanasbourne area beside the 185th Avenue exit of US 26, within walking distance of numerous restaurants & shops at the Streets, and a few miles from many other business and corporate locations. The hotel's 155 rooms & suites are divided into two blocks separated by the traditional courtyard garden, containing footpaths, sundeck, gazebo and shady trees; inside, facilities include the Bistro restaurant (open for dinner & breakfast), a pool & whirlpool, a small fitness center and a meeting room accommodating up to 85 people.

3.
Residence Inn Portland Hillsboro/Brookwood
3160 NE Brookwood Parkway, Hillsboro, OR 97124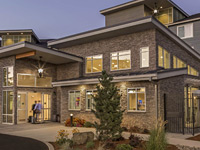 Newly constructed in 2016, the Residence Inn by Marriott has a quiet location in a business district along Brookwood Parkway, adjacent to a pleasant walking trail past several small lakes on Dawson Creek, but mostly near various corporations including FEI Company, SolarWorld and Intel. Daily hot breakfast and weekday evening socials are complimentary, while the nearest restaurants are 1.5 miles east along Evergreen Parkway. The extended stay hotel contains 146 suites, all featuring a fully equipped kitchen; food and other supplies can be ordered using the free grocery delivery service. One meeting room can accommodate events of up to 60 people.

4.
Residence Inn Portland West/Hillsboro
18855 NW Tanasbourne Drive, Hillsboro, OR 97124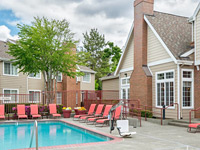 The extended stay Residence Inn Portland West accommodates guests in 122 studio, one bed and two bed suites, part of a compact, tree-lined complex of several individual blocks separated by walkways and greenery, also including an outdoor pool, sports court and plenty of parking. All rooms contain a full kitchen complete with dishwasher, and have separate working/living/eating areas. A free grocery shopping service is available to facilitate in-room cooking, though both hot breakfast buffet and nightly receptions (weekdays) are complimentary. The hotel's meeting room can accommodate up to 60 persons, theater style. There are many shops and restaurants nearby, in and around the Streets at Tanasbourne.

5.
Staybridge Suites Hillsboro North
6225 NE Casper Place, Hillsboro, OR 97214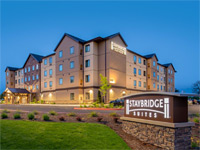 Open spring 2019, Staybridge Suites Hillsboro is an all-suite hotel of four floors and 80 rooms, all equipped with a full kitchen. The property adjoins a small business park on the north edge of the city, at the intersection of US 26 and Brookwood Parkway/Helvetica Road, within walking distance of one restaurant. North-facing rooms have views across open countryside. The hotel provides free hot breakfast buffet, and has the usual facilities for meetings, business and recreation.

6.
Embassy Suites Portland/Hillsboro
20001 NW Tanasbourne Drive, Hillsboro, OR 97124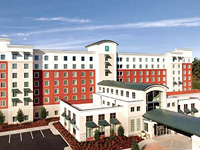 Open late 2014, the Embassy Suites is one of two new, adjacent Hilton Group hotels in Hillsboro (the other is the Hampton Inn), situated at the edge of a business park on the south side of US 26, close to various parks, streamways and golf courses, plus shopping centers and restaurants. All accommodations are two room suites, featuring a work desk, microwave, refrigerator, wet bar and sofa bed. Hot breakfast and evening receptions are complimentary for every guest. A convenience store sells snacks and cookable meals, while the onsite, American-style restaurant is open for lunch, dinner and room service. The hotel can accommodate meetings and events of up to 300 people. Other amenities include a fitness center and indoor pool.
7.
Hampton Inn & Suites Portland/Hillsboro-Evergreen Park
19999 NW Tanasbourne Drive, Hillsboro, OR 97124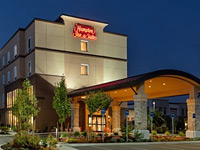 The Hampton Inn is a summer 2014 addition to hotel choices in the Silicon Forest district, close to many businesses including Intel, one mile west. US 26 runs past just to the north, leading to downtown Portland, 10 miles southeast. The center of Hillsboro is 6 miles away. Although there are many businesses and shops nearby, guests are also within walking distance of natural landscapes, including Rock Creek Park. The hotel adjoins a Hilton sister property (Embassy Suites), which has a restaurant, while onsite facilities include a convenience store, indoor pool, 24 hour fitness center and a 600 sq ft meeting room. Free hot breakfast is provided, also available in a take-out version.

8.
TownePlace Suites Portland Hillsboro
6550 NE Brighton Street, Hillsboro, OR 97124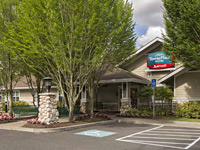 One of four Marriott hotels near Hillsboro, west Portland, the TownePlace Suites provides high quality all-suite/long stay lodging by the intersection of Cornell Road and 231st Avenue, 0.3 miles from the Orenco station on the MAX light railway (Blue Line). This is a mostly residential neighborhood, but close to the various locations of Intel Corporation, with Portland Hillsboro Airport 2 miles west and the Streets at Tanasbourne 2.5 miles east. The hotel's 136 studio suites feature a full kitchen, sofabed, executive desk, free internet access and luxurious bedding; they are part of a residential-style group of buildings linked by walkways and gardens. Amenities include free continental breakfast, a fitness center, outdoor pool and boardroom.

9.
SpringHill Suites Portland Hillsboro
7351 NE Butler Street, Hillsboro, OR 97124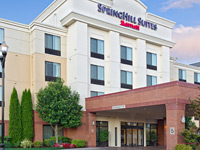 Like its nearby sister property (TownePlace Suites), the SpringHill Suites is a modern, all suite Marriott hotel close to Intel Corporation, in the leafy suburbs between Hillsboro and Portland. The property is large and elegant, with 4 floors and 106 studio suites, all containing a kitchenette area with microwave, sink, refrigerator and coffee maker. Accommodations are very large, the decor is bright, colorful and modern, and the hotel has a good range of amenities, principally free hot breakfast, an indoor pool, whirlpool, 24 hour convenience store, meeting space and fitness center. There are plenty of shops and restaurants nearby, and the hotel is less than a mile from trails, picnic areas and parkland along Rock Creek.

10.
Holiday Inn Express Portland West/Hillsboro
5900 Northeast Ray Circle, Hillsboro, OR 97124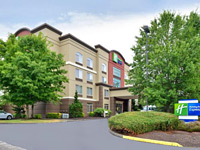 The Holiday Inn Express sits just off Cornell Road between two locations of the Intel Corporation campus, 4 miles east of downtown Hillsboro and 15 miles from Portland. The Blue Line of the MAX railway runs past just south, providing easy travel to many neighborhood locations. Hotel highlights include a spacious, two floor lobby, free hot breakfast, a fitness center and indoor pool. For other meals there is a small group of restaurants one block east, while the closest shopping center is half a mile further. A complimentary shuttle is operated to places within a 5 mile radius, including the Streets at Tanasbourne Mall (3 miles east).

11.
Comfort Inn Conference Center Hillsboro
3500 NE Cornell Road, Hillsboro, OR 97124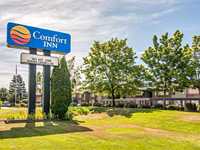 Fields and woodland surround Comfort Inn Conference Center Hillsboro - the hotel has a countryside location along Cornell Road a little way east of the town center, opposite the entrance to Portland-Hillsboro Airport, yet there are many restaurants within half a mile, and the MAX light railway passes a short distance south. Lodging is spacious, affordable and well equipped; all 118 rooms contain a microwave & refrigerator, while some have a sofa bed, hot tub bath and wet bar. The hotel's free breakfast includes a few hot items.

12.
Econo Lodge Inn & Suites Hillsboro
622 SE 10th Avenue, Hillsboro, OR 97123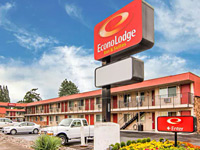 The pet friendly, exterior corridor Econo Lodge is one of the few hotels near the center of Hillsboro, and although facilities are basic - just free continental breakfast, free internet access and a copy/fax service, rates are low and the neighborhood has a good selection of restaurants, bars and small shops. The inn is located along 10th Avenue (Hwy 8), within a mile of Tuality Community Hospital, Pacific University, Shute Park and Hillsboro Regional Theatre. Larger stores can be found a mile west along the highway. All rooms contain a refrigerator and microwave.