1.
EVEN Hotel Eugene
2133 Centennial Loop, Eugene, OR 97401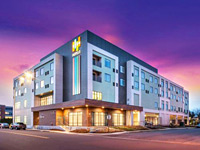 The Even Hotel in Eugene (open 2018), one of the first representatives of the new wellness-orientated brand from IHG, has a quiet, tree-lined location on the south side of I-105 at the Coburg Road exit, close to Eugene Country Club, Cuthbert Amphitheater, Autzen Stadium and the Willamette River. A free shuttle is provided to Eugene Airport, 9 miles northwest. Special features include a healthy, organic food menu, a spa, a fully-equipped fitness center and a fitness station in every guest room. Accommodations also contain a coffee maker, microwave, refrigerator, work desk and spa-like shower; some have a sofa bed.

2.
Residence Inn Eugene Springfield
25 Club Road, Eugene, OR 97401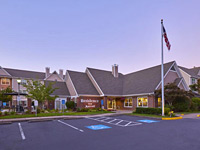 The top choice for all-suite/extended stay accommodation in Eugene is the Residence Inn by Marriott, a well managed, fully featured hotel on the north bank of the Willamette River, accessed by the Coburg Road exit of I-105. The city center is half a mile south, with University of Oregon half a mile further, and the greenery of Alton Baker Park just a short walk eastwards. The hotel has the older Residence Inn design; suites are on the ground floor or first floor, surrounded by gardens, and all contain a full kitchen. Daily breakfast buffet is complimentary, as are the evening receptions provided from Monday to Thursday. Leisure facilities are an outdoor pool, hot tub, sports court, sundeck and fitness center.
3.
Hampton Inn Eugene
3780 W 11th Avenue, Eugene, OR 97402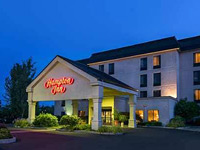 Hilton are represented in Eugene by a property in the downtown area and the 61 room Hampton Inn, one of the few hotels on the west side of the city - the 4 floor building is situated along 11th Avenue (Hwy 126), though is set back a little from the road, overlooking a stream and cycle trail. This route is the main approach from the coast; Florence and
Oregon Dunes NRA
are an hour's drive away, while in the other direction, the road reaches downtown Eugene in 3 miles. The hotel provides free hot breakfast, is a short walk from at least half a dozen restaurants, and has the usual facilities for leisure, meetings & business.

4.
The Maverick Hotel
1859 Franklin Blvd, Eugene, OR 97403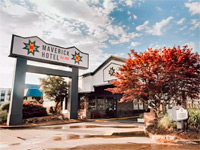 The Willamette River flows past a quarter of a mile north of the Maverick Hotel, and guests are within walking distance of a riverside park, linked by footbridge to a larger natural area on the far side. The pet friendly, exterior corridor motel is one of the closest to the University of Oregon, bordering the campus to the east, and right opposite Matthew Knight Arena. One restaurant (a Chinese) shares the parking lot and there are plenty more dining options nearby. Basic business services, free continental breakfast, free wi-fi and a small meeting room are the principal amenities.

5.
Holiday Inn Express Hotel & Suites Eugene Downtown - University
2117 Franklin Boulevard, Eugene, OR 97403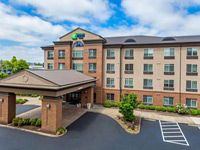 Holiday Inn Express Eugene has a peaceful setting along Franklin Boulevard on the banks of the Willamette River, next to Franklin City Park and just one block from the University of Oregon. Paths connect with the much larger Alton Baker Park on the far side of the river, and the property is also within walking distance of many restaurants, bars and shops. Highlights of this modern, elegant, four floor hotel are free hot breakfast, a good sized indoor pool, a fitness center and free internet access. Meetings and events are catered for by a 868 sq ft room, seating up to 45 people.

6.
Candlewood Suites Eugene Springfield
3005 Franklin Boulevard, Eugene, OR 97403
Only Franklin Boulevard and a thin line of trees separate Candlewood Suites Eugene from the Willamette River; the recently built (2014) hotel has a scenic location on the east side of the city, reached from I-5 exit 192. Guests are a short walk from parkland and trails along the river, and the University of Oregon is just one mile away. The hotel features affordable, all-suite lodging; all rooms include a full kitchen, while many have a separate living area with a sofa bed. Snacks and cookable meals can be purchased from the onsite convenience store. Other facilities are a bbq area, fitness center and business center.

7.
Best Western New Oregon Motel
1655 Franklin Boulevard, Eugene, OR 97403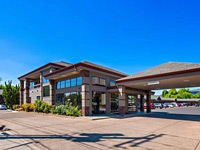 The larger of two adjacent Best Western hotels in Eugene has 129 rooms, in mixed interior/exterior corridor blocks on the north side of Franklin Boulevard, very convenient for the University of Oregon just opposite. Best Western New Oregon Motel features free continental breakfast, a well equipped fitness center, saunas, sundeck and an indoor pool/hot tub. All the rooms contain a microwave and refrigerator and are furnished in an elegant, modern style; some have a balcony, and others have nice views over a wooded stream. There are several restaurants adjacent. The location is one mile from I-5 exit 192, and just over a mile from downtown Eugene.

8.
Fairfield Inn & Suites Eugene East Springfield
3003 Franklin Boulevard, Eugene, OR 97403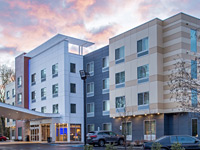 The four storey Fairfield Inn by Marriott Eugene opened early 2018, built in a wooded, lightly developed neighborhood east of Interstate 5 and south of the Willamette River; the city center is 3 miles west, and Springfield is 1.5 miles east. Visitors can walk the paved hike/bike path beside the river to several city parks, while the larger open area of Moon Mountain is a short drive away. The hotel has 81 guest rooms, including 19 studio suites, plus a small meeting room. Free hot breakfast is provided, together with the usual amenities for business and leisure.

9.
Comfort Suites Eugene
3060 E 25th Avenue, Eugene, OR 97403
The well regarded Comfort Suites hotel in southeast Eugene enjoys a quiet, scenic setting on partly wooded land at the edge of a residential area yet is just a short drive from I-5 exit 191, and within walking distance of Denny's and several other restaurants. The building has an attractive, colorful design, and contains 67 oversized rooms, equipped with pillow top mattresses, coffee maker, sofa bed, microwave & refrigerator; some larger suites are available with wet bar, whirlpool bath and separate living area. One highlight of the hotel is the free breakfast, which includes a selection of hot items; other amenities are an indoor pool, fitness center, business center and meeting space for up to 70 guests.