1.
Holiday Inn Eugene - Springfield
919 Kruse Way, Springfield, OR 97477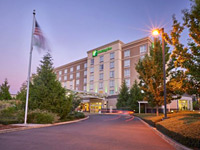 Nearly all hotels in Springfield are found on the east side of I-5 exit 195 (Beltline Road), part of a shopping/restaurant complex. The full service Holiday Inn is one of the largest and newest properties in the area; a handsome, 6 floor building of 153 rooms & suites, with many amenities including the on-site, Italian-style Amici restaurant/bar, serving breakfast, dinner & evening drinks. Both the fitness center and business center are open 24 hours a day, and the hotel has over 4,000 sq ft of meeting space catering for events of up to 740 people. Also available are a good sized indoor pool and a free shuttle to Eugene Airport (EUG), 10 miles west. The Holiday Inn has the quietest location of all hotels in the area since it is farthest from the main roads, adjoining a residential neighborhood.

2.
Courtyard Eugene Springfield
3443 Hutton Street, Springfield, OR 97477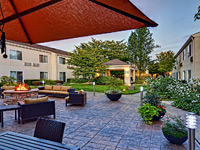 Courtyard Eugene Springfield accommodates guests in 112 comfortable, spacious, nicely decorated rooms, in two blocks separated by a secluded garden with gazebo, patios, walkways and flower beds. Visitors enter through a stylish modern lobby, complete with media wall, 24 hour convenience store and the Bistro restaurant, open for breakfast and dinner; other facilities are an indoor pool, fitness center and meeting space. All rooms and suites have a executive desk, pull-out sofa and the luxurious Marriott bedding. The hotel sits just off Beltline Road, 0.4 miles east of exit 195 of interstate 5 - on the north side of Springfield, 5 miles from downtown Eugene.

3.
Hilton Garden Inn Eugene/Springfield
3528 Gateway Street, Springfield, OR 97477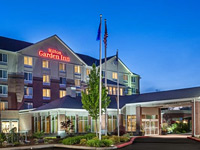 Springfield's Hilton Garden Inn is a large, modern, fully featured hotel right next to interstate 5 at the Beltline Road exit (195), less than a mile from Gateway Mall and within walking distance of a good selection of restaurants. University of Oregon is a quick 5 mile drive away. The hotel features 149 rooms & suites, with luxurious bedding, colorful decor, a microwave & refrigerator, and quality furnishings. Breakfast, dinner, evening drinks and room service are available from the Great American Grill restaurant, while the many other facilities include a spacious lobby, an indoor pool/hot tub, a fitness center, a library, a 24 hour convenience store, a 24 hour business center and over 3,200 sq ft of meeting/event space.

4.
Best Western Grand Manor Inn
971 Kruse Way, Springfield, OR 97477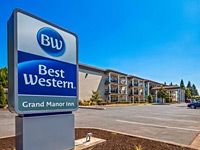 The three story Best Western Grand Manor Inn has an elegant, classically-styled frontage, with columns, railings and ornate brickwork, and it contains 65 oversized rooms, all featuring a private balcony or patio. There is an outdoor pool to one side, a 24 hour Denny's adjacent and plenty more restaurants a short walk away - the Best Western is part of a large group of hotels and other businesses near I-5 exit 195 (east side), within easy reach of all locations in the Springfield-Eugene area. Free continental breakfast is provided; other facilities include a steam room, exercise room, guest laundry, business center and meeting space.

5.
Comfort Suites Springfield
969 Kruse Way, Springfield, OR 97477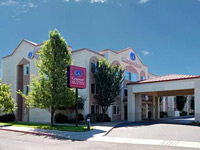 The 77 rooms at Comfort Suites Springfield are larger than average, all equipped with microwave, refrigerator and tea/coffee maker, and some have a whirlpool bath. Free hot breakfast is provided, including a selection of hot items, and there are many restaurants nearby, plus a supermarket, post office and other shops, extending south along Gateway Street to the 80 outlets (and 29 cinema screens) at Gateway Mall. Leisure facilities are a hot tub, indoor pool, exercise room and sundeck. The pet friendly hotel has a relatively quiet location, 500 feet from the main street (Beltline Road), but is just 0.4 miles from interstate 5.

6.
Quality Inn & Suites Springfield
3550 Gateway Street, Springfield, OR 97477
Quality Inn Springfield is the closest hotel to exit 195 of I-5, part of the main lodging area in town, and just across the street from a selection of shops & restaurants. There are 100 rooms available, with views either of the outdoor pool and garden, or the good sized parking area; most contain a microwave & refrigerator. Pets are welcome, for a small fee. The interior corridor inn charges relatively low rates, but still offers a good range of amenities, such as free continental breakfast, a business center, a fireplace lobby and a 30 person meeting room.

7.
Econo Lodge Inn & Suites Springfield
1920 Main Street, Springfield, OR 97477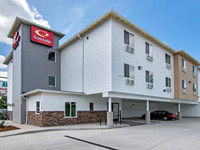 Unlike most properties of this brand, the budget-priced Econo Lodge in Springfield occupies a newly constructed building (open 2018), along Main Street east of the city center, 2.7 miles from Interstate 5. The traditional two complimentary amenities of wi-fi and breakfast are provided, together with afternoon tea and a coin-operated laundry facility. The motel has two floors and exterior corridors, and is within walking distance of several restaurants and small shops.

8.
Super 8 by Wyndham Springfield/Eugene
3315 Gateway Street, Springfield, OR 97477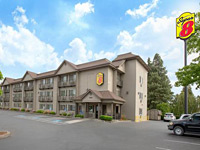 Guests at Super 8 Springfield are within walking distance of a good selection of shopping and dining, including Gateway Mall. The closest restaurant is Denny's, right next door. The motel has a northerly location in the city, along a quiet side street, accessed from exit 195 (Beltline Road) of Interstate 5. Rates are low, reflecting the limited amenities, of free continental breakfast (eight items), free wi-fi and coin-operated laundry. All accommodations contain a refrigerator and a microwave.
9.
Motel 6 Springfield - Eugene North
3752 International Court, Springfield, OR 97477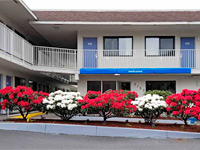 The Motel 6 provides the northernmost chain lodging in Springfield, built close to the edge of farmland bordering the McKenzie River, near I-5 exit 195. Downtown Eugene is 4.5 miles southwest. The motel is quite large, with 131 exterior corridor rooms, looking out across the tree-lined parking lot. Some have views of the pleasant outdoor pool on the south side, shielded from the access road. Interior amenities are guest laundry, wi-fi, refrigerators/microwaves in select rooms, and free morning coffee. There are many restaurants half a mile away, along Beltline Road.