1.
Courtyard Corvallis
400 SW 1st Street, Corvallis, OR 97333
The Courtyard, the first Marriott hotel in Corvallis, opened late 2017, with a central yet quiet location in the downtown area - along 1st Street, overlooking the Willamette River. A trail follows the river to larger areas of parkland in either direction. There are plenty of bars, restaurants and shops within walking distance. The hotel is relatively large, with 176 guest rooms on seven floors (two of which are used for parking); amenities include a lobby bar, rooftop terrace, restaurant (open for breakfast & dinner), an indoor pool and nearly 3,000 square feet of meeting space.

2.
Hilton Garden Inn Corvallis
2500 SW Western Boulevard, Corvallis, OR 97333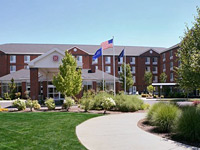 Hilton Garden Inn Corvallis has a west central location in town on the edge of Oregon State University campus, just across the street from the Reser Stadium and several other sports facilities. Avery Park is also nearby, featuring paths, gardens, picnic areas and playgrounds. The full service hotel has its own restaurant, Stadium Grill, which is open for breakfast, dinner & evening room service, and also the Pavilion Pantry convenience store, where guests can purchase snacks and other items for cooking, using the microwave present in every guest room. The oversized accommodations also have a refrigerator, coffee maker and executive desk, while the other main hotel amenities are a lounge/bar, 24 hour business center, pool/hot tub, fitness center and meeting space.

3.
Holiday Inn Express Corvallis-On The River
781 Ne Second Street, Corvallis, OR 97330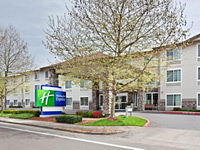 East facing rooms at Holiday Inn Express Corvallis look out across the Willamette River to a golf course and city park on the far side - the hotel stands right on the west bank, along 2nd Street in a quiet, mostly residential area, a few blocks from the city center and so within walking distance of many shops, restaurants & bars. Oregon State University is just one mile away. Hotel highlights include free hot breakfast, a good sized indoor pool and event facilities for up to 50 guests. All the large, modern accommodations contain a microwave & refrigerator, and the hotel also has a selection of suites offering added space and amenities.

4.
Best Western Grand Manor Inn
925 NW Garfield Avenue, Corvallis, OR 97330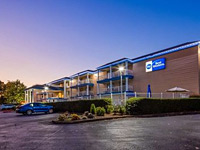 On the north side of Corvalis, OR, the Best Western is a popular, mid range hotel with a convenient location, just off Hwy 99 along a street of many shops and restaurants, and a movie theater. Rooms are clean & spacious, contain a refrigerator/microwave, and some have added features of a balcony, sofa bed and fireplace. Others look out over the outdoor pool, on the sunny south side of the property. Guests are treated to free full breakfast each morning, and can take advantage of other amenities of a fitness center, laundry and meeting space.

5.
Comfort Suites Corvallis
1730 NW 9th Street, Corvallis, OR 97330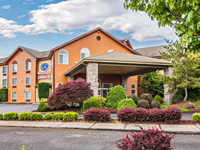 Although reached by busy 9th Street near Hwy 99, Comfort Suites Corvallis has a quiet location at the edge of a residential neighborhood, set back 400 feet from the road, adjacent to a movie theatre, and near shopping & dining. All the usual facilities are provided - pool, hot tub and fitness center, ample meeting space and a business center, plus free continental breakfast. Rooms are available with a whirlpool bath and kitchenette, though all contain at least a microwave and refrigerator. The Comfort Inn is just under 2 miles from Oregon State University in downtown Corvallis.

6.
Days Inn by Wyndham Corvallis
1113 NW 9th Street, Corvallis, OR 97330
Rooms at Days Inn Corvallis are comfortable, and peaceful, as the hotel is surrounded by trees, and somewhat removed from the two nearby main roads, 9th Street to the west and Hwy 99 to the east. Likewise the outdoor pool is nice and secluded, adjacent to a strip of woodland, which has a hike/bike trail on the far side. There are several restaurants nearby, along 9th Street, and the city center is just half a mile south. Continental breakfast is complimentary. The hotel also offers a business center and a 25 person meeting room.

7.
Rodeway Inn Willamette River Corvallis
345 N.W. 2nd Street, Corvallis, OR 97330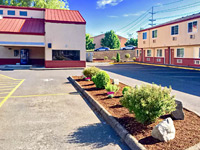 The Rodeway Inn is a good choice for guests looking for simple, affordable lodging in Corvalis. Located near the center of town beside the twin Hwy 34 bridges over the Willamette River, the motel has only limited amenities, of free continental breakfast, guest laundry & basic business services, but the rooms are large and comfortable. Some have a refrigerator, microwave & whirlpool bath. Pets are welcome, for a small fee. Directly opposite, Riverfront Park has trails and benches overlooking the river, while all necessary facilities are within walking distance, in the city center.

8.
Econo Lodge Inn & Suites Corvallis
935 NW Garfield Avenue, Corvallis, OR 97330
Facilities at Econo Lodge Corvallis are a little above average for a budget property, including wi-fi, a small outdoor pool, and a microwave/refrigerator in each room. The three floor, interior corridor building is located towards the north edge of town just off 9th Street, a busy road lined by many shops, restaurants and other businesses. The city center is 2 miles south, while other sites within a similar distance include Good Samaritan Regional Medical Center, Trysting Tree Golf Club, Oregon State University and various city parks. Pets are welcome.

9.
Super 8 by Wyndham Corvallis
407 NW 2nd Street, Corvallis, OR 97330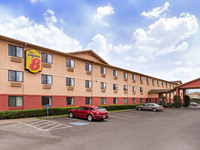 East-facing rooms at Super 8 Corvallis have nice views across a thin strip of parkland and the Willamette River to the open spaces of Trysting Tree Golf Club on the far side. There are other natural areas just south of here, and the motel is an hour's drive from both the coastline and the high country of the Cascade Range. The motel offers affordable, interior corridor lodging with the usual, basic range of amenities: free continental breakfast (with eight items), free wi-fi, coin-operated laundry and an indoor pool, together with a small patio at the rear, overlooking the river corridor. It also has a 26 person meeting room.