1.
Holiday Inn Express Hotel & Suites Albany
105 Opal Court NE, Albany, OR 97321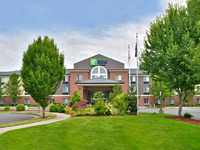 Adjacent to interstate 5 (exit 234) on the northeast side of Albany, the 71 room Holiday Inn Express is a typically clean, comfortable and well managed hotel, set in a quiet, partly residential area a short walk from Linn County Fairgrounds. Also nearby are one restaurant, Albany Municipal Airport and Timber Linn Park; the town center is 2 miles west. The hotel features free hot breakfast, a refrigrator & microwave in each room, free internet access, meeting space and the usual three leisure facilities (pool, fitness center, hot tub). Pets are welcome.

2.
Best Western Plus Prairie Inn
1100 Price Road SE, Albany, OR 97322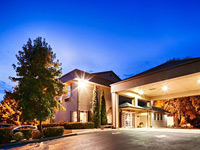 Best Western Plus Prairie Inn caters for guests in 75, good sized, microwave/refrigerator-equipped rooms, part of a relatively old but well maintained interior corridor building that faces interstate 5 by the US 20 exit (233). There are two restaurants close by and more on the far side of the interstate; one mile west, the road reaches the main shopping center in town, around Heritage Mall, while the historic city center of Albany is one mile further. The Best Western provides free breakfast (including hot items), an indoor pool, a hot tub, basic business services, guest laundry, and some rooms with a whirlpool bath.

3.
Comfort Suites Linn County Fairground and Expo Albany
100 Opal Court NE, Albany, OR 97322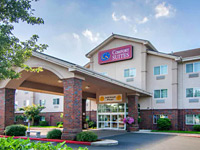 Like most hotels in Albany, OR, the Comfort Suites is situated on the east side of town, just off interstate 5 - conveniently accessed from exit 234 yet just far enough (0.3 miles) to be unaffected by traffic noise. The pet friendly hotel has 86 rooms; those on the south side have open views towards Linn County Fairgrounds and the local airport. Free hot breakfast is served each morning, plus a free light reception in the evenings, while other amenities include a heated pool, a fitness center with free weights, a 24 hour business center, and meeting space for up to 150 guests. Lunch and dinner are available from a restaurant/bar, right next door.

4.
Quality Inn & Suites Albany
251 Airport Road, Albany, OR 97322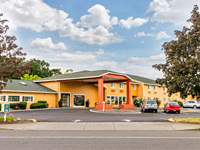 Guest rooms at Quality Inn Albany are on two floors of an interior corridor building, overlooking the spacious parking lot to the southeast, beyond which are a group of restaurants and a few large stores. Interstate 5 runs past just beyond, while in the other direction, on the far side of Pacific Boulevard, is a path through a corridor of trees leading to Waverly Lake. Also nearby are the Talking Water Gardens near the Willamette River. The inn provides the usual two complimentary amenities of wi-fi and breakfast, and it also has an indoor pool, a fitness center and a business center.

5.
Super 8 by Wyndham Albany
315 Airport Road SE, Albany, OR 97322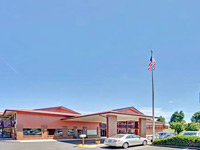 The Super 8 faces the northernmost of the town's two I-5 exits (234; Pacific Blvd), mostly surrounded by roads, though partly shielded by trees. The motel is centered on a small, enclosed courtyard garden with outdoor pool & hot tub, and it also offers free wi-fi, complimentary continental breakfast and a refrigerator/microwave in all guest rooms. There are two restaurants next door, and one gas station. A short walk west reaches an area of wooded parkland bordering a small lake.

6.
Rodeway Inn Albany
1212 SE Price Road, Albany, OR 97322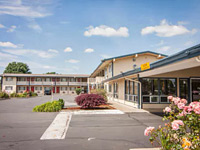 Simple, affordable accommodation is available in Albany at the Rodeway Inn, an exterior corridor motel with 76 rooms, most containing a refrigerator and microwave; all have a coffee maker. Amenities are limited to free continental breakfast, free internet access, free coffee and guest laundry, but the location is easily reached - adjacent to I-5 exit 233, and there are various services within walking distance including restaurants, shops and gas stations. The motel welcomes pets, for a small fee.
7.
Motel 6 Albany
2735 Pacific Boulevard SE, Albany, OR 97321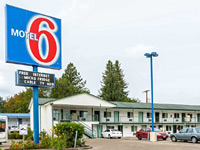 Motel 6 Albany enjoys a pleasant setting overlooking tree-lined Waverly Lake, which has a half mile path all around the perimeter, and an area of parkland at the far side. Also within walking distance are several restaurants and two stores (Kmart, Kohl's). Facilities at the exterior corridor motel are limited (just free wi-fi, guest laundry and microwave/refrigerator in all accommodations), but the place has a good reputation for cleanliness and value.