1.
DoubleTree by Hilton Hotel Salem
1590 Weston Court NE, Salem, OR 97301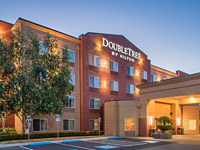 DoubleTree by Hilton Salem is a full service hotel with its own restaurant/bar, open for breakfast, lunch, dinner, room service & evening drinks. There are plenty more dining outlets within walking distance, around the Market Street exit of I-5, and a few blocks south around Lancaster Mall. This location is 2 miles from downtown Salem, and 60 miles south of Portland. Other hotel features are an indoor pool, spa tub, guest laundry, business center and 1,500 sq ft of meeting/event space. The DoubleTree occupies a new-looking, four floor building right next to the interstate, also close (one block) from a supermarket.

2.
Holiday Inn Salem
3301 Market Street NE, Salem, OR 97301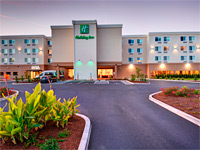 Holiday Inn Salem opened late 2018 after conversion from another brand (Red Lion) - a large, full service property along Market Street, just west of the 99E freeway. Willamette Town Center mall is half a mile south and there are several restaurants within walking distance. Hotel highlights are a spacious lobby, an indoor pool, complimentary airport transportation, a restaurant, lounge/bar and meeting space. Downtown Salem and the Willamette River are 2 miles west.

3.
Residence Inn Salem
640 Hawthorne Avenue SE, Salem, OR 97301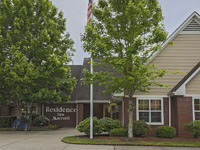 For all-suite/extended stay accommodation in Salem, the top choice is the Residence Inn by Marriott, an apartment-style complex built near I-5 exit 253. There are several restaurants nearby and shops including Wal-Mart but this neighborhood, a few miles southeast of downtown, is lightly developed, and contains a golf course, a city park, a wooded creek and a series of lakes. The hotel provides both free hot breakfast and free evening receptions (weekdays), and it features 90 well equipped suites (studio, one bed or two bed), all with a full kitchen, free wi-fi, executive desk and luxurious bedding. An indoor pool, hot tub, sports court and fitness center are available for relaxation.
4.
Hampton Inn & Suites Salem
510 Hawthorne Avenue SE, Salem, OR 97301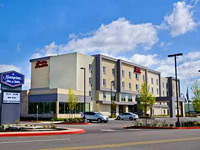 New for 2012, the 86 room Hampton Inn Salem enjoys quiet surroundings, built in a semi-rural area on the south edge of the city, near I-5 and several large stores but also within walking distance of a wooded creek and Cascades Gateway City Park. Free hot breakfast, an indoor pool, fitness center, business center and a small convenience store are the main amenities. Access is from exit 253 of the interstate (Mission Street), which leads to the downtown area, 2 miles west.

5.
Best Western Plus Mill Creek Inn
3125 Ryan Drive SE, Salem, OR 97301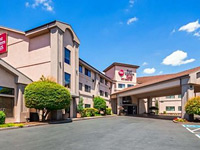 Denny's provides 24 hour dining right next to Best Western Plus Mill Creek Inn, and there are several other restaurants nearby plus three large stores (Costco, Lowe's, Wal-Mart). The AAA Three Diamond-rated hotel has a countryside location near Mill Creek, and is also within walking distance of several lakes and a city park, whilst being just 1.5 miles from Salem Municipal Airport and 3 miles from the city center. With 3 floors and 109 rooms (all containing refrigerator & microwave), the Best Western is quite a substantial property, and it offers a wide range of amenities, including free hot breakfast (at Denny's).

6.
Best Western Pacific Highway Inn
4646 Portland Road NE, Salem, OR 97305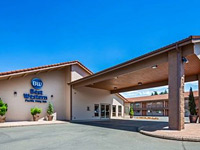 Best Western Pacific Highway Inn has two exterior corridor floors and 52 spacious rooms, all containing a microwave and a refrigerator, and looking out over a quiet, semi-rural area on the northeast side of Salem, along Hwy 99 near exit 258 of interstate 5. A few restaurants and shops can be found one block north, while other places within two miles include Chemeketa Community College, George Fox University and Oregon State Fairgrounds. Continental breakfast and an airport shuttle are both complimentary, and the hotel has the usual amenities for leisure, business & meetings.

7.
Comfort Inn & Suites Salem
1775 Freeway Court NE, Salem, OR 97301
Three free breakfast at Comfort Inn Salem comes with a selection of hot items, and there are many restaurants a short walk away, plus various large stores within one mile (Lancaster Mall). The inn is located beside Salem's central I-5 exit (256, Market Street), 2.5 miles from Oregon State Capitol and the Willamette River. Besides the regular accommodations, all containing a refrigerator/microwave, there are several sizes of quite available, some with a hot tub bath. Leisure facilities are an indoor pool and whirlpool.

8.
Comfort Suites Salem Airport
630 Hawthorne SE, Salem, OR 97301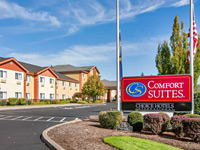 Comfort Suites Airport Salem is part of a small group of hotels on the west side of I-5 exit 253 (Mission St, Hwy 22), 2 miles by road from Salem Municipal Airport. The 85 oversized rooms are equipped with a microwave and refrigerator, and some have a hot tub bath. The inn is adjacent to Salem Learning Center of the University of Phoenix, and is within walking distance of several restaurants & shops. Free hot breakfast is prepared each morning, with a take-out version for guests leaving early. Leisure amenities are a sauna, fitness room, hot tub and indoor pool. For meetings & events the hotel has three rooms totaling 2,325 sq ft.

9.
Howard Johnson by Wyndham Salem
2250 Mission Street SE, Salem, OR 97302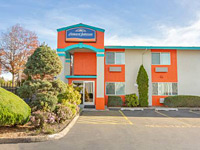 The Howard Johnson has a southerly position in Salem on Mission Street (Hwy 99E), with a residential neighborhood to the north, a business/industrial district to the south, and various shops & restaurants close by along the main road. The city center is 1.5 miles away. Guest rooms are on two floors of an interior corridor building, quite well shielded by trees from its surroundings. Selected accommodations contain a microwave; all benefit from a refrigerator and free wi-fi. An outdoor pool, also rather shaded, sits at the front, while the spacious parking lot extends all around and to the rear. The usual free continental breakfast is provided.

10.
Days Inn by Wyndham Black Bear
1600 Motor Court NE, Salem, OR 97301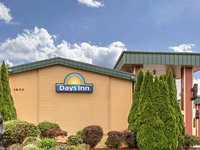 Facilities at Days Inn Black Bear, Salem, are above average for a budget motel, including a large indoor pool, meeting space, a well equipped fitness center, a sauna, tennis courts and an elegant dining room where the free hot breakfast is served. The exterior corridor rooms contain a work desk, microwave & refrigerator, and have pleasant views across the grounds and gardens towards I-5 which runs past to the west - access is from exit 256 (Market Street). The nearest restaurant is Denny's, right next door, and there is also a supermarket adjacent.

11.
Super 8 by Wyndham Salem
1288 Hawthorne Avenue NE, Salem, OR 97301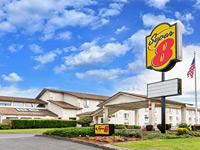 Guests at Super 8 Salem are a short walk from two city parks and a good selection of restaurants - around the Market Street exit of Interstate 5, 2 miles east of the city center. Also nearby are Oregon State Hospital, Lancaster Mall and Oregon State Fair. The motel occupies a medium sized (80 room), interior corridor building enclosed by plenty of parking space, and it offers the usual range of amenities: free continental breakfast, free wi-fi, an indoor pool/whirlpool, and a 20 person meeting room. Select accommodations have kitchenette facilities.

12.
Rodeway Inn Salem
3340 Astoria Way NE, Salem, OR 97303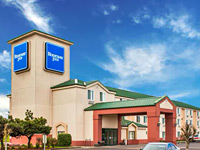 Green fields surround Rodeway Inn Salem, conveniently located adjacent to I-5 exit 258, four miles north of the downtown area beside the Willamette River. The motel provides comfortable, affordable lodging in an interior corridor building, and has all the expected amenities, including free continental breakfast, an indoor pool, guest laundry, free internet access and meeting space. Some rooms have a refrigerator and microwave. The nearest restaurants are 0.3 miles north along Hwy 99.
13.
Motel 6 Salem
1401 Hawthorne Avennue NE, Salem, OR 97301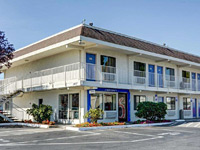 Motel 6 Salem is bordered by parkland to the rear, with a residential district beyond, while rooms at the front have views over the access road towards Interstate 5 - the nearest exit is 256, Market Street. Some accommodations overlook the outdoor pool, at one corner of the parking lot, away from the highway. There are many restaurants and small shops within walking distance. The motel has exterior corridors, and other amenities of coin-operated laundry, wi-fi and free morning coffee.
14.
Motel 6 Salem - Expo Center
3195 Portland Road NE, Salem, OR 97301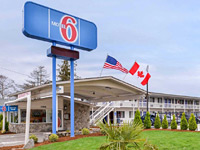 The Motel 6 is one of the few Salem hotels not located beside Interstate 5, instead situated along Portland Road north of the city center, in a business neighborhood. The exterior corridor property has an L-shape design, the guest rooms on two floors overlooking the parking lot, which has an outdoor pool near the front. Wi-fi and morning coffee are complimentary. All accommodations contain a microwave and refrigerator. There are two restaurants in the vicinity.