1.
Hampton Inn Pendleton
101 SW Nye Avenue, Pendleton, OR 97801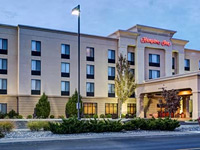 Hilton's representative in Pendleton is the 74 room Hampton Inn, like most hotels in town built in a peaceful location at the edge of farmland beside I-84 exit 210. There are two restaurants nearby but most facilities are between one and two miles away, along US 30 in the downtown area. The hotel is quite new, open 2008, and it has all the expected amenities, including free hot breakfast, a pool/hot tub/fitness center, and a business center. Pendleton Round-Up Arena and Pendleton Convention Center are less than 2 miles away, on the west side of town near the Umatilla River.

2.
Holiday Inn Express Pendleton
600 SE Nye Avenue, Pendleton, OR 97801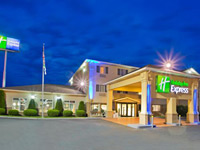 The recently built Holiday Inn Express Pendleton has a scenic, countryside location on the south side of I-84, surrounded by farmland, and many of the 63 rooms & suites have sweeping views towards the Blue Mountains. There are several restaurants close by, next to exit 210 of the interstate, and plenty more one mile north in the town center. The hotel provides typically modern, clean and comfortable accommodation, with highlights including free hot breakfast buffet, an indoor pool/whirlpool, exercise room, 24 hour business center and guest laundry.

3.
Best Western Plus Pendleton Inn
400 SE Nye Avenue, Pendleton, OR 97801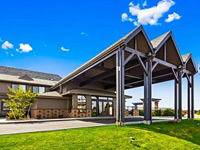 Pendleton's Best Western is part of a small group of hotels adjacent to I-84 exit 210 (south side), one mile from the town center. The Blue Mountains rise up a few miles east, and there are many beautiful landscapes within an hour's drive, including Umatilla Wilderness and the Columbia River. All 71 spacious rooms have a microwave, refrigerator, coffee maker & countryside views, while all guests are treated to free full breakfast each morning; also available are an outdoor pool, hot tub, fitness center and business center. A free shuttle is provided to Eastern Oregon Regional Airport, 5 miles west.

4.
Travelodge by Wyndham Pendleton
411 SW Dorion Avenue, Pendleton, OR 97801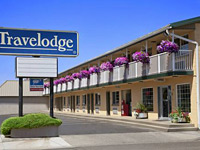 Right in the center of Pendleton opposite City Hall, the Travelodge is a small, two story, exterior corridor motel offering basic facilities; free continental breakfast, free wi-fi and a business center, plus a free shuttle to selected area locations. All rooms contain a microwave and refrigerator. There are three restaurants within one block and others along Main Street to the east; another attraction nearby is a walking trail along the Umatilla River, one block north.

5.
Super 8 by Wyndham Pendleton
601 SE Nye Avenue, Pendleton, OR 97801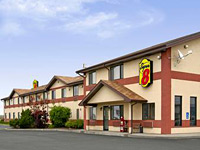 East-facing rooms at Super 8 Pendleton have the best views, looking across a shallow valley and farmland beyond, to the distant Blue Mountains. The interior corridor motel occupies the easternmost building along a quiet side road at exit 210 of I-84, one mile south of the city center. Nearby are two restaurants, two gas stations and a few other hotels. Amenities include an indoor pool/hot tub, free wi-fi and free continental breakfast (eight items). Some accommodations contain a microwave/refrigerator and/or a whirlpool bath.
6.
Motel 6 Pendleton - West
620 SW Tutuilla Road, Pendleton, OR 97801
Motel 6 Pendleton offers simple, affordable accommodation in an easily-reached location by the US 395-interstate 84 intersection, a short walk from the main shopping area in town, including Safeway and Wal-Mart. Pendleton Round-Up is also close by, within one mile. The pet friendly, exterior corridor inn has two stories and 51 rooms, all equipped with refrigerator and microwave, and it provides free continental breakfast; other meals can be purchased from a 24 hour Denny's restaurant, right next door.
7.
Motel 6 Pendleton
325 SE Nye Avenue, Pendleton, OR 97801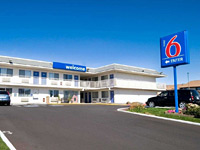 Motel 6 Pendleton has a slightly elevated position on the south side of I-84 exit 210, with views over flat fields in most directions; the surroundings are rural, this being right at the south edge of the city, 7 miles from McKay Creek National Wildlife Refuge. Like most properties of this brand the motel has two floors and exterior corridors, and a small outdoor pool is the one main amenity. Wi-fi is available, select rooms contain a microwave & refrigerator, and free morning coffee is provided, plus a coin-operated laundry facility.