1.
Holiday Inn Express & Suites Hermiston Downtown
245 N 1st Street, Hermiston, OR 97838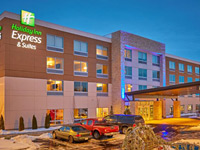 The centrally located Holiday Inn Express Hermiston opened at the end of 2016 - along US 395 near the Main Street intersection, half a mile south of the main shopping area in the city. At least half a dozen restaurants are within two blocks. The hotel has 93 rooms over four floors - the tallest building in the neighborhood, and it provides all the usual amenities of this popular brand , including free wi-fi, free breakfast buffet, a pool (indoor), fitness center, 24 hour business center and open-plan lobby. Small events, of up to 25 people, can be accommodated in the meeting room.

2.
Best Western Hermiston Inn
2255 S Highway 395, Hermiston, OR 97838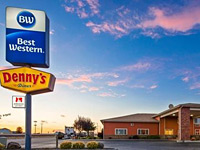 Best Western Hermiston Inn has a peaceful, semi-rural location three miles southeast of the town center along US 395, 2 miles from I-84 exit 188. All day dining is available from a Denny's restaurant adjacent, and just down the street is the huge Wal-Mart Distribution Center, but otherwise the nearest facilities are a mile or more away, towards Hermiston. The interior corridor inn offers 54 rooms & suites, all with refrigerator/microwave and free internet access, together with amenities of an indoor pool, free continental breakfast, pool table and fitness center.

3.
Comfort Inn & Suites Hermiston
77514 South Highway 207, Hermiston, OR 97838
Hermiston's recently opened Comfort Inn hotel is built near a travel center along Hwy 201, five miles south of the town center, close to the Umatilla River in a countryside setting. Interstate 84 runs past to the south, making this a convenient stop for travelers en route between Portland (180 miles) and Boise (250 miles). The modern, three story, pet friendly property provides all the usual amenities for leisure and business, including an indoor pool/hot tub, and it contains 65 oversized rooms, equipped with a refrigerator and microwave. Free continental breakfast is served.

4.
Travelodge by Wyndham Hermiston
1110 SE 4th Street, Hermiston, OR 97838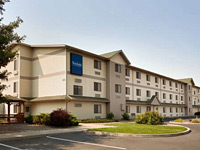 The pet friendly Travelodge Hermiston has a quiet location along a residential street, tucked away behind Safeway supermarket, one block from US 395 near the city center. Also within walking distance are the shops of Hermiston Plaza, and a selection of restaurants. The building is modern in appearance, with three floors and interior corridors, a small garden area at one side and a spacious parking lot at the front. The hotel has a fitness center and provides free wi-fi. Guest rooms contain a microwave & refrigerator.

5.
Rodeway Inn & Suites Hermiston
635 S Hwy 395, Hermiston, OR 97838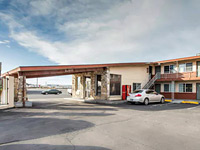 Along US 395 in the center of Hermiston, the Rodeway Inn provides simple, affordable accommodation in a small, two floor, exterior corridor building, containing 30 rooms that all include a microwave and refrigerator. Some have a sofa bed. Rooms look out over the parking lot, at one corner of which is an outdoor pool, and beyond over the semi-residential neighborhood, though there are a good selection of shops and restaurants just south, at Hermiston Plaza. Other amenities are free continental breakfast, free coffee and a copy/fax service.
6.
Motel 6 Hermiston
655 North 1st Street, Hermiston, OR 97838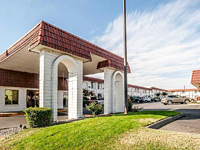 The spacious parking lot at Motel 6 Hermiston is shared with a Chinese restaurant, and has an outdoor pool tucked away in one corner, overlooked by some of the guest rooms, which are on two floors, entered via interior corridors. All feature free wi-fi, and some contain a microwave/refrigerator. The only other amenities are free morning coffee and coin-operated laundry, but rates are low and the motel has quite a central location, along 1st Street (US 395) within walking distance of most sites in the downtown area.