1.
DoubleTree by Hilton Hotel Bend
300 NW Franklin Avenue, Bend, OR 97701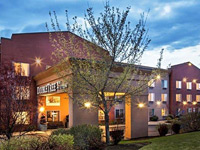 DoubleTree by Hilton Bend offers luxurious, full service accommodation right in the city center - the 133 room/suite building is just 0.3 miles from the Deschutes River, also a short walk from numerous shops, restaurants and entertainment venues in the downtown area. All rooms have a sofa bed, microwave, refrigerator, while the suites come with one or more of a hot tub, fireplace and balcony, for good views of the Cascade Range to the west. The on-site restaurant (PressNW Bistro and Bar) is open for breakfast, lunch, dinner & evening drinks. The usual facilities for meetings, business and leisure are available.

2.
Residence Inn Bend
500 SW Bond Street, Bend, OR 97702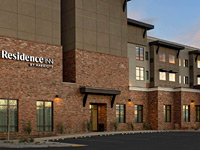 Residence Inn Bend has a quiet location in a tree-lined neighborhood on the west side of US 97, one mile south of downtown - in between a residential estate and a business/commercial district that includes a selection of restaurants & shops, and a 16 screen cinema. The four floor hotel contains 105 modern suites in two bedroom, one bedroom and studio layouts, all featuring a fully equipped kitchen. Hot breakfast and weekday evening socials are complimentary. Other amenities are a fire pit, restaurant/bar, fitness center, indoor pool and meeting space.

3.
Hilton Garden Inn Bend
425 SW Bluff Drive, Bend, OR 97702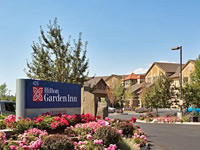 Hilton Garden Inn Bend provides spacious, modern accommodation - deluxe rooms and several types of suite - all containing a refrigerator, microwave, coffee maker and executive desk, together with extra comfortable bedding. Some of the larger suites have a full kitchen and four poster bed. The hotel is situated in the Old Mill District of Bend, adjacent to the Deschutes River, near a selection of shops & restaurants, and one mile from US 97. Guests enter through a welcoming fireplace lobby, and can take advantage of such amenities as a convenience store, lounge/bar, pool, fitness center and meeting space.

4.
Country Inn & Suites by Radisson, Bend, OR
62065 SE 27th Street, Bend, OR 97701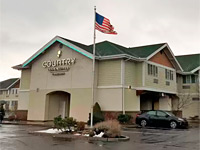 The Country Inn hotel in Bend is a part of a shopping/dining/entertainment complex around the 27th Street - Greenwood Avenue (US 20) intersection, with a movie theater, supermarket, other large stores and many restaurants all within walking distance. Bend city center is 3 miles west, while also nearby are the St Charles Medical Center and Pilot Butte State Park, containing an extinct volcano. The inn provides comfortable, good value, mid range accommodation, including some long stay suites containing a full kitchen. Free hot breakfast is served each morning. Other facilities are an outdoor pool/hot tub and a 65 person meeting room.
5.
Hampton Inn & Suites Bend
730 SW Columbia Street, Bend, OR 97702
The third Hilton hotel in Bend is the Hampton Inn & Suites, with a quiet and scenic location adjacent to Riverbend Park on the Deschutes River, close to Les Schwab Amphitheatre and various business premises, but mostly surrounded by lawns and fields. The Old Mill District is just a short walk away on the far side of the river, with shops, restaurants, bars and a 16 screen cinema. The hotel provides free hot breakfast (takeout version available), and has a 24 hour convenience store where drinks and snacks may be purchased. The fitness and business centers are also open all day and night. 2,000 square feet of meeting space can accommodate events of up to 125 people.

6.
Home2 Suites by Hilton Bend
21241 Livingston Drive, Bend, OR 97701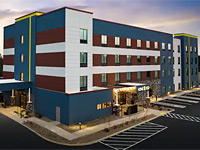 Open late 2021, Home2 Suites Bend has a secluded location behind a row of shops, backing on to a residential neighborhood - at the east edge of the city, near the 27th Street/US 20 intersection. There are many restaurants within walking distance, and stores such as Safeway and Costco. Wi-fi and hot breakfast are complimentary. All accommodations are studio suites, one or two beds; all have a full kitchen and a sofa sleeper. Recreation facilities are the usual pool (indoor) and fitness center.

7.
TownePlace Suites Bend Near Mt Bachelor
755 SW 13th Place, Bend, OR 97702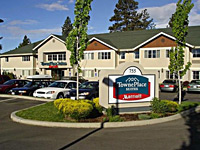 On the west side of Bend, Marriott's TownePlace Suites hotel caters for extended stay guests with 71 studio or one bed suites, all equipped with a full kitchen complete with dishwasher. The hotel is built along Cascade Lakes Highway in a quiet, lightly developed, wooded area near the Deschutes River, adjacent to one restaurant and within walking distance of several more. Amenities are the usual free continental breakfast, free wi-fi, 24 hour fitness center, pool/hot tub and meeting space. Also nearby are various businesses and corporate headquarters, and Riverbend Park, which has trails, sports facilities, a sandy beach and an events venue.
8.
Element Bend
526 NW Wall Street, Bend, OR 97703
Element Bend is a pet friendly, extended stay hotel, offering studio and one bedroom suites, plus a few studio commons with four bedrooms and four bathrooms. All the suites contain a fully equipped kitchen. Bikes are available for rental, while other facilities are an indoor pool, a fitness center, and a dining room for the free hot breakfast. The hotel has a central location in Bend on the north edge of downtown, along Wall Street beside US 97. Guests are just a short walk from Pioneer Park adjacent to the Deschutes River .

9.
SpringHill Suites Bend
551 SW Industrial Way, Bend, OR 97702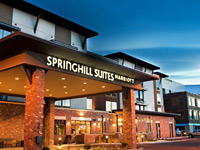 SpringHill Suites by Marriott has a relatively central location in Bend, close to the Deschutes River, in a quiet neighborhood less than one mile south of downtown. Guests are a short walk from a riverside park, and also a selection of restaurants and shops. All guest rooms are studio suites, equipped with a microwave, refrigerator, sofa bed and executive desk, while general hotel facilities include a fitness center, indoor pool and 24 hour convenience store. Free hot breakfast is prepared each morning.

10.
Holiday Inn Express & Suites Bend South
61070 S Hwy 97, Bend, OR 97701
Open summer 2020, the second Holiday Inn Express in Bend is now the southernmost hotel in the city, at the south end of the extensive commercial district along Bus US 87, close to the Murphy Road intersection with Hwy 97. To the east is a residential estate, with Bend Golf Club beyond, while open woodland is just a short drive away. Several restaurants are within walking distance. The hotel offers all the usual amenities, including free hot breakfast, an indoor pool and a fitness center.

11.
Best Western Plus Bend North
20615 Grandview Drive, Bend, OR 97701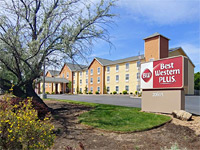 The Best Western Plus enjoys a rural setting right at the north edge of Bend, alongside US 97 and backing on to a wooded hillside. The property has quiet surroundings, set back 400 feet from the highway, behind a small row of shops including a couple of restaurants; there is a much larger shopping center one mile south, while downtown Bend lies 3 miles further. The 99 rooms & suites are bright, clean and functional, and all have a refrigerator & microwave. Free hot breakfast, free internet access, a 24 hour business center, an indoor pool and meeting facilities for up to 75 people are the main amenities.

12.
Best Western Premier Peppertree Inn at Bend
1082 SW Yates Drive, Bend, OR 97702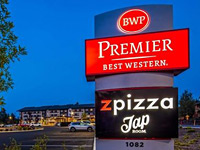 Best Western Peppertree Inn has a scenic and peaceful location at the southwestern edge of the city, alongside the scenic byway from the Three Sisters peaks, and close to parkland along the Deschutes River. The campus of Oregon State University is also within walking distance. The pet friendly hotel has an onsite pizza restaurant and lobby bar, a 24 hour fitness center, a hot tub and business center. Complimentary hot breakfast is provided. The property opened summer 2018.

13.
Fairfield Inn & Suites Bend Downtown
1626 NW Wall Street, Bend, OR 97701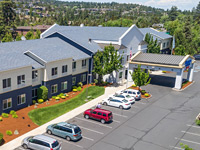 One of three Marriott hotels in Bend, the Fairfield Inn has a downtown location at the Wall Street exit of US 97, a short walk from Pioneer Park beside the Deschutes River in a largely residential area. Sites within one mile include Juniper Park, Brandis Square and the Deschutes Brewery. The blue-roofed property features oversized executive suites, equipped with microwave & refrigerator, and all nicely decorated in a range of bright, modern colors. Enhanced continental breakfast and internet access are both complimentary; the other principal amenities are an indoor pool, whirlpool, business center and a small meeting room.

14.
Quality Inn Bend
20600 Grandview Drive, Bend, OR 97701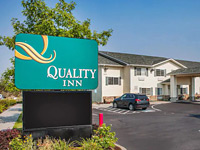 Quality Inn Bend is the first hotel to greet visitors arriving from the north along US 97 - the 50 room, two story building has a peaceful, rural location on the edge of town, with west-facing rooms looking out over fields, hills and woodland. Most facilities in Bend are a mile or more to the south, but there are a couple of restaurants adjacent, and a few small shops. Rates are relatively low, yet the inn still offers all the usual facilities, including free deluxe continental breakfast, an indoor hot tub & pool, guest laundry and basic business services. All rooms have a refrigerator and microwave, while also available are several whirlpool bath suites.

15.
Sleep Inn Bend
600 NE Bellvue Drive, Bend, OR 97701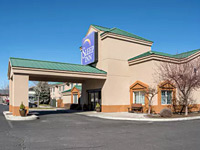 Like its Choice Hotels sister property (Comfort Inn), the Sleep Inn is an east Bend hotel, at the edge of a large group of shops and restaurants along US 20, a few blocks from the start of undeveloped countryside. The hotel is about 400 feet from the main road, backing on to a field, so its 50 rooms allow for a quite night's sleep. Some have views over the sheltered courtyard garden, containing an outdoor pool and whirlpool. Other facilities are somewhat limited, to free continental breakfast, free internet access and a fax/copy service, but rates are low and all rooms are well maintained.

16.
Days Inn by Wyndham Bend
849 NE Third Street, Bend, OR 97701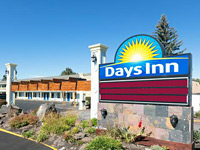 Days Inn Bend has an outdoor pool in the middle of the parking lot, and a restaurant at the front, partly shielding the accommodation blocks from the main road (3rd Street/US 97). There are several other restaurants close by and Safeway supermarket one block south, while the city center is half a mile west. Like most properties of this popular chain, the rooms (all of which contain a microwave & refrigerator) are on two floors, accessed by exterior corridors. The only other amenities are free wi-fi and free deluxe continental breakfast.

17.
Super 8 by Wyndham Bend
1275 SE 3rd Street, Bend, OR 97702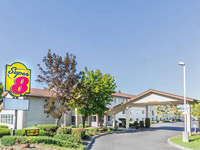 For a budget-priced property the Super 8 provides an above average range of amenities, including meeting space, an indoor pool/hot tub and kitchenettes in selected accommodations, in addition to the usual free wi-fi and free continental breakfast. The pet friendly hotel has three floors, accessed by interior corridors, and is situated along Business 97 towards the south side of Bend, close to various restaurants and Fred Meyer supermarket. A canal runs right past, followed by a hike/bike path along one side.
18.
Motel 6 Bend
201 NE 3rd Street, Bend, OR 97701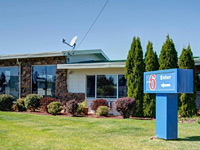 The Motel 6 is centrally located in Bend beside Business 97, close to railway lines on the west side. Accommodations are on two floors of an exterior corridor building, extending around three sides of the parking lot, which as a small outdoor pool at the center. The surroundings are a mix of business, industrial and residential properties, including a few restaurants; a much better choice of dining places can be found one mile northwest in the downtown area. Wi-fi and morning coffee are complimentary. Select rooms contain a microwave and refrigerator; several suites are also available.