1.
Marriott Albuquerque
2101 Louisiana Boulevard NE, Albuquerque, NM 87110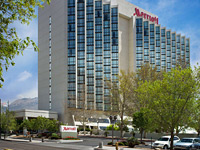 The larger of two Marriott hotels in Albuquerque rises 17 floors above the I-40 corridor on the east side of the city, in the middle of the main shopping area in town - Coronado Center, Park Square and Winrock Mall are all within half a mile. The 411 luxurious, well appointed rooms & suites were renovated in 2009, and most have fine views across Albuquerque towards the distant mountains. The hotel's restaurant is Cielo Sandia, serving American cuisine for breakfast, lunch & dinner; other amenities are a lounge/bar, indoor & outdoor pool, fitness center, full service business center and 16,000 sq ft of meeting/event space.

2.
Sheraton Albuquerque Uptown
2600 Louisiana Blvd NE, Albuquerque, NM 87110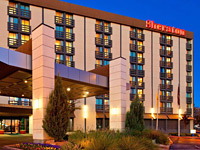 The Sheraton is one of several hotels beside the Coronado Center, five miles east of downtown Albuquerque, situated at the intersection of Menaul and Louisiana boulevards, and also within walking distance of many restaurants. A complimentary shuttle takes guests to local attractions. Three food/beverage outlets on the premises are the lobby lounge, for drinks & dinner, the Sol Cafe for all-day meals and the ABQ Grill, serving breakfast & lunch. Recreational facilities are a 24 hour fitness center and an indoor pool. The hotel has ten meeting rooms, largest single capacity 900 people.

3.
Homewood Suites by Hilton Albuquerque Uptown
7101 Arvada Avenue NE, Albuquerque, NM 87110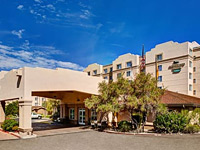 Conveniently situated near both Coronado Mall and Winrock Mall, Homewood Suites Albuquerque is also within a short walk of many restaurants and other businesses, as well as being easily reached from I-40, via the Louisiana Boulevard exit. The large and well regarded hotel has 151 one or two bed suites available (all equipped with a full kitchen), occupying a large, elegant 6 floor building that also contains a business center, meeting space, fitness center and a dining area for the free hot breakfast and free evening receptions (Mon to Thu). Other facilities include an outdoor pool, in the middle of a courtyard garden on the sunny south side of the property.

4.
Hilton Garden Inn Albuquerque Uptown
6510 Americas Parkway, Albuquerque, NM 87110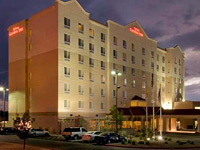 The Hilton Garden Inn is an upscale property centrally located in Albuquerque's uptown district, east of the city alongside I-40; in between two of the largest shopping malls in the area (Winrock & Coronado), and close to many businesses including Morgan Stanley & Merrill Lynch. Entrance is via the hotel's large, welcoming lobby, which leads to the bar, restaurant (open for dinner & breakfast), convenience store, business center and meeting rooms. Highlight of the leisure facilities is an indoor pool with 2 story water slide; also available are a hot tub and fitness center. Accommodation comprises 149 rooms and suites, all featuring a microwave, refrigerator, executive desk, coffee maker and ironing facility.

5.
Holiday Inn Express & Suites Albuquerque East
10501 Copper Pointe Way NE, Albuquerque, NM 87123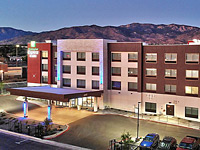 Open late 2019, the Holiday Inn Express is built alongside Interstate 40 at the Eubank Blvd exit (near Los Altos Golf Course), behind a small shopping complex that includes Walmart and Sam's Club, 8 miles east of the city center and 7 miles from the international airport. There are several restaurants within half a mile. The four floor, 86 room/suite hotel offers amenities of free buffet breakfast, an indoor pool/hot tub, a business center, a fitness center and coin-operated laundry.

6.
Surestay Plus Hotel By Best Western Albuquerque I-40 Eubanks
10330 Hotel Ave NE, Albuquerque, NM 87123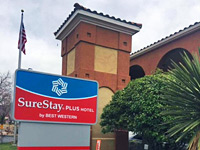 A few miles southeast of the city center, the 104 room Surestay Plus Albuquerque sits along a short connector road with several other hotels, two blocks north of Interstate 40 (exit 165). The hotel is close to the districts of Buena Ventura, Sandia Vista & Mesa Village, and just across the street from Los Altos Golf Course. For dining there are various restaurants within walking distance along Hotel Avenue, while free hot breakfast is available on site. An indoor pool, fitness center, free internet access, a 24 hour business center and a 550 square foot meeting room are some of the other amenities.

7.
Quality Inn Albuquerque
450 Paisano Street, Albuquerque, NM 87123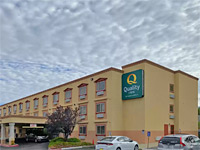 Guest rooms at the pet friendly, interior corridor Quality Inn Albuquerque have views south across I-40 or north, over the surrounding residential neighborhood towards the Sandia Mountains. There is one restaurant nearby; a better choice of shopping and dining can be found one mile away east or west, beside the adjacent interstate exits. Complimentary amenities are continental breakfast, all-day coffee and wi-fi, while other facilities are a fitness center and guest laundry.

8.
Suburban Studios Albuquerque East
13031 Central Avenue NE, Albuquerque, NM 87123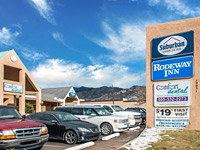 The Suburban Studios hotel features budget priced, extended stay accommodations; the oversized rooms contain a microwave, refrigerator, coffee maker & ironing equipment, and some have a kitchenette; maximum occupancy is five. Pets are welcome, for a fee. Guest rooms are on two exterior corridor floors (in a building shared with the Comfort Inn), with a spacious parking lot all around, and an outdoor pool/picnic area on the south side, shielded from the main road by the office block. The property is accessed from the Tramway Boulevard exit of Interstate 40, and is within easy walking distance of a selection of restaurants and shops.

9.
Days Inn by Wyndham Albuquerque East
10321 Hotel Avenue NE, Albuquerque, NM 87123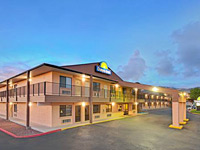 Five miles southeast of downtown Albuquerque, the Days Inn is an affordable but rather basic motel with a convenient location at the Eubank Boulevard exit of Interstate 40, beside a shopping center that includes Target superstore and several restaurants. There are other stores and restaurants on the far side of the freeway, while also within walking distance, to the west, is Los Altos Park which features sports facilities and a children's play area. The exterior corridor motel has a nicely-decorated indoor pool, a guest-use computer, a business center and a dining room where the free continental breakfast is served. All guest rooms contain a refrigerator and a microwave.

10.
Travelodge by Wyndham Albuquerque East
601 Paisano Street NE, Albuquerque, NM 87123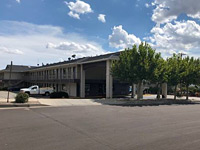 Rooms at Travelodge Albuquerque are on two floors of an exterior corridor building, looking out across the enclosing parking lot to the partly residential neighborhood. The hotel adjoins Interstate 40 at the Juan Tabo Blvd exit, nine miles east of the city center and ten miles from the Sandia Peak Tramway. Wi-fi and breakfast are complimentary, and there are several restaurants within walking distance. Pet friendly accommodations are available. The hotel also has an indoor pool.

11.
Econo Lodge Inn & Suites Albuquerque
10331 Hotel Avenue NE, Albuquerque, NM 87123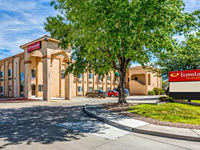 Although a budget-priced property, the Econo Lodge still offers the basic amenities of free wi-fi, free hot breakfast and coin-operated laundry. The guest rooms, equipped with microwave & refrigerator, are contained within a relatively old, two floor building on the south side of Lomas Boulevard, part of a group of shops, restaurants and other hotels. Interstate 40 runs past one block south, and the sports facilities of Los Altos Park are just across the street.

12.
Econo Lodge Albuquerque East
13211 Central Avenue NE, Albuquerque, NM 87123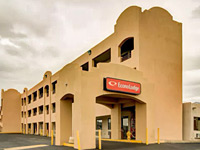 The budget-priced Econo Lodge is one of the easternmost hotels in Albuquerque, located beside I-40 exit 157, adjacent to the Four Hills Village shopping center and several other hotels including two Choice Hotels sister properties (Comfort Inn, Rodeway Inn). Accommodation at the adobe style, exterior corridor Econo Lodge comprises 60 mid sized rooms on three floors - comfortable if a little basic - and some containing a refrigerator/microwave. Free continental breakfast, free coffee and a copy/fax service are the only amenities.

13.
Rodeway Inn Albuquerque East
13031 Central Ave NE, Albuquerque, NM 87123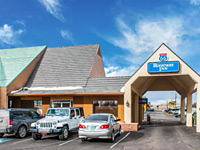 Rodeway Inn Albuquerque East caters for guests in 122 east or west facing rooms, overlooking a suburban area right at the east side of Albuquerque - the edge of town and start of the desert is just a mile further east. The hotel is located 2 blocks west of exit 167 of interstate 40 along Central Avenue (formerly Route 66), and comprises the lobby, the restaurant where the free hot breakfast is served, a tree-lined, outdoor heated pool and the residential block, all surrounded by plenty of parking. Just opposite the hotel, on the far side of the main road, is a ten screen movie theater. Some accommodations contain one or more of a microwave, refrigerator, coffee maker and executive desk.
14.
Motel 6 Albuquerque Northeast
13141 Central Avenue NE, Albuquerque, NM 87123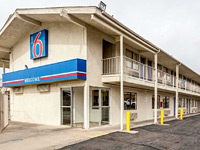 Places within a few miles of Motel 6 Albuquerque include Los Altos Golf Course, Coronado Mall, Winrock Mall and the State Fairgrounds - the property is located next to interstate 40 on the far east side of Albuquerque, just 2 miles from the edge of the Cibola National Forest. Rates are low, the 115 exterior corridor rooms are rather aged, and motel has a limited range of facilities, just free coffee, an outdoor pool, free internet access, guest laundry and a refrigerator/microwave in some of the rooms.