1.
Hampton Inn & Suites Albuquerque-Coors Road
6150 Iliff Road NW, Albuquerque, NM 87121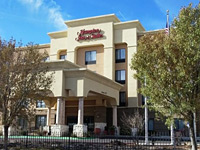 Hilton are represented in western Albuquerque by the 88 room, 4 story Hampton Inn & Suites, a modern, well managed property close to the Coors Road exit of interstate 40 - four miles from the shops, restaurants, galleries and museums of the historic Old Town district. Free hot breakfast is prepared each morning (also available as a take-out option for guests in a hurry), and the other amenities are a 24 hour convenience store, fitness center, indoor pool/hot tub, patio with bbq grills, business center and meeting space.

2.
Quality Inn & Suites Albuquerque
6100 West Iliff Road, Albuquerque, NM 87121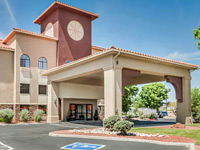 The westernmost of several Quality Inn hotels in Albuquerque is located close to the Old Town district - alongside I-40 at the Coors Boulevard exit, 4 miles from the historic town center. Near the inn are several other hotels, a few restaurants and various other businesses; a selection of larger stores including Wal-Mart can be found a short distance north, on the far side of the interstate. The hotel occupies a fairly old three floor building of 104 rooms, some equipped with a refrigerator and microwave. Free hot breakfast, a fitness center, business center, indoor pool and hot tub are the main amenities.

3.
Microtel Inn & Suites by Wyndham Albuquerque West
9910 Avalon Road, Albuquerque, NM 87121
The budget-priced Microtel Inn is the first hotel to greet travelers arriving in Albuquerque from the west, along I-40 - the 3 story, 49 room building sits at the edge of the desert next to the Flying J truck stop (exit 153 of the interstate), but surrounded by undeveloped land in all other directions. Accommodations are small, bright and functional, and include several suites equipped with sofa bed, refrigerator & microwave. Complimentary amenities are continental breakfast, phone calls and internet access. A small selection of shops and restaurants can be found one block south.

4.
Days Inn by Wyndham Albuquerque West
6031 Iliff Road NW, Albuquerque, NM 87121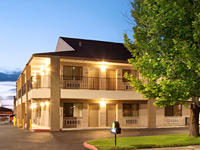 One of a group of hotels beside I-50 exit 155 (Coors Boulevard), the Days Inn is a small, budget-priced property, catering for guests in 80 exterior corridor rooms, on two floors, with views of neighborhing buildings and the interstate, which runs right past to the north. The usual free continental breakfast is provided, and for other meals around half a dozen restaurants are close by. The nearest supermarket (Wal-Mart) is one mile north. An indoor pool/hot tub, sauna, laundry and free wi-fi are the other principal amenities.

5.
Travelodge by Wyndham Albuquerque West
6012 Iliff Road NW, Albuquerque, NM 87121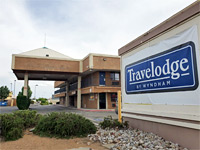 The pet friendly Travelodge in west Albuquerque occupies a typical two floor, exterior corridor building, part of a large group of hotels on the southwest side of the busy I-40/Coors Blvd intersection, close to a good selection of restaurants. Wi-fi and continental breakfast are complimentary, while general amenities are a fitness center and coin-operated laundry. The motel has a good-sized parking lot, including truck spaces at the rear.

6.
Econo Lodge Albuquerque West - Coors Blvd
5712 Iliff Road NW, Albuquerque, NM 87105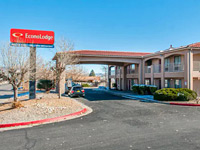 Econo Lodge Albuquerque West is situated 2 miles from the western edge of Albuquerque, close to interstate 40, reached from exit 155 by driving 1 block south along Coors Boulevard then 1 block east along Iliff Road. This part of town is a quiet residential area, close to the Rio Grande River and the San Gabriel State Park; the city center is 4 miles east along I-40, and Albuquerque Sunport International Airport is 10 miles away. The hotel has an indoor pool and serves free breakfast; there are 4 restaurants adjacent to the property. Several suites are available with enhanced amenities such as a whirlpool bath.

7.
Super 8 by Wyndham Albuquerque West/Coors Blvd
6030 Iliff Road NW, Albuquerque, NM 87121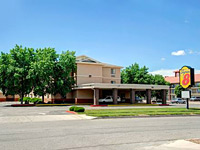 The Super 8 is part of the main lodging area in west Albuquerque, by the junction of Interstate 40 with Coors Boulevard - four miles from the Old Town district, 8 miles from the international airport and 3 miles from Rinconada Canyon in
Petroglyph National Monument
. The building is of modern construction, with three floors and interior corridors, and it has plenty of parking space, with room for large vehicles at the rear. Eight-item continental breakfast is complimentary.
8.
Motel 6 Albuquerque - Coors Road
6015 Iliff Road NW, Albuquerque, NM 87121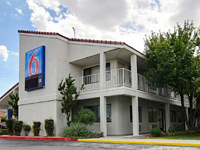 The Motel 6 in west Albuquerque is the closest of a group of hotels to the Coors Boulevard exit of I-40, situated beside the eastbound exit ramp, adjacent to one restaurant and close to half a dozen more. The building has an old-style, exterior corridor design, but inside the guest rooms are clean and modern, equipped with contemporary furnishings and decorated in bright colors. Amenities are standard for this chain, comprising an outdoor pool, wi-fi and free coffee.