1.
DoubleTree Hotel Durango
501 Camino Del Rio, Durango, CO 81301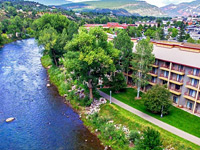 Special features of the DoubleTree Hotel in Durango include its scenic location right on the east bank of the Animas River, the close proximity to shopping & dining, the excellent customer service, the luxurious bedding and the on-site restaurant (Edgewater Grille), open for breakfast, lunch, dinner and room service. Other dining outlets are a riverfront cafe and a sports lounge/bar. Most of the 161 rooms & suites have a private balcony overlooking the river, the mountains or the city; all are extra large and comfortable. Also available are free wi-fi, free airport transportation, an oversized pool, whirlpool, fitness center and over 5,500 sq ft of meeting space.

2.
Holiday Inn Hotel & Suites Durango Central
21636 Highway 160 West, Durango, CO 81301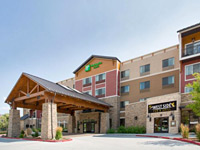 Holiday Inn Durango has a beautiful location in Lightner Creek Canyon on the western approach to town, backing on to the steep, grassy slopes of Smelter Mountain, and shielded from the highway (US 160) by a line of trees. Downtown Durango is an easy half mile walk away, on the far side of the Animas River. The on-site restaurant, Sporting News Grill, is open for breakfast, lunch, dinner, evening drinks & room service, while the modern meeting facilities can cater for events of up to 120 people. Accommodations include a selection of oversized suites, and all lodging is equipped with luxurious bedding, a microwave and refrigerator. Leisure facilities are the usual pool, hot tub and fitness center.

3.
Residence Inn Durango
21691 US Highway 160 West, Durango, CO 81301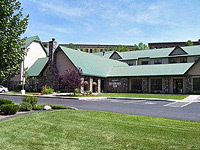 All 66 rooms of the Residence Inn Durango have fine views over the forested hills that surround the town - the inn has a quiet location along Highway 160, close to the Animas River on the west side of Durango, 0.7 miles from the downtown area. This is an all suite hotel, catering for the longer stay traveler - accommodation comprises one or two-bedroom suites, each with full kitchen, and all are clean, spacious and well equipped. The three main services are free hot breakfast, an indoor pool/hot tub, and a free evening reception (Mon-Thu).

4.
Homewood Suites by Hilton Durango
15 Girard Street, Durango, CO 81303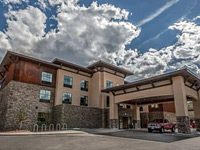 The Homewood Suites by Hilton provides modern, fully featured, long stay accommodation to Durango visitors, with a choice of studio, one bed or two bed suites, all equipped with a kitchen and separate living area. Both hot breakfast and evening reception (Mon-Thu) are complimentary. The hotel is located in the Bodo Park district, 2.5 miles south of the city center along US 160/550, a short walk from wooded paths alongside the Animas River, as well as various shops, restaurants and other businesses. Leisure facilities are above average, comprising an indoor pool, sports court, fitness center, spa and patio with bbq grills. Meeting space and a 24 hour business center are also available.
5.
Hampton Inn Durango
3777 Main Avenue, Durango, CO 81301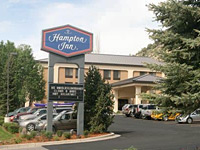 The Hampton Inn is a north Durango hotel, built beside US 550 at the foot of the steep slopes of Animas City Mountain, about 2 miles from downtown. Free hot breakfast is provided each morning; for other meals there are 2 restaurants adjacent and an increasingly better choice further south, towards the center. The hotel contains 76 rooms & suites, most with nice views of the surroundings, either the hillside to the west or the Animas River valley to the east. Other amenities are an outdoor pool, sundeck, business center and use of an off-site fitness center.

6.
SpringHill Suites Durango
77 Mercury Village, Durango, CO 81301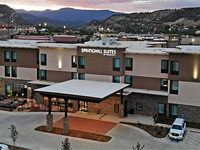 The SpringHill Suites is the third Marriott hotel in Durango, and it has a southerly location in the city beside Durango Mall, just east of US 550, and a short walk from the Animas River, which can be explored along a 7 mile trail that leads all the way through the town center to the north. There are several restaurants in the vicinity. The hotel opened early 2020, offering all-suite (studio) accommodations, plus the usual amenities of a pool, business & fitness centers, a 24 hour market and meeting space. Complimentary hot breakfast is provided each morning.

7.
Holiday Inn Express Durango
1111 Camino del Rio, Durango, CO 81301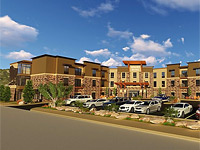 Holiday Inn Express Durango has an excellent location right on the banks of the Animas River at the edge of downtown, an easy walk from numerous restaurants, bars and shops. Open late summer 2020, the pet friendly hotel provides free hot breakfast each morning, plus other amenities of a fitness center, fire pits and complimentary five mile radius shuttle. Parking is in a secure covered facilitty, while private bike storage is also available. At the rear of the hotel is the Animas River Trail, a paved, seven mile route all through the town.

8.
Baymont by Wyndham Durango
3255 Main Avenue, Durango, CO 81301-4248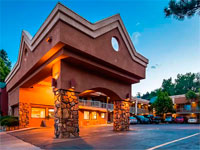 The Baymont hotel is located along Main Avenue close to Animas City Park. The historic downtown area of Durango is 1.5 miles south. The hotel's 65 guest rooms (all containing a microwave and refrigerator) are arranged around three sides of a courtyard, at the center of which is a glass-roofed indoor pool, surrounded by trees and plants. Complimentary amenities are wi-fi and breakfast; also available are a games room, business center and coin-operated laundry.

9.
Best Western Plus Rio Grande Inn
400 E 2nd Avenue, Durango, CO 81301-5602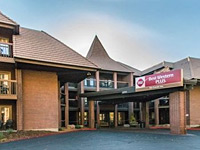 The Rio Grande Inn along 2nd Avenue is situated right by the downtown area of Durango, one block from the southern terminus of the Durango-Silverton narrow gauge railway and within easy walking distance of many shops, restaurants and bars. The hotel offers 102 comfortable rooms, free full breakfast, free wi-fi, an indoor heated pool/hot tub, fitness center, sauna and free guest laundry. Some accommodations have views over the Durango River, which flows past just south, on the far side of US 160.

10.
Fairfield Inn & Suites Durango
21719 W US Highway 160, Durango, CO 81301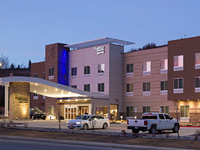 The second Marriott hotel in Durango is built next to a sister property (Residence Inn), in a scenic location along US 160 a short distance west of the town center; guest accommodations enjoy relaxing views of the wooded hills enclosing the valley of Lightner Creek, a tributary of the Animas River. Highlights of the 81 room Fairfield Inn are the outdoor pool, the free breakfast buffet, which includes a selection of hot items, and the colorfully-decorated lobby which has plenty of quiet places for work and relaxation. Wi-fi is also complimentary.

11.
Comfort Inn & Suites Durango
455 S Camino Del Rio, Durango, CO 81303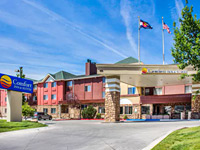 A mile south of Durango town center sits the 123 room Comfort Inn & Suites, along Camino Del Rio (US 550/160) in a semi-rural area close to the Animas River, but also near a collection of shops, restaurants and Durango Mall. Most rooms have views over wooded mountains; nearby outdoor activities include rafting, hiking and jeep tours. The hotel has an indoor pool, hot tub, business center and fitness center. Free hot breakfast is provided.

12.
Quality Inn Durango
2930 N Main Avenue, Durango, CO 81301
Quality Inn Durango has a northerly location along Main Avenue (highway 550), one mile from the historic downtown area and linked to it by the city's trolley bus system. Both the Animas River and the Durango-Silverton railroad run just to the east of the hotel, which is near to at least 6 restaurants. The main amenities are an sheltered outdoor pool at the rear of the hotel, and free continental breakfast. The Alpine scenery of the
San Juan Mountains
begins a few miles further north along US 550.

13.
MainStay Suites Durango
1260 Escalante Drive, Building B, Durango, CO 81303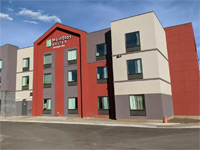 Open 2020, MainStay Suites Durango occupies half of a three floor building along the main road through town, US 160, 4 miles south of the center, close to many shops and restaurants. The Animas River Trail is also close by. The hotel features affordable, all-suite/extended stay lodging; all accommodations include a kitchenette, and food for cooking can be purchased from the onsite convenience store. A fitness center, indoor pool and hot tub are the other main amenities. Continental breakfast is complimentary.

14.
Sleep Inn Durango
1260 Escalante Drive, Building A, Durango, CO 81303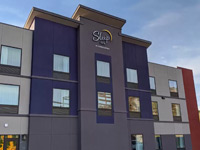 The Sleep Inn is part of the expanding South Durango district; near the far edge of town, between US 160 and the Animas River, close to restaurants and several stores including Walmart and Home Depot. Wi-fi and hot breakfast are complimentary, while other amenities are an indoor pool/hot tub, a fitness center and sundry shop. Pet friendly accommodations are available. The hotel shares a building with the MainStay Suites; both hotels opened summer 2020.

15.
Days Inn by Wyndham Durango
3030 Main Avenue, Durango, CO 81301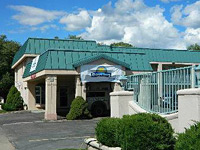 Days Inn Durango has the traditional, two floor, exterior corridor design, the rooms (all containing microwave/refrigerator) along two sides of the central parking lot, which has an outdoor pool at the front, next to the main road (US 550). The Animas River flows past 150 feet east. The highway is lined by many restaurants, bars and small shops, though most facilities in town are around 2 miles south; travel here is easy since the Durango trolley stops just down the street. The inn provides free breakfast and has facilities for meetings & business, plus a fitness center.

16.
Econo Lodge Inn & Suites Durango
2002 Main Avenue, Durango, CO 81301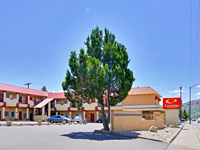 On busy Main Avenue (US 550) towards the north edge of Durango, the Econo Lodge provides 41 basic but comfortable rooms, some containing a microwave and refrigerator. Free continental breakfast is available, but the lack of other amenities makes the motel one of the lowest priced in Durango. There are plenty of restaurants, shops and bars nearby, and more in the historic town center, one mile south.

17.
Super 8 by Wyndham Durango
20 Stewart Drive, Durango, CO 81301-7999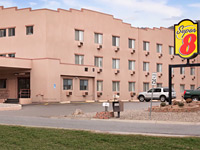 Two miles south of downtown Durango, the Super 8 is a budget, pet friendly establishment with 86 rooms on three interior corridor floors, offering just the basic amenities of free continental breakfast, free wi-fi and guest laundry. The motel is surrounded by a good sized parking area, on the west side of US 160, near a selection of restaurants & shops, largest being Sears one block south. Most rooms have nice views over the wooded hills that enclose both side of the Animas River valley.