1.
Hampton Inn Mesa Verde/Cortez
2244 E Hawkins Street, Cortez, CO 81321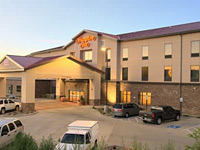 The first property from the Hilton Hotel Group in Cortez opened June 2015, positioned next to several other hotels on the east side of town, 8.5 miles from the entrance to
Mesa Verde National Park
. Hampton Inn Cortez has three floors, 74 rooms & suites, a small meeting room, and a dining room for the free hot breakfast (take-out version available). Snacks may be purchased from a 24 hour convenience store, or from a Walmart store a quarter of a mile west. Meals can be prepared using the microwaves in all guest accommodations, or using the bbq grill on the patio. Other leisure facilities are an indoor pool and a fitness center.

2.
Holiday Inn Express Mesa Verde-Cortez
2121 East Main, Cortez, CO 81321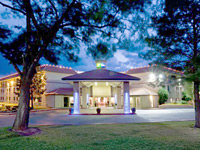 One of the closest hotels to
Mesa Verde National Park
is the Holiday Inn Express Cortez, situated 9 miles from the park entrance on US 160, near the junction with CO 145 (Dolores Road). This location 1.5 miles east of the center of Cortez, on the south side of the highway in a relatively undeveloped area, and 5 miles from the municipal airport; it offers 100 comfortable rooms & suites on 3 floors, an indoor pool, fitness center, sauna and free breakfast buffet; the lunch/dinner there is a bar/restaurant adjacent. Good standards of cleanliness, customer service and facilities make the Holiday Inn Express the best hotel in town.

3.
Best Western Turquoise Inn & Suites
535 E Main Street, Cortez, CO 81321-3319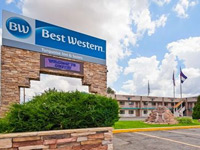 The Best Western hotel in Cortez has a central location along Main Street, five blocks from the middle of town at the junction with Market Street, but still quite close to the edge of the suburbs to the southwest, and the start of the farmland of Montezuma Valley. The hotel's 77 rooms are decorated in authentic Southwestern style, and include three types of suite - family units catering for up to 8 people, two room suites with cooking facilities, and hot tub/fireplace suites. Other facilities are an outdoor pool and landscaped gardens, an indoor pool with waterfall and jet, a gift shop and complimentary full breakfast.

4.
Quality Inn Cortez
1120 E Main Street, Building A, Cortez, CO 81321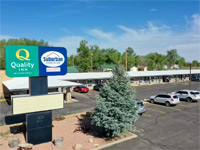 Quality Inn Cortez shares a site with another Choice Hotels property (Rodway Inn) - on the north side of Main Street towards the east edge of town, close to Walmart supermarket and a selection of restaurants & bars. The affordable, pet friendly property offers amenities of free hot breakfast, free wi-fi and a business center. Mesa Verde National Park is nine miles west along US 160.

5.
Baymont by Wyndham Cortez
2321 E Main Street, Cortez, CO 81321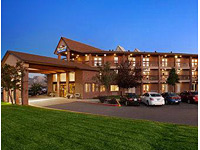 At 2131 Main Street (US 160), the Baymont Inn sits 1.5 miles east of the center of Cortez, in a quiet area just off the main road. This is a large hotel on 3 floors, with uninterrupted views south and east across Montezuma Valley towards the North Rim mesa. One restaurant is adjacent, and there are several others within a mile west, together with a Wal-Mart and various other stores. The inn has 150 fairly large rooms, and amenities of an indoor pool/hot tub, fitness center, business center and free deluxe continental breakfast (including a selection of hot items).

6.
Days Inn by Wyndham Cortez
430 N State Hwy 145, Cortez, CO 81321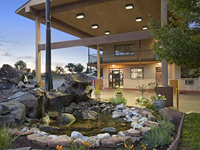 The Days Inn is the eastermost hotel in Cortez, and hence the closest to
Mesa Verde National Park
, the entrance to which is just over 8 miles east. All guest rooms are equipped with refrigerators & microwaves, and have pleasant views over a garden area with outdoor pool/hot tub at the center. The motel is separated from the main road (US 160) by 300 feet of undeveloped land, so the rooms are nice and quiet. There is one restaurant (Mexican) adjacent.

7.
Econo Lodge Cortez
2020 E Main Street, Cortez, CO 81321
The Econo Lodge is one of a small group of hotels 1.5 miles east of the center of Cortez, along US 160; it has 70 rooms on 2 floors, in a long building on the north side of the highway. Most rooms face either south, with views of the car park and outdoor pool, or north, looking out over a residential area. The hotel offers free continental breakfast, and there are many restaurants & lounges nearby. Facilities are basic but the rooms are cheap, and the staff friendly & efficient.

8.
Super 8 by Wyndham Cortez/Mesa Verde Area
505 E Main Street, Cortez, CO 81321-3319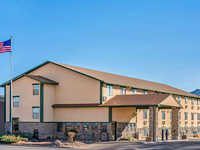 Super 8 Cortez occupies a partly tree-lined site with plenty of parking space, on the south side of Main Street in the city center, right opposite a supermarket (City Market) and within half a mile of over a dozen restaurants. There are several city parks two blocks east. The affordable, pet friendly motel has three floors, interior corridors and 60 guest rooms, and it offers three main amenities of free wi-fi, free continental breakfast and a guest-use computer.

9.
Suburban Studios Cortez
1120 E Main Street, Building B, Cortez, CO 81321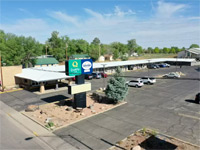 Although amongst the least expensive hotels in Cortez, CO, the Suburban Studios along Main Street still offers the basic amenities of a business center, free continental breakfast and guest laundry. The 50 rooms are generally clean, comfortable and modern; all contain a microwave & refrigerator. There are several restaurants and stores close by, including Safeway supermarket one block west. Also just to the west is Cortez City Park, featuring picnic areas, a games court and facilities for children.