Coronavirus update (March 30th): Both units of Saguaro National Park are open, though restrooms and visitor centers are closed. No fees are being collected


The saguaro cactus (Carnegiea Gigantea) is the state symbol of Arizona, appearing on all car license plates, and provides a universally recognized image of the Southwest. It is the largest and one of the slowest growing of all cacti, reaching up to 15 meters high and living for several centuries. Plants can weigh up to 8 tons, partly because of the large amount of water the stems can hold - after rainfall the cactus can absorb hundreds of gallons in a short time. The saguaro may be only 6 inches high after 10 years, and the characteristic branched appearance is reached only after around 80 years.

The cactus is widespread across southern Arizona, extreme southeast California and Sonora, north Mexico - see map below. Distribution is related to latitude and altitude - it is most commonly found between 1,000 & 3,000 feet, and because the saguaro can tolerate temperatures as low as 24°F (-4°C), it survives further north than any of the other species of large cactus. In the spring, the saguaro produce white flowers on the upper stems of mature plants so this is an especially good time to visit. Later, sweet edible red fruit appear, traditionally used by the local Native American tribes as food and also to make wine.


Location
Maps of Saguaro National Park;
west
,
east
.
Regions
There are many densely forested regions in the Southwest but two areas of the Sonoran Desert either side of Tucson have been selected and preserved as
Saguaro National Park
- the
Tucson Mountain
(west) and
Rincon Mountain
(east) districts. The park was upgraded in status from a national monument in 1994, and besides the ever-present saguaro, also preserves a large variety of other cacti and desert plants, plus much interesting wildlife, although the majority is only active during the night. In 2020 the fees were increased to $25 per vehicle, good for seven days.
Of the two regions of the national park, the western section is about half plains, and half mountains, up to 4,687 feet (Wasson Peak), and is generally more visited than the larger eastern section, of which a relatively small area is flat lowlands, crossed by most of the trails; the majority of the land is higher ground, including several peaks over 8,000 feet. The general character of the two sections are similar, however, and a visit to either is just as rewarding.
Organ Pipe Cactus National Monument
also has many saguaros, together with other more unusual columnar cacti, and is more remote and less visited.
Saguaro Cactus Distribution Map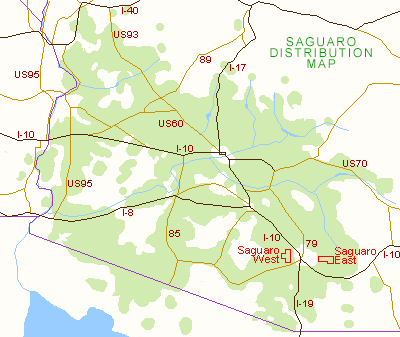 Featured Saguaro National Park Trails
West (Tucson Mountain)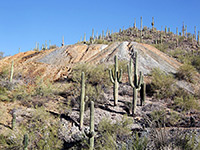 Gould Mine Trail
★★★

★★
1.1 miles, 260 feet
Path up a cactus-studded ravine to the remains of an old mine; combined with parts of two adjacent trails to form a circular route of 2.5 miles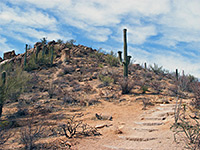 Hugh Norris Trail
★★★★★
4.9 miles, 2,130 feet
Longest trail in the park, following a ridge of increasing height all the way to a high summit, for unsurpassed views of the surrounding mountains and desert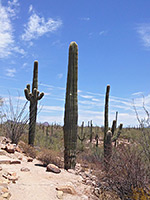 Signal Hill Trail
★★

★★★
0.2 miles, 50 feet
Popular route to a low, boulder-covered summit, where many of the rocks are adorned with petroglyphs
East (Rincon Mountain)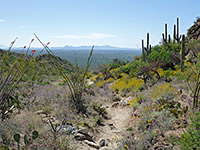 Douglas Spring Trail
★★★★

★
8.8 miles, 3,550 feet
Long path ascending steadily past different types of vegetation, passing several small streams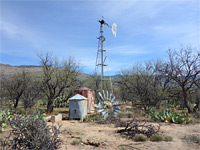 Hope Camp Trail
★★★

★★
2.8 miles, level
Old vehicle track across open terrain, past many cacti, to the remains of two cattle stations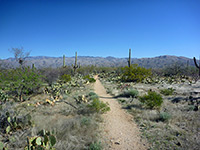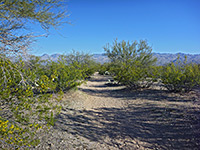 Mica View Trail
★★

★★★
1 miles, 40 feet
Wide, level path through open terrain with saguaro and bushes; views of the Santa Catalina Mountains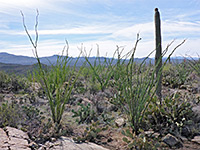 Ridge View Trail
★★

★★★
1.1 miles, 330 feet
Easy route to a small hill; unobstructed views over Rincon Valley and Tanque Verde Ridge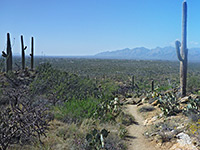 Tanque Verde Ridge Trail
★★★★

★
11 miles, 3,900 feet
Main route into the high elevation backcountry, climbing steadily through several vegetation zones
Affiliate disclosure