Regions
There are many densely forested regions in the Southwest but two areas of the Sonoran Desert either side of Tucson have been selected and preserved as
Saguaro National Park
- the
Tucson Mountain
(west) and
Rincon Mountain
(east) districts. The park was upgraded in status from a national monument in 1994, and besides the ever-present saguaro, also preserves a large variety of other cacti and desert plants, plus much interesting wildlife, although the majority is only active during the night.
Of the two regions of the national park, the western section is about half plains, and half mountains, up to 4,687 feet (Wasson Peak), and is generally more visited than the larger eastern section, of which a relatively small area is flat lowlands, crossed by most of the trails; the majority of the land is higher ground, including several peaks over 8,000 feet. The general character of the two sections are similar, however, and a visit to either is just as rewarding.
Organ Pipe Cactus National Monument
also has many saguaros, together with other more unusual columnar cacti, and is more remote and less visited.
Saguaro Cactus Distribution Map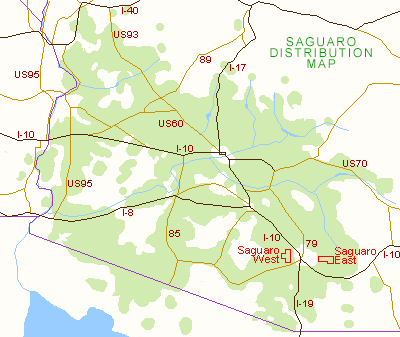 There are no campsites within Saguaro National Park but a selection of hotels in nearby Tucson and Marana. One of the closest to the west section (14 miles from the visitor center) is
. This is located just northwest of downtown Tucson, and 0.4 miles west of exit 256 of I-10, at 1564 W Grants Road - part of a complex at the corner of Grants and N Dragoon St. The front of the hotel overlooks the (usually dry) Santa Cruz River. The hotel is also close to other nearby attractions including Old Tucson Studios, Silverbell Golf Course and the Tucson Convention Center.