1.
JW Marriott Starr Pass Resort & Spa
3800 W Starr Pass Boulevard, Tucson, AZ 85745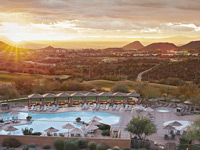 Tucson's JW Marriott Starr Pass Resort has one of the best locations for any hotel in the state, a few miles west of the city center in the saguaro-covered foothills of the Tucson Mountains, surrounded by pristine Sonoran Desert landscapes; several hiking trails begin just across the road. The resort provides comprehensive facilities for families, business and leisure travelers; highlights are a golf course, a large outdoor pool complex (including fountains, water slide and lazy river), the Hashani Spa and 88,000 sq ft of meeting space, both indoor & outdoor. The luxurious accommodation comprises 540 rooms and 35 suites, all with beautiful views of the mountains or the distant city. Six dining outlets serve food and drink for all occasions.
2.
Tucson Marriott University Park
880 E 2nd Street, Tucson, AZ 85719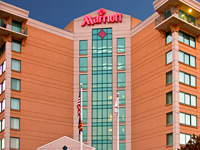 As its name suggests, the full service Marriott Tucson University Park sits at the edge of the University of Arizona campus along Euclid Avenue, right in the middle of downtown Tucson and so within walking distance of numerous shops, bars, restaurants, museums and theaters. The international airport is 12 miles south. The Marriott is a large hotel of 9 floors and 250 rooms - all large, comfortable and well equipped, if a little dated. The on site restaurant is Saguaro Grill, open for breakfast, lunch & dinner; other facilities include a huge atrium lobby, outdoor pool/whirlpool, fitness center, business center and nearly 12,000 sq ft of meeting/banquet space.

3.
AC Hotel Tucson Downtown
151 E Broadway Blvd, Tucson, AZ 85701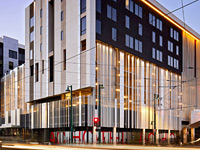 Open late 2017, the newly constructed, 136 room AC Hotel has a fine location in downtown Tucson along Broadway Boulevard, less than one mile from Interstate 10, and within walking distance of many restaurants, bars and other attractions. The Tucson Streetcar stops right outside, enabling quick travel to places in the vicinity, from the Mercardo District in the west to the university campus in the east. Hotel highlights include a rooftop pool, a large fitness center, valet service, meeting space and a full restaurant/bar, which features local cuisine and craft beers. Artwork in the lobby reflects the landscapes and culture of southern Arizona.

4.
Clarion Inn Tucson
750 West Starr Pass Boulevard, Tucson, AZ 85713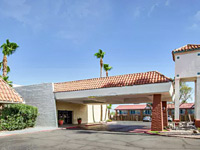 Clarion Inn Tucson occupies a large, easily reached site right next to interstate 10 (exits 259 & 260), close to the edge of the city - the saguaro-covered slopes of Sentinel Peak rise up a few blocks west, while Gates Pass and Tucson Mountain Park are 8 miles further. The hotel has 98 interior corridor rooms, in several blocks around the central pool area, with a restaurant on site and all the other usual facilities including a business center, fitness center, laundry, hot tub and meeting space. Free continental breakfast is served.

5.
Holiday Inn Express Hotel & Suites Tucson
1564 W Grant Road, Tucson, AZ 85745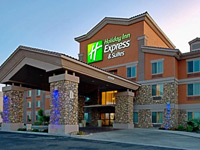 A short distance northwest of downtown Tucson, the new Holiday Inn Express Tucson has an easily-reached location 0.4 miles from exit 256 of I-10, along Grants Road - part of a small lodging/dining complex in an otherwise industrial neighborhood. The front of the hotel overlooks the (usually dry) Santa Cruz River. The inn is one of the closest hotels to the west section of
Saguaro National Park
as well as other nearby attractions including Old Tucson Studios, Silverbell Golf Course and the Tucson Convention Center. The free Express Start continental breakfast is served each morning; the other main amenities are an outdoor pool, whirlpool, guest laundry and a business center.

6.
Best Western Plus Royal Sun Inn and Suites
1015 N Stone Avenue, Tucson, AZ 85705-7748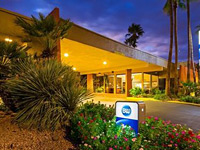 The Best Western Royal Sun Inn has a north central Tucson location on Stone Avenue, opposite De Anza Park. Although not in the best part of town, the hotel has well maintained grounds including fountains and a fish pond, all lined by saguaro and palm trees; it features an on-site bar/restaurant/lounge, outdoor pool, hot tub and exercise facility. The nearest interstate is I-10; the hotel is less than a mile east of exit 257, along Speedway Boulevard. Complimentary full breakfast is served.

7.
Comfort Inn Tucson
1560 West Grant Road, Tucson, AZ 85745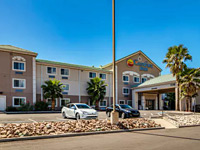 Newly converted from another brand, Comfort Inn Tucson offers 67 clean, medium sized guest rooms, all equipped with microwave, refrigerator and pillow top mattress. Some have a hot tub and extra sofa bed. East-facing rooms look out over the Santa Cruz River and to I-10 which runs past just beyond; those on the west side have views towards the saguaro-covered Tucson Mountains. The hotel serves free continental breakfast and is close to a fair selection of restaurants, around exit 256 of the interstate (Grant Road). Also available are a nice outdoor pool/hot tub, a fitness center, business center and a convenience store.

8.
Ramada by Wyndham Tucson
777 W Cushing Street, Tucson, AZ 85745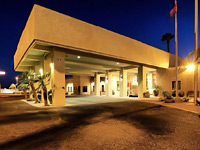 Ramada Tucson has busy surroundings at the front, as it faces the western I-10 frontage road, but is much more peaceful at the rear, where rooms have views of the (usually dry) Santa Cruz River, and beyond to the saguaro-studded hills of Sentinel Peak Park. The Arizona-Sonora Desert Museum is 13 miles west, at the edge of Saguaro National Park, while many city center locations are served by the Tucson Streetcar, which stops at the hotel entrance. The Ramada is centered on a secluded courtyard garden with pool, sundeck and sports courts; it also offers a fitness center, meeting space, cafe and bar.

9.
Days Inn by Wyndham Tucson City Center
665 North Freeway, Tucson, AZ 85745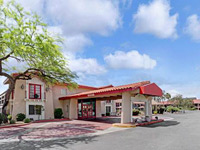 The Days Inn near downtown Tucson is bordered by I-10 to the east and the Santa Cruz River to the west; rooms at the rear have views across the sandy streamway and the residential district beyond to the Tucson Mountains. The city center and the University of Arizona are just a couple of miles away. The exterior corridor hotel has an outdoor pool at the front, tucked away in one corner of the parking lot, and it provides the standard amenities of free continental breakfast, free wi-fi and a refrigerator/microwave in each guest room. Some accommodations contain a kitchenette.

10.
Travelodge by Wyndham Tucson
1000 S Freeway, Tucson, AZ 85745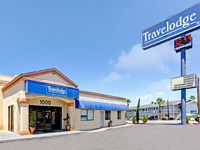 The Travelodge is part of a group of affordable motels near the Starr Pass Boulevard exit of I-10 (west side), a couple of miles from the city center. Although rather old, the building has interior corridors and rooms face north or south, away from the interstate; amenities are free continental breakfast, coin-operated laundry, free wi-fi and a microwave/refrigerator in all guest accommodations. A small selection of restaurants are within walking distance.

11.
Econo Lodge Tucson University
1136 N Stone Avenue, Tucson, AZ 85705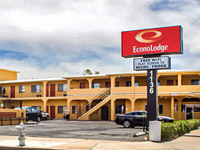 Econo Lodge Tucson is a typically small, budget-priced, exterior corridor establishment of 48 rooms, arranged around three sides of the rather limited parking lot, and located at the intersection of Speedway Boulevard and Stone Avenue a little way north of the city center. An outdoor pool is the main amenity, together with the usual free wi-fi and free continental breakfast. Some rooms contain a refrigerator. There are several restaurants nearby, but a much better choice can be found one mile away along 4th Avenue.

12.
Super 8 by Wyndham Tucson/Grant Road Area
1550 West Grant Road, Tucson, AZ 85745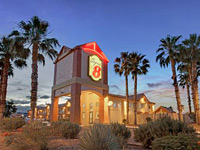 Super 8 Tucson has a peaceful location on the west side of the Santa Cruz River, easily accessed from I-10 (the Grant Road exit), but far enough away - 0.3 miles - to avoid the traffic noise. The two floor property is of older construction, with exterior corridors, but it enjoys a good reputation for value and cleanliness. Amenities are limited to guest laundry, free continental breakfast and an outdoor pool/hot tub, at the front of the property lined by a few palm trees. There are several restaurants and gas stations adjacent.

13.
Super 8 by Wyndham Tucson Downtown Convention Center
715 West Starr Pass Blvd, Tucson, AZ 85713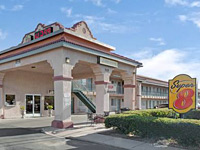 Guests at Super 8 Tucson are just half a mile from the edge of Sentinel Peak Park, which features several trails through unspoilt desert land. The affordable, exterior corridor motel is situated at the Starr Pass Blvd exit of Interstate 10, three miles west of the city center, at the edge of a residential area though also close to a few restaurants. The standard amenities of a pool, free wi-fi, free continental breakfast and basic business services are provided.
14.
Motel 6 Tucson
1010 South Freeway, Tucson, AZ 85745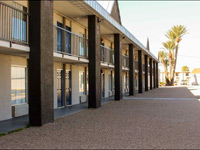 Motel 6 Tucson is a traditional budget-priced roadside property with two exterior corridor floors and 107 rooms, arranged around three sides of the parking lot, and looking east across I-10 which runs right past; access is from exit 259, Starr Pass Boulevard. This leads to Sentinel Peak Park a short distance west, then continues to trailheads in the Tucson Mountains. Motel amenities are an outdoor pool, coin-operated laundry, free wi-fi and free coffee.