1.
La Posada Lodge & Casitas, an Ascend Hotel Collection Member
5900 N Oracle Road, Tucson, AZ 85704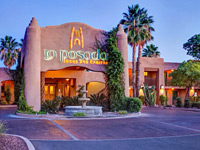 All accommodations at La Posada Lodge feature a microwave, refrigerator & pillowtop mattresses; some have a private balcony & sofa bed, while for guests needing even more space and facilities there are several castitas available, facing the secluded gardens at the rear, beside the outdoor pool and patio. Free hot breakfast is prepared each morning. For other meals there is one restaurant/bar on site (the full service Miguel's), one opposite, and others within walking distance, north along Oracle Road. The east side of the hotel borders a golf course, with a lightly developed residential area beyond, and most rooms have views of the Santa Catalina Mountains a few miles north.

2.
Embassy Suites Tucson - Paloma Village
3110 East Skyline Drive, Tucson, AZ 85718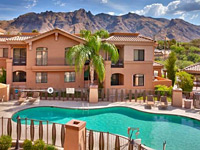 The northernmost of two Embassy Suites hotels in Tucson has a spectacular setting in the Santa Catalina foothills, high enough for long distance views southwest towards the city center. Nearby are the shops and restaurants of Paloma Village, plus La Paloma Country Club a few blocks east and several upscale housing developments a short drive away. The many amenities of this large and popular hotel include free hot breakfast, free nighty receptions, 24 hour business center, 3,256 sq ft of meeting space, a pool/hot tub, fitness center and convenience store. The suites have separate sleeping/living areas and a microwave, refrigerator & coffee maker, though no full kitchen.

3.
Homewood Suites by Hilton Tucson/St Philips Plaza University
4250 North Campbell Avenue, Tucson, AZ 85817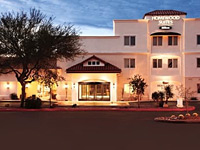 The Homewood Suites by Hilton in north central Tucson enjoys a quiet, scenic location facing the (usually dry) Rillito River, just off Campbell Avenue and within sight of the mountains to the north. The hotel is centered on a secluded courtyard garden with outdoor pool; half the rooms have pool views, while the remainder overlook the peaceful neighborhood. The all-suite accommodations are available in studio, one bedroom and two bedroom layouts; all have a full kitchen. Daily hot breakfast is complimentary, as are the light dinners provided Monday through Thursday. Other amenities include a 24 hour snack shop and a 60 person meeting room. Shopping and dining are available right next door at St Philip's Plaza.
4.
Hampton Inn & Suites Tucson Mall
5950 North Oracle Road, Tucson, AZ 85704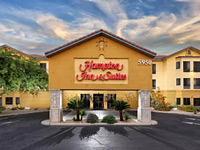 1.7 miles north of Tucson Mall and Oracle Ridge Plaza, the Hampton Inn is a popular, modern hotel attractively colored in light yellow, located along busy Oracle Road but backing on to peaceful desert lands, at the edge of Quail Canyon Golf Course; 3 miles from the edge of the Santa Catalina Mountains. There are various other shops close by, and a selection of restaurants. The 109 guest rooms are in two blocks separated by a sheltered garden with outdoor pool, hot tub, sundeck and fountain. Free hot breakfast is served each morning. Guests here to work can take advantage of a fully equipped business center and an 836 sq ft meeting room.

5.
TownePlace Suites Tucson
405 West Rudasill Road, Tucson, AZ 85704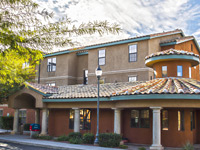 The surroundings of TownePlace Suites Tucson are quiet and scenic - the hotel sits close to the edge of the desert and the Santa Catalina foothills towards the north side of town, yet is within walking distance of many shops and restaurants along nearby Oracle Road. Guests have a choice of 76 spacious, comfortable suites in studio, one bed or two bed configurations, all with a full kitchen and separate areas for sleeping, living & dining. The main amenities are free hot breakfast, a convenience store, a small outdoor pool and a business center. Tucson Mall is 2 miles south.

6.
Holiday Inn Express Hotel and Suites Tucson Mall
620 East Wetmore Road, Tucson, AZ 85705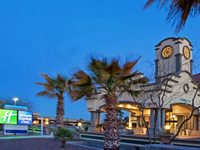 A few miles north of downtown Tucson, the newly built Holiday Inn Express Hotel & Suites Tucson Mall is situated on the south side of E Whetmore Road, just west of N 1st Avenue. The hotel has 105 suites that contain such amenities as cable TV, microwave, refrigerator, mini bar & safe, and it receives particularly favorable reviews - guests appreciate the helpful staff, clean rooms, the free hot breakfast, and good location near to shopping and dining. Tucson Mall is less than half a mile to the west. Leisure facilities are the familiar outdoor pool, whirlpool and fitness center.

7.
Candlewood Suites Tucson
1995 West River Road, Tucson, AZ 85704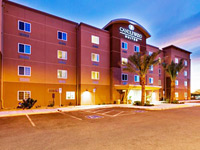 Along River Road near the north edge of Tucson, the Candlewood Suites is a modern, all-suite hotel of 86 rooms (studio or one bed), all featuring a full kitchen; food for cooking can be purchased from the on-site convenience store or from an adjacent supermarket (Basha's). Leisure facilities are an outdoor pool, whirlpool, 24 hour fitness center and (outdoor) gazebo with TV and bbq grills. The property is situated about half way, 2 miles, between Oracle Road and I-10, near the usually dry Rillito River. The hotel opened February 2014.

8.
Best Western Plus InnSuites Tucson Foothills Hotel & Suites
6201 N Oracle Road, Tucson, AZ 85704-5409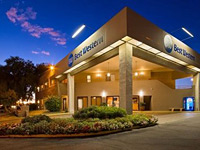 In the foothills of the Santa Catalina Mountains, the 159 room Best Western InnSuites Hotel has 5 separate buildings arranged around gardens and an outdoor pool in a peaceful residential neighborhood a few miles north of the center of Tucson. The hotel is 4 miles east of interstate 10 (exit 250), along W Orange Grove Rd, close to a shopping center with various stores and restaurants. As well as the free breakfast buffet, the hotel offers a free evening social hour, plus many other services including local area shuttle, 24 hour fitness room, cocktail lounge, spa, children's playground and tennis courts.

9.
Best Western Plus Gold Poppy Inn
4930 W Ina Road, Tucson, AZ 85743
Best Western Plus Gold Poppy Inn provides comfortable, reliable lodging to travelers along interstate 10 which runs close by; access is from exit 248 (Ina Road), a street which leads directly into the west section of
Saguaro National Park
, crossing the boundary after 5.5 miles. All the expected amenities are present: free hot breakfast, guest laundry, business center, fitness center, outdoor pool and hot tub. The building is not new but all 60 rooms are large, well looked after, and equipped with microwave & refrigerator

10.
Comfort Suites at Tucson Mall
515 West Automall Drive, Tucson, AZ 85705-6008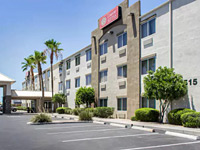 Comfort Suites at Tucson Mall receives consistently good reviews, for its helpful staff, good quality free deluxe continental breakfast, comfortable rooms, general cleanliness and convenient location - just a few minute's walk from the mall, and even closer to other shops & restaurants along Auto Mall Drive. The 87 oversize rooms contain a microwave and refrigerator in addition to all the expected amenities. The Comfort Inn has an outdoor pool, sun deck & hot tub at the rear, and interior facilities of an exercise room, newsstand, guest laundry and a business center.

11.
Travelodge by Wyndham Tucson
4910 W Ina Road, Tucson, AZ 85743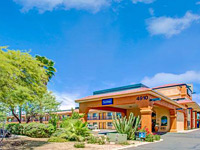 Tucson Travelodge has a northwesterly location in town, close to neighboring Marana, located at the Ina Road exit of I-10 at the edge of an industrial district. There are several restaurants either side of the interstate exit and a better selection (and a Wal-Mart store) two miles north. Rates are low, on account of the limited amenities, which include an outdoor pool/hot tub, free continental breakfast, a basic business center and free internet access. All guest rooms contain a microwave and a refrigerator.
12.
Motel 6 Tucson, AZ - North
7277 N Camino De Oeste, Tucson, AZ 85741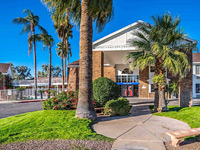 The Motel 6 in north Tucson accommodates guests in several inter-connected two floor blocks, accessed by interior corridors, with a spacious parking lot at the front, lined by palm trees, and a secluded outdoor pool at the center. Other amenities are free coffee, free wi-fi and coin-operated laundry. There are several restaurants within walking distance, to the east, along Ina Road, which to the west intersects I-10, at exit 248.