1.
The Westin La Paloma Resort & Spa
3800 E Sunrise Drive, Tucson, AZ 85718
The AAA Four-Diamond Westin Resort, incorporating a 27 hole Jack Nicklaus Signature Golf Course, extends across many acres of elevated, semi-desert land near the north edge of Tucson, just 5 miles from
Sabino Canyon
, one of the most scenic of the rocky canyons in foothills of the Santa Catalina Mountains. The resort is centered on a landscaped garden with several pools, from where walkways lead to sports courts, the Mynd Spa/Salon, the club house, and the accommodation area; guest rooms are divided between several dozen blocks, and all have either pool or mountain views, and a balcony or patio. Some of the suites additionally contain a hot tub. There are seven food & beverage outlets onsite, and numerous other facilities.

2.
Sheraton Tucson Hotel
5151 E Grant Road, Tucson, AZ 85712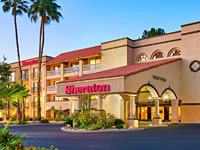 The Sheraton is a northeast Tucson hotel, along Grant Road, 7 miles from the city center at the edge of Tucson Medical Center. There are several restaurants and small shops within walking distance. The hotel is triangular in outline, centered on an enclosed courtyard garden with outdoor pool, hot tub, patio and firepits. All-day dining is provided by the Glowbal restaurant, featuring a mix of cuisines from Central and North America. Most guest rooms have views either of the gardens or the Santa Catalina Mountains, six miles north. The hotel has nearly 15,000 square feet of function space, accommodating events of up to 400 people.

3.
Hilton Tucson East
7600 East Broadway, Tucson, AZ 85710-3705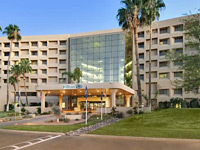 Tucson's Hilton hotel is part of the extensive residential suburbs east of the city center, and enjoys a quiet location in a lightly developed area adjacent to the (usually) dry creekbed of Pantano Wash, close to the Broadway Northeast development and just 5 miles from the east section of
Saguaro National Park
. Centerpiece of the 232 room, 7 floor hotel is a large atrium lobby, location of many of the facilities including the lounge bar, meeting facilities and business center. Most rooms have fine views towards the nearby mountains, especially some of the suites, which include a private terrace. The on-site restaurant is Vistas Grille, open all day for breakfast, lunch & dinner

4.
DoubleTree Hotel Tucson at Reid Park
445 S Alvernon Way, Tucson, AZ 85711-4198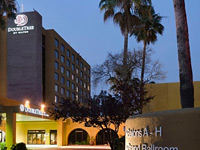 West-facing rooms at DoubleTree Hotel Tucson have pleasant views across the local golf course towards distant mountains, while those on other sides overlook the hotel's enclosed tropical gardens or the quiet residential neighborhood. The resort-style complex is surrounded by plenty of parking space and lined by palm trees; other outdoor facilities include sports courts, a patio and al fresco dining area. Accommodations range from deluxe regular rooms to suites and casitas, featuring a kitchen, living space and private patio. There are two restaurants on-site. A free shuttle is provided to places within a 3 mile radius, such as Reid Park Zoo, El Con Mall and Davis-Monthan Air Force Base.

5.
DoubleTree Suites by Hilton Hotel Tucson - Williams Center
5335 East Broadway Blvd, Tucson, AZ 85711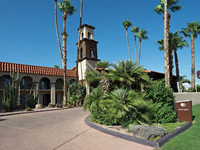 The Spanish style architecture, lush gardens and tropical plants create a relaxing atmosphere at DoubleTree Suites Tucson-Williams Center, in contrast to the busy surroundings - the hotel is located on the north side of Broadway Boulevard near several restaurants and large stores including those of Park Place Mall, 2 blocks east. All accommodations have a microwave, refrigerator, work desk, marble counter surfaces, two bedrooms, two TVs and a separate living area; the total floorspace is over 550 sq ft. Three meeting rooms carer for events of up to 50 people. A courtesy shuttle is operated to Tucson International Airport (ten miles).

6.
Courtyard Tucson Williams Centre
201 South Williams Boulevard, Tucson, AZ 85711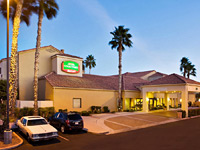 Courtyard Tucson Williams Centre sits adjacent to a Marriott sister property (the Residence Inn); highlight is the beautiful tropical courtyard garden, containing many exotic plants, a gazebo, fountains, heated pool and hot tub. The inn occupies an older building but well maintained, providing 153 rooms in 2 parallel blocks either side of the gardens. There is a cafe on site, serving breakfast only, though many restaurants can be found along nearby Broadway Boulevard (1 block north). Other features are a welcoming lobby with media board and plenty of comfortable seating, a 24 hour fitness center and 1,248 sq ft of meeting/event space.

7.
Residence Inn Tucson Williams Centre
5400 East Williams Circle, Tucson, AZ 85711
Locations within 2 miles of the Residence Inn Tucson Williams Centre include Davis Monthan Air Force Base, the Park Place and El Con malls, Randolph Golf Course and Dorado Golf Course. The immediate surroundings, along Broadway Boulevard in the middle of the extensive suburbs of east Tucson, have many small shops, bars and restaurants, though the hotel offers dining on site - free hot breakfast each day, and free light dinner/reception weekday evenings. The long stay, 4 floor hotel has 120 suites featuring a full kitchen, a fitness room, sports court, heated outdoor pool, laundromat and a 50 person meeting room.

8.
Embassy Suites by Hilton Tucson East
6555 E Speedway Blvd, Tucson, AZ 85710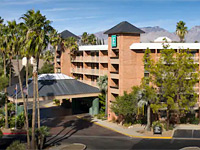 All the luxurious accommodations at Embassy Suites Tucson feature a spacious living room with sofa bed and a separate bedroom, plus an executive desk, microwave and refrigerator; the majority have a private balcony with views of the central courtyard gardens, the Tucson skyline to the west or the Santa Catalina Mountains to the north. The main garden area includes an oversized pool and patio, adjacent to the Seared restaurant/bar, which provides all-day dining, plus room service until 11 pm. Daily hot breakfast and weekday evening receptions are complimentary. The hotel adjoins Dorado Country Club along Speedway Boulevard, in a quiet, residential district 12 miles from the international airport.
9.
Hampton Inn & Suites Tucson East
251 South Wilmot Road, Tucson, AZ 85710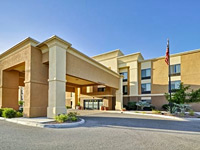 Just off Broadway Boulevard, the main thoroughfare through east Tucson, the Hampton Inn is a modern, well managed hotel of 101 good sized guest rooms, including a selection of studio suites with sofa bed, microwave and refrigerator. Rooms have views south across a residential estate or north over a busy commercial area around the Wilmot Road intersection, centered on Park Place Mall a short distance west. Free hot breakfast, fitness & business centers, meeting space and an outdoor pool are the main amenities, this latter at the sunny southeast corner of the building, away from the main road.

10.
TownePlace Suites Tucson Williams Centre
384 South Williams Boulevard, Tucson, AZ 85711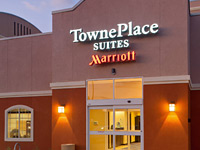 Open fall 2011, the TownePlace Suites is the third Marriott hotel in the Williams Centre development, 3 miles east of downtown Tucson - like its sister properties just to the north (Courtyard and Residence Inn), the four floor building is part of a business park just off Broadway Boulevard, also close to various shops, entertainment outlets and newly-built apartments. Accommodation comprises 124 suites in studio, one bed and two bed layouts; all contain a full kitchen, a large work desk, and separate areas for sleeping & living - equally suitable for long stay or single night guests. Leisure facilities are an outdoor pool, fitness center, hot tub, sports court and bbq grills. Free full breakfast is available, and a free reception on 3 nights of the week.

11.
Comfort Suites at Sabino Canyon
7007 E Tanque Verde Road, Tucson, AZ 85715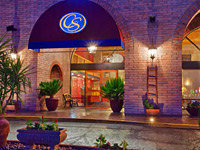 In northeast Tucson, close to
Sabino Canyon
and the foothills of
Mount Lemmon
, the Comfort Suites at Sabino Canyon hotel is located in a mostly residential neighborhood along Tanque Verde Road. The hotel is built around four elegant courtyards containing mature gardens with an outdoor pool, and caters more to long stay guests; room facilities include a microwave, refrigerator and cable TV. Free full breakfast buffet is prepared each morning and a free reception weekday evenings, while for other meals there are many restaurants close by along the main road.

12.
Ramada by Wyndham Viscount Suites Tucson East
4855 E Broadway Blvd, Tucson, AZ 85711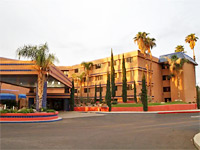 Complimentary facilities at the Ramada Viscount Suites include wi-fi, hot breakfast buffet and a three mile radius local area shuttle, within range of such places as Reid Park Zoo, Tucson Botanical Gardens, Park Place Mall and the Tucson Medical Center. The atrium hotel occupies a relatively large building along Broadway Boulevard, with an outdoor pool and garden at one side and plenty of parking all around. All accommodations are studio suites, featuring a safe, microwave, refrigerator and sofa. The onsite restaurant is open all day, and provides room service.