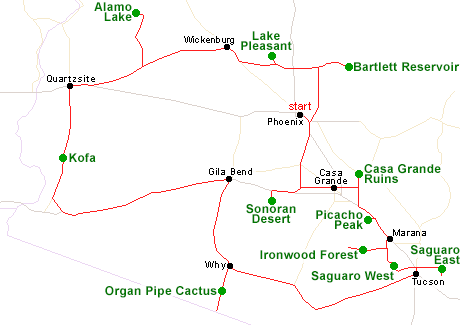 Day 1 - Phoenix to Casa Grande, 140 miles:
The nearest major desert preserve to Phoenix, less than an hour's drive south, is
Sonoran Desert National Monument
, occupying a large area of unspoilt wilderness either side of Interstate 8; this has several gravel tracks into the backcountry, plus a small number of trails. A little way back east, Casa Grande offers a good selection of hotels.
Day 2 - Casa Grande to Marana, 110 miles:
After a short detour to the four storey Hohokam dwelling preserved at
Casa Grande Ruins National Monument
, I-10 south passes
Picacho Peak State Park
; highlight here is the trail to the summit, from where a vast expanse of desert lands is in view. A little further south,
Ironwood Forest National Monument
has less of immediate interest but is worth visiting for a short time to drive along some of the scenic backroads.
Day 3 - Marana to Tucson; Saguaro National Park West, 35 miles:
The more developed
west
section of
Saguaro National Park
features many
paths
, short and long; pick of the latter is probably the
Hugh Norris Trail
to the summit of Wasson Peak, the highest point in the area. A full day can easily be spent here, with an optional visit to the nearby
Arizona-Sonora Desert Museum
.
Day 4 - Saguaro National Park East, 40 miles:
The larger
eastern
section of Saguaro National Park is less visited but still has plenty of
trails
through the lower elevation cactus plains, plus fewer, longer routes into the Rincon Mountains further east.
Day 5 - Tucson to Ajo, 160 miles:
Hwy 86 west from Tucson crosses the vast plains of the Tohono O'Odham Indian Reservation, where the distinctive organ pipe cacti begin to appear, mixed with the ever-present saguaro. The
national monument
begins south of Ajo; the suggested hike for the north section of the park is the
Alamo Canyon Trail
.
Day 6 - Ajo to Gila Bend, 140 miles:
A full day is spent exploring the southern reaches of
Organ Pipe Cactus National Monument
, to such places as
Victoria Mine
,
Puerto Blanco Drive
, and the
Bull Pasture Trail
along the
Ajo Mountain Drive
. The drive back north is partly through the Barry M Goldwater Air Force Range, reaching Interstate 8 at Gila Bend.
Day 7 - Gila Bend to Quartzsite, 190 miles:
A long drive westwards on I-8 is followed by more empty landscapes along US 95 to Quartzsite; much of the land here is part of
Kofa National Wildlife Refuge
, in which the most visited site is
Palm Canyon
, home to a secluded grove of California palm trees.
Optional extra day: Yuma; here are several historical parks, and riparian areas along the Colorado River
Day 8 - Quartzsite to Wickenburg, 165 miles:
Alamo Lake State Park
enjoys a particularly remote setting and is an excellent location for cacti and spring wildflowers. There is also a good
trail
starting by the lake, following the Bill Williams River downstream through a narrow, rocky gorge. The night is spent in Wickenburg along US 93.
Day 9 - Wickenburg to Phoenix, 130 miles:
The last day of the tour visits two similar locations on the north side of Phoenix;
Lake Pleasant
and
Bartlett Reservoir
. Both are major centers for water-based recreation, and both are surrounded by rugged desert hills bearing many saguaro and other cacti.