Wickenburg
is a charming desert town along the well-traveled highway US 60/US 93 between
Phoenix
and
Kingman
, with a compact center containing several dozen historic buildings, the earliest (Trinidad House) dating from 1863. The town adjoins the usually dry
Hassayampa River
, tributaries of which form scenic canyons in the Wickenburg Mountains to the east, but most of the surroundings are low desert plains. The only other approach to Wickenburg is from the west (US 60), from
Quartzsite
on I-10. Sites of interest nearby include
Lake Pleasant
, the ghost town of
Constellation
and the
Tres Alamos Wilderness
.
Please refer to the
disclosure notice
for information about the affiliate (commissionable) links on this page.

1.
Best Western Rancho Grande
293 E Wickenburg Way, Wickenburg, AZ 85390-1484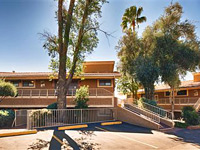 The Best Western hotel in Wickenburg is a tall, elegant property framed by palm trees, with gardens, an outdoor pool and a spa - perfect place to enjoy the desert sun. The 78 room, exterior corridor building sits along Wickenburg Way, 2 blocks east of the junction of US 60 with US 93, and beside the course of the usually dry Hassayampa River. Downtown Wickenburg is half a mile away, and the hotel is within walking distance of many restaurants and shops. All accommodations have a refrigerator, hair dryer and coffee maker, while some contain a microwave & wet bar. Free breakfast is provided.

2.
Quality Inn Wickenburg
850 E Wickenburg Way, Wickenburg, AZ 85390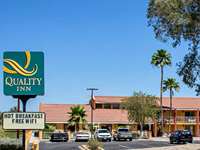 On the southern approach to Wickenburg, the pet friendly Quality Inn has a relatively quiet setting surrounded on three sides by undeveloped land; the town center is 1.5 miles north, while the nearest restaurants are about half a mile away. Free hot breakfast is available on site, however, along with facilities of a business center, outdoor pool/hot tub, business center and meeting space for up to 40 people. All rooms contain a microwave & refrigerator; some have a balcony.

3.
Super 8 by Wyndham Wickenburg
1021 N Tegner Street, Wickenburg, AZ 85390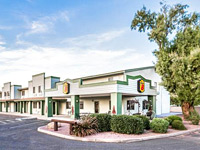 Super 8 Wickenburg accommodates guests in 41 comfortable, good sized rooms, all containing a microwave/refrigerator - part of an older but well maintained, interior corridor building towards the north side of town along Tegner Street, which runs parallel to the main road (US 93). There is one restaurant nearby (Denny's); others are about one mile south around the US 60 intersection. Free wi-fi and free continental breakfast are the only amenities, but rates are low and the staff have a good reputation.