1.
Residence Inn Prescott
3599 Lee Circle, Prescott, AZ 86301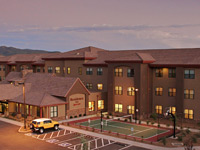 For Prescott visitors requiring extra space and facilities, or long stay lodging, the main choice is the Residence Inn by Marriott, an all-suite establishment sitting on a small hill on the east side of town, high enough for nice, long distance views over the surrounding hills, and also over the Gateway Mall a short distance south, on the far side of Highway 69. Accommodation comprises 93 studio, one-bedroom or two-bedroom suites, all large, modern and very well maintained, equipped with a full kitchen, and furnished with luxurious extras like granite work surfaces andstainless steel appliances. For relaxation the hotel has an outdoor pool, bbq grills, two hot tubs and a sundeck, while for those here to work, there is a business center and three meeting rooms. Free deluxe continental breakfast is offered, plus a free evening reception.

2.
Hilton Garden Inn Prescott Downtown
300 N Montezuma Street, Prescott, AZ 86301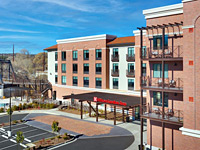 The 101 room Hilton Garden Inn (open late 2020) has a prominent location at the center of Prescott, two blocks north of Courthouse Plaza, beside Hwy 89 as it bends from west-east to north-south; a short walk from AC Williams Granite Creek Park, which features trails through wooded land beside a seasonal stream. There are plenty of restaurants, bars and shops nearby. Hotel features include a fitness center, swimming pool, 24 hour snack shop and a restaurant/bar, open for breakfast, dinner & evening drinks. Also available are a business center and three meeting rooms, total floorspace 5,460 square feet.
3.
Hampton Inn Prescott
3453 Ranch Drive, Prescott, AZ 86303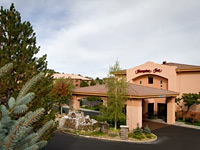 The Hampton Inn is one of a small group of hotels adjacent to Prescott Gateway Mall, along Hwy 69 on the eastern approach to Prescott, 4.5 miles from the center. The three floor property is set back a little from the main road, overlooking a quiet residential area to the rear, and so it provides a peaceful night's stay. There are several restaurants nearby, and free hot breakfast is served on-site, available in a take-out version for guests in a hurry (Mon-Fri). The hotel also has all the usual facilities for business, meetings and leisure. All 76 rooms & suites contain a microwave and refrigerator.

4.
SpringHill Suites Prescott
200 E Sheldon Street, Prescott, AZ 86301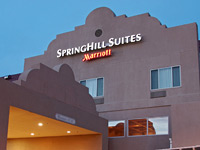 Catering to long stay visitors to Prescott or those needing extra room, the 105 room SpringHill Suites Prescott is the most reasonably priced all-suite hotel in town, and provides good quality accommodation - the suites are large and modern, including a cooking area with microwave, sink & refrigerator, customer service is attentive, and all rooms are very clean. The property is quite centrally located along E Sheldon St (Highway 89), 0.4 miles north of Courthouse Square, and one block from a large supermarket and a Chinese restaurant. Leisure facilities at the hotel comprise an indoor pool, whirlpool & fitness room. The SpringHill Suites is the closest hotel to the
Granite Mountain Wilderness
- just 8.5 miles from the Metate Trailhead.

5.
Holiday Inn Express Prescott
3454 Ranch Drive, Prescott, AZ 86303
Right next to the main shopping center in Prescott (the Gateway Mall), the Holiday Inn Express is a large, clean and modern hotel, occupying a spacious site in a country setting. The property has 76 rooms (with microwave/refrigerator) on 3 floors, a business center, indoor pool, hot tub, guest laundry and a fitness room. The complimentary Express Start hot breakfast buffet is served daily; other meals can be purchased from several outlets at the mall. Four miles west, the main road (Highway 69) reaches the historic center of Prescott, passing several other large stores en route including Wal-Mart.

6.
Best Western Prescottonian
1317 E Gurley Street, Prescott, AZ 86301-3313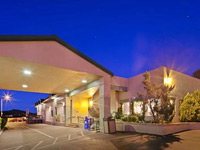 The Best Western hotel in Prescott is situated one mile east of the town center along Gurley Street, next to the AZ 69 - AZ 89 junction, in a partly rural setting. This is quite a large hotel, with two floors and 121 oversized, recently renovated rooms, all equipped with microwave, refrigerator, coffee maker and ironing facilities. An outdoor pool, spa, guest laundry and full service restaurant (which provides free hot breakfast) are the main services. All facilities of Prescott are within 6 miles of the hotel.

7.
Quality Inn Prescott
1105 E Sheldon Street, Prescott, AZ 86301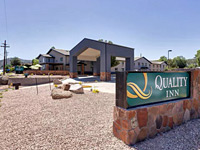 Quality Inn Prescott is ideally placed for visitors and students at Yavapai College, being just across the street (Hwy 89) close to several restaurants and small shops. Courthouse Square and the historic town center is just one mile west. The two story, interior corridor hotel features an outdoor pool, on the sunny south side of the property away from the main road, guest laundry, free hot breakfast and some rooms with a microwave. The inn has plenty of parking space and is easily reached from the highway.

8.
Days Inn by Wyndham Prescott
1290 White Spar Road, Prescott, AZ 86303-7230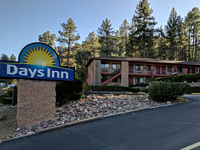 Surrounded by tall pine forest, the Days Inn has a relaxing, countryside location on the south edge of Prescott, alongside highway 89 (White Spar Road). The downtown area is 2 miles to the north, though there are a few restaurants within walking distance along the main road. The inn has a motel style layout with exterior corridor rooms on two floors, but all the accommodation is clean and well maintained, as well as being quite economical. The main amenities on offer are free hot breakfast, an outdoor hot tub, and some rooms with kitchenette facilities.

9.
Rodeway Inn Prescott
1225 E Gurley Street, Prescott, AZ 86301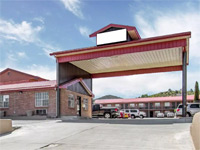 The 60 room Rodeway Inn motel in Prescott, AZ provides budget travelers with free continental breakfast, free coffee, an outdoor pool and guest laundry. Guest rooms are on two floors linked by exterior corridors; all contain a microwave and some have a refrigerator. Accommodations are arranged around three sides of the central parking lot, entered via covered driveway. The inn sits along the main road through town (Hwy 89; Gurley Street), about one mile east of the historic central district.