Prescott Valley
was established in the 1960s, became a town in 1978 and has grown rapidly since, its population now equal to that of the much longer established city of
Prescott
12 miles west; one reason for the rapid expansion is the greater availability of flat land. The town is built on a wide plain bordering the Agua Fria River, at the south end of
Chino Valley
, 26 miles from I-17 and 50 miles from
Sedona
. Facilities include an airport, sports park, two medical centers and a dozen or so churches, though the majority of the area is residential. Shops and business are mostly located along Hwy 69 to the south. The very scenic
Watson Lake
is a ten mile drive to the west, while higher elevation national forest land surrounds the valley in most directions.
Please refer to the
disclosure notice
for information about the affiliate (commissionable) links on this page.
Map of Hotels in Prescott Valley, AZ
1.
Hampton Inn & Suites Prescott Valley
2901 North Glassford Hill Road, Prescott Valley, AZ 86314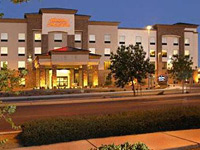 New for 2009, the beautiful Hampton Inn hotel in Prescott Valley has earned an excellent reputation for the customer service, the clean rooms, the good location near to shopping & dining, and the scenic grounds, which include a private courtyard garden with pool and hot tub. The hotel sits just off the main road (Hwy 260), one block from a new shopping center and 9 miles east of downtown Prescott. Accommodation comprises 118 rooms and suites, with luxurious bedding, granite countertops, an executive desk, HDTV, microwave and refrigerator. Free hot breakfast is served.

2.
Comfort Suites Prescott Valley
2601 N Crownpointe Drive, Prescott Valley, AZ 86314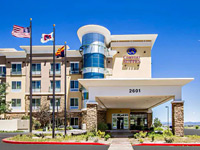 Recently built (2008) Comfort Suites Prescott Valley features 100 very large, clean and modern rooms that all contain a microwave, refrigerator, internet-enabled computer and pillow top mattresses, part of a handsome building in a semi-rural setting on the west side of town, just off highway 69 which reaches Prescott 7 miles further west. Facilities at the hotel are above average, and include free full breakfast, free internet access, a nice outdoor pool & hot tub, a fitness center, business center, and three meeting rooms. There are several restaurants within a couple of blocks, though a much better choice can be found at Prescott Valley Town Center, a few miles east along the main road.

3.
Super 8 by Wyndham Prescott Valley
7801 E Highway 69, Prescott Valley, AZ 86314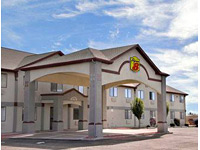 The refrigerator/microwave-equipped rooms at Super 8 Prescott Valley have pleasant views across the mixed residential/commercial neighborhood, and south over open land towards distant mountains. The interior corridor motel is situated on the south side of Hwy 69, opposite Safeway supermarket and close to a good selection of restaurants; it has an outdoor pool at the front, and interior facilities of a basic business center and a dining room for the free continental breakfast.