1.
Residence Inn Phoenix NW/Surprise
16418 N Bullard Avenue, Surprise, AZ 85374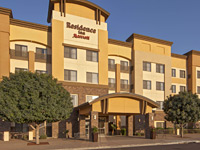 The most northwesterly of several dozen Marriott hotels in greater Phoenix opened early 2010 in a lightly developed area south of Bell Road, near Surprise, Sun City and El Mirage, and 23 miles from downtown Phoenix. The 116 luxurious, modern suites are available in four different configurations, all featuring a full kitchen with granite countertops, separate living/sleeping areas and free wi-fi. In common with all hotels of this brand, a good range of amenities are on offer, principally complimentary full breakfast, complimentary evening reception (Wed and Thu), pool/hot tub, fitness center, sports court and meeting space. Locations in the vicinity include Surprise Stadium, Surprise Aquatic Center and Surprise City Hall.

2.
Windmill Suites Surprise an Ascend Hotel Collection Member
12545 W Bell Road, Surprise, AZ 85378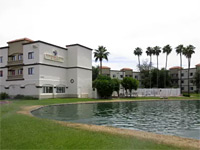 The Windmill Suites occupies a spacious site just off Bell Road on the north side of Surprise, with the parking lot at the front and a courtyard garden with outdoor pool at the rear, backing on to an artificial lake, complete with fountain. The three floor property has Spanish-style architecture, and it offers a good range of amenities, also including a fitness center, meeting space, coin-operated laundry and free hot breakfast. All accommodations feature a kitchenette, sofa bed and work desk. There are several restaurants adjacent.

3.
Hilton Garden Inn Surprise Phoenix
16601 N Stadium Way, Surprise, AZ 85374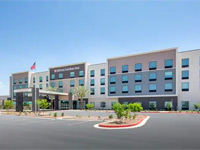 The 124 room Hilton Garden Inn has a quiet location in a residential area of Surprise, adjoining open land, formerly used as an airfield. Sites in the vicinity include the Surprise Stadium, a community park and a tennis complex. The nearest dining outlets are a little way north, along Bell Road, though the hotel does have a restaurant on the premises, open for breakfast, dinner and room service. Snacks can be purchased 24 hours a day from the Pavilion Pantry. Other amenities are a pool, fitness center, business center and 1,200 square feet of function space.
4.
Hampton Inn & Suites Phoenix-Surprise
14783 W Grand Avenue, Surprise, AZ 85374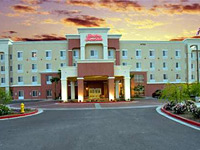 Highlights of Hampton Inn Surprise are the free hot breakfast (take-out version available), the sheltered outdoor pool/hot tub on the sunny southwest side of the property, the modern fitness center and the meetings facilities, which can cater for events of up to 150 people. The hotel enjoys a prominent yet quiet location, along US 60 but set back 300 feet from the highway, near such locations as Banner Del E. Webb Medical Center, Desert Springs Golf Course and Sunrise Marketplace. Guest rooms are on four floors, and all contain a refrigerator/microwave. There is one restaurant adjacent (Denny's) and others a short walk southeast along the main road.

5.
Holiday Inn Express Hotel & Suites Surprise
16550 N Bullard Avenue, Surprise, AZ 85374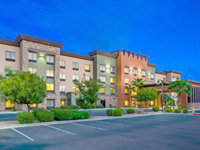 Holiday Inn Express & Suites Surprise is situated in an upmarket residential area along Bell Road, close to Sun City West, Glendale and El Mirage as well as Surprise. The hotel is within walking distance of the Surprise Baseball Stadium, and just over a mile from the nearest main shopping/restaurant complex, around the junction with Grand Avenue (US 60). All the familiar Holiday Inn Express amenities are provided; free hot buffet breakfast, gift shop, fitness center, outdoor heated pool, hot tub and meeting space. There are 115 rooms and suites on offer, all very clean, modern, brightly colored, and equipped with microwave & refrigerator.

6.
Best Western Plus Surprise-Phoenix NW
13337 W Grand Avenue, Surprise, AZ 85374-9002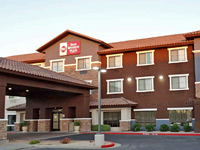 Open spring 2020, the pet friendly Best Western Plus of Surprise provides good quality, reasonably priced accommodation to visitors to the nearby suburbs of Sun City, El Mirage and Peoria, or those just traveling by along US 60 (Grand Avenue). The hotel is a short walk from various shops and restaurants by the junction with Bell Road, though the surroundings are mostly residential. There are 86 guest rooms at the Best Western, all equipped with microwave and refrigerator; its other facilities include free full breakfast, outdoor pool, hot tub, sun deck, meeting rooms, business center and coin-operated laundry.

7.
Quality Inn & Suites of the Sun Cities
16741 N Greasewood Street, Surprise, AZ 85374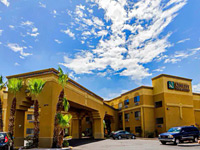 The well established Quality Inn hotel in Surprise, near Sun City, is right at the northwest edge of the Greater Phoenix metropolis, with undeveloped desert just a few miles away to the northwest. The hotel is located one block south of Bell Road, and one mile west of Grand Avenue (US 60), close to the course of the Agua Fria River. The suburb of El Mirage lies to the south, while to the northwest are the luxurious estates and golf courses of Sun City West. Accommodation comprises 69 above average sized rooms, some with microwave/refrigerator; the main amenities are free hot breakfast, pool (indoor), hot tub, fitness center and meeting space. Many of the rooms have pleasant views over an extensive tropical plant nursery, which adjoins to hotel to the south and east.

8.
Days Inn & Suites by Wyndham Surprise
12477 W Bell Road, Surprise, AZ 85374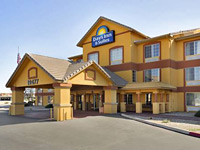 Although located along busy Bell Road, Days Inn Surprise is shielded from the highway by other buildings and so provides a peaceful night's sleep. The interior corridor motel has three floors and 60 rooms, all containing a microwave & refrigerator, some with views over the garden and outdoor pool/whirlpool, on the south side. Interior facilities are guest laundry, a business center and a 50 person meeting room. Wi-fi and continental breakfast are complimentary. Around a dozen restaurants can be found within three blocks, westwards along Bell Road.