1.
Holiday Inn Goodyear - West Phoenix Area
1188 N Dysart Road, Goodyear, AZ 85338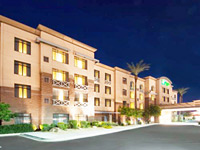 Holiday Inn Goodyear rises 4 floors above the surrounding flat land alongside I-10 (exit 129, Dysart Road) making the hotel easily recognizable for those arriving in Phoenix after the long drive across the western deserts. The substantial, modern building contains 100 rooms & suites - all new and very clean, a restaurant/bar, fitness center, convenience store, business center and five meeting rooms. At the rear is an outdoor pool and hot tub, surrounded by a small garden area. Other dining options are provided by various fast food restaurants nearby, and there is a shopping center one block north with various outlets including Fry's supermarket.

2.
Residence Inn Phoenix Goodyear
2020 N Litchfield Road, Goodyear, AZ 85338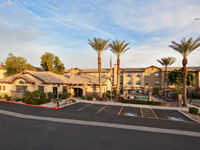 The greens of Palm Valley Golf Course make a scenic backdrop to Residence Inn Phoenix Goodyear, an upmarket, all-suite, long stay hotel of 78 spacious rooms, each with a full kitchen plus separate areas for living, working and sleeping. Complimentary full breakfast is served every day, and a free light dinner weekday evenings; for other meals there are many restaurants (and shops) half a mile south, around the junction of Litchfield Road and McDowell Road. Interstate 10 (exit 128) runs past a little further south, putting all other west Phoenix attractions within easy reach. The hotel has a sports court, outdoor pool and hot tub. Also in the vicinity are three hospitals - Palm Valley Hospice, Western Regional Medical Center and West Valley Hospital.
3.
Hampton Inn & Suites Phoenix-Goodyear
2000 N Litchfield Road, Goodyear, AZ 85395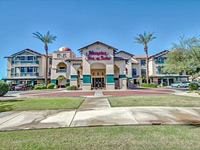 Hampton Inn Phoenix-Goodyear enjoys a scenic setting beside Palm Valley Golf Club, along Litchfield Road one mile north of I-10, in a peaceful neighborhood. Accommodations are divided into two blocks, separated by a courtyard garden and outdoor pool, with plenty of parking space all around the perimeter. There are many restaurants close by, to the south, and several large stores. To nearby health centers are West Valley Hospital and Western Regional Medical Center. Guests needing more space and facilities can opt to stay in one of the hotel's suites, which feature a full kitchen, sofa bed and separate living area. Complimentary amenities are hot breakfast and wi-fi, while the other leisure facilities are a hot tub, fitness center and basketball court.

4.
TownePlace Suites Phoenix Goodyear
13971 West Fillmore Street, Goodyear, AZ 85338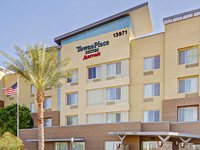 The TownePlace Suites by Marriott is one of a growing number of hotels in Goodyear, west Phoenix, and it enjoys a peaceful location at the edge of farmland, one block south of Interstate 10, within walking distance of several restaurants, shops, and Western Regional Medical Center (Cancer Treatment Centers of America). The residential accommodation consists of 118 suites (two bed, one bed and studio layouts), complete with a kitchen, separate sleeping/living areas, luxurious bedding, work desk and free internet access. Free buffet breakfast is served each morning. Exterior facilities include a small pool and a patio area with bbq grills.

5.
SpringHill Suites Phoenix Goodyear
1370 N Bullard Avenue, Goodyear, AZ 85338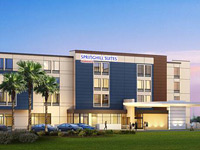 New for summer 2020, the SpringHill Suites provides affordable, all-suite accommodations, with amenities of free wi-fi, free breakfast, a 24 hour market, a fitness center and an outdoor pool. The 88 studio suites are equipped with refrigerator/microwave, and have views over the semi-rural surroundings - the hotel is situated near the edge of the city, one block from Interstate 10, at the McDowell Road/Bullard Avenue intersection, 17 miles west of downtown Phoenix.

6.
Best Western Phoenix Goodyear Inn
55 N Litchfield Road, Goodyear, AZ 85338-1283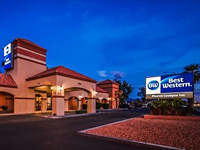 The Best Western Phoenix Goodyear Inn has quite a central location in town along Litchfield Road, one mile south of I-10 (exit 128) and 1 mile north of Goodyear Municipal Airport. The hotel is reasonably priced and well maintained, centered on a beautiful courtyard garden with patios, palm trees and an outdoor heated pool; its amenities also include a fitness center, games room and a restaurant/bar on site. All rooms contain microwave and refrigerator in addition to the usual amenities. Free continental breakfast is served.

7.
Comfort Suites Goodyear-West Phoenix
15575 W Roosevelt Street, Goodyear, AZ 85338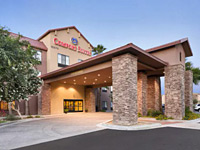 Comfort Suites Goodyear is perhaps the westernmost of hundreds of hotels in the Phoenix area, built at the edge of the countryside one block from interstate 10 along the Estrella Parkway (exit 126), about 2 miles from the center of Goodyear/Avondale. The 84 rooms are large and nicely decorated, equipped with microwave, refrigerator, coffee maker and ironing facilities; some have a wet bar and a whirlpool bath. The expected amenities of free continental breakfast, outdoor pool, hot tub, fitness center and guest laundry are all present, plus the hotel has good meetings facilities, with 5 rooms and 5,424 square feet of event space.

8.
Quality Inn & Suites Goodyear-Phoenix West
950 N Dysart Road, Goodyear, AZ 85338
Recently acquired by Choice Hotels, the Quality Inn & Suites Goodyear offers guests all the expected amenities for a mid price roadside motel including free continental breakfast, an outdoor pool/hot tub and a laundry facility. The building has an older, exterior corridor layout, centered around two courtyard gardens, one containing a large outdoor pool & hot tub. There are two restaurants adjacent, a shopping center on the opposite side of the street (N Dysart Rd), and more stores just to the north, across interstate 10.

9.
Super 8 by Wyndham Goodyear/Phoenix Area
840 N Dysart Road, Goodyear, AZ 85338-1111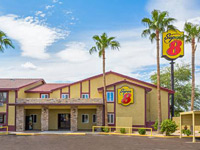 Sixteen miles west of downtown Phoenix, the Super 8 motel in Goodyear offers budget-priced accommodation in a colorful interior corridor building at the edge of a residential district close to I-10 at the Dysart Road intersection - 400 feet from the main road and so nice and quiet, especially the southwest-facing rooms at the rear, which overlook an outdoor pool. Free continental breakfast and free wi-fi are the other two amenities. Pets are welcome.