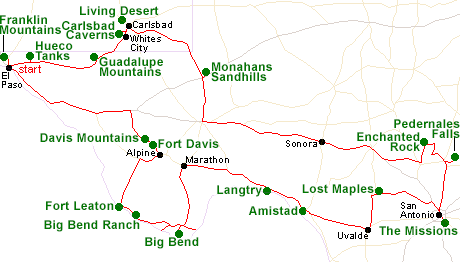 Day 1 - El Paso to Whites City, 183 miles:
The
Franklin Mountains
are worth a quick visit, bordering El Paso to the north and offering a great vantage point of the city and Fort Bliss. The surroundings are still relatively well developed 20 miles east at
Hueco Tanks State Park
, which features colorful granite outcrops and thousands of ancient inscriptions, but further east the land is almost completely uninhabited, start of the vast plains of the Chihuahuan Desert. The first night is spent in the small community of Whites City, near Carlsbad Caverns.
Hotel: White's City Cavern Inn
Day 2 - Whites City, 70 miles:
A short drive back west reaches
Guadalupe Mountains
, a large but relatively little-known national park best appreciated by hiking; recommended trails include
Devils Hall
,
McKittrick Canyon
and perhaps one of the more strenuous summit hikes like
Guadalupe Peak
, at 8,749 feet the highest mountain in Texas.
Hotel: White's City Cavern Inn
Day 3 - Whites City to Carlsbad, 45 miles:
Just over the border in New Mexico,
Carlsbad Caverns
occupies part of the same limestone range as Guadalupe Mountains; besides its spectacular main caves, viewable in 2 to 3 hours, visitors may take guided tours of other caverns, walk one of the backcountry trails, and drive the short scenic loop. From the national park it is a quick drive east to Carlsbad, which has one worthwhile attraction in the
Living Desert State Park
, a comprehensive collection of plants and animals of the Chihuahuan Desert.
Day 4 - Carlsbad to Sonora, 330 miles:
A day of mostly driving starts by crossing the oilfields of far southeast New Mexico along Hwy 128, back across the Texas stateline and on to Monahans beside I-20. A few miles east,
Monahans Sandhills State Park
contains beautiful dunes of golden white sand, a popular location for for camping, photography and sand-based recreation. Continuing south then east along I-10, the surroundings gradually become less desert-like as the Texas Hill Country approaches, around the city of Sonora. One potential side trip here is to the Caverns of Sonora, which contain amazingly intricate limestone formations.
Day 5 - Sonora to San Antonio, 272 miles:
Two of the Texas Hill Country's most popular parks are visited on day five;
Enchanted Rock
, centered on a huge pinkish dome of volcanic granite, and
Pedernales Falls
, where the Paluxy River flows through an enchanting series of pools and cascades. From here a quick drive south along US 281 reaches San Antonio, Texas' second city (by population).
Day 6 - San Antonio to Uvalde, 145 miles:
Besides all its varied cultural and recreational attractions, including the famous Riverwalk, San Antonio contains one NPS unit, the
Missions
, preserving four ornate Spanish churches dating from the early 1700s. These all lie quite close together, southeast of the city center. Natural landscapes return when driving west, back into the wooded Hill Country and to
Lost Maples State Natural Area
, a tranquil preserve with deep canyons, clear-running rivers and varied plantlife.
Optional extra day: more time in San Antonio
Day 7 - Uvalde to Marathon, 255 miles:
The road west from Uvalde descends gradually back into desert lands, and reaches the Rio Grande just beyond Del Rio, where the river is dammed to form a large, branched reservoir (
Amistad National Recreation Area
), a good location to cool off in the summer heat. The main road US 90 next reaches the river at
Langtry
, a tiny village with a historic past - once the abode of Judge Roy Bean, the 'Law West of the Pecos'. The surroundings become ever more desolate further west, and the next significant town (Marathon) is over 100 miles away.
Day 8 - Marathon to Big Bend National Park, 110 miles:
The east entrance to
Big Bend National Park
is 40 miles south of Marathon. This huge desert preserve, one of the most remote NPS units in the Southwest, has a great variety of terrain to explore; suggested locations for the first day include
Devils Den
,
Boquillas Canyon
and the
Hot Springs
.
Day 9 - Big Bend National Park, 90 miles:
All of the next day is spent in Big Bend, mostly in and around the
Chisos Mountains
, perhaps taking the 9 mile (round trip) hike to
Emory Peak
, the highest summit in the park. Other, shorter, popular trails in this region include
Lost Mine
,
Mule Ears
,
Burro Mesa Pouroff
and
Blue Creek Canyon
. Highlight of the southwest section of the park is
Santa Elena Canyon
, where vertical cliffs soar 1,200 feet above the Rio Grande.
Day 10 - Big Bend National Park to Alpine, 180 miles:
The road west of Big Bend National Park stays close to the Rio Grande and winds through the southern edge of
Big Bend Ranch State Park
, another spectacular desert preserve, most of which is only reachable by long hikes or slow journeys on rough, unpaved roads. One site close to the highway is
Closed Canyon
, a narrow, slot-like ravine, while just west of the boundary, the road passes by
Fort Leaton State Historic Site
, which protects a well preserved 19th century adobe fort. The day is completed by driving north, through Presidio to Alpine.
Day 11 - Alpine to El Paso, 220 miles:
Northwest of Alpine, Hwy 118 crosses one mountain range and descends to the town of Fort Davis, site of two interesting preserves.
Fort Davis National Historic Site
contains a military outpost in operation from 1854 to 1891, and has a mixture of restored buildings, ruins and foundations. A few miles west,
Davis Mountains State Park
occupies a small section of hilly land with varied plant life; not a major destination, but worth a short visit. The tour is completed by the long drive back to El Paso, along US 90 and I-10.