Monahans Sandhills is a small but popular state park, covering just a few square miles of a broad, intermittent band of sand dunes that extends for 200 miles, from east of Monahans in Texas, northwestwards into New Mexico, where sites include the Mescalero Sands Recreation Area near Roswell. The park is not in the same league as much larger Southwest preserves like Great Sand Dunes or White Sands, yet the scenery is pretty, especially at sunrise or sunset, and the park has a good, reasonably-priced campsite right at the edge of the best, least-vegetated section of the sands.

Other facilities are a visitor center, picnic shelters, an equestrian day-use area, and a quarter mile nature trail through a collection of Chihuahuan Desert plants; in general as the park is small in area there isn't much to do, so camping and recreation like sand surfing and sun bathing are the main activities. The park was opened in 1957 and is operating under a 99 year lease from the Sealy-Smith Foundation, hence the land may be returned to private ownership in 2056.


Map of Monahans Sandhills State Park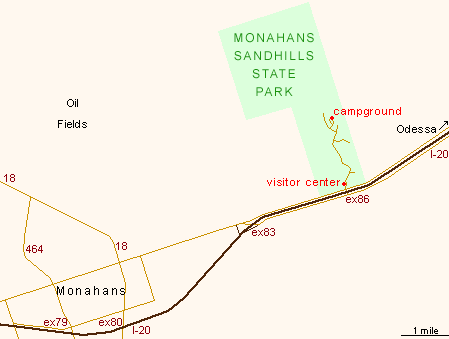 Facilities

The sandhills are located on the east side of Monahans, 30 miles from Odessa beside I-20, and they have a dedicated interstate exit (no. 86). The land at either side is also sandy but quite bushy, and used for oil drilling - countless oil wells (pumpjacks) are scattered over the surrounding flat plains of the Permian Basin, for several hundred miles in some directions. The short state park road passes the self-pay fee station (entrance $4 per person in 2020), visitor center and several spurs to picnic areas and access points, then ends at a loop through the campground, next to the purest part of the sands. The active, whitish dunes rise up to 70 feet high and stretch for half a mile or so before becoming rather overgrown; the limited vegetation is a mixture of grass, shinoak, cacti and thin-leafed, yucca-like plants. The campsite has full hookups, the 25 sites are reasonably well separated and the place is a good choice for overnight stays if traveling cross-state on I-20. The surroundings are particularly serene at sunset, when the sands glow golden-orange, and the sparse vegetation creates long, delicate shadows across the surface.