1.
Hampton Inn Monahans
2021 S Ilda Avenue, Monahans, TX 79756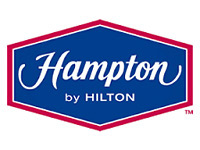 The Hampton Inn is a south Monahans hotel, along the I-20 frontage road by the Stockton Avenue exit, within walking distance of several restaurants and small shops. Million Barrel Museum, 2.5 miles north, has many exhibits about the west Texas oil industry. Wi-fi, parking and daily hot breakfast are complimentary. The hotel has a 24 hour business center and a 300 square foot meeting room. Guests can relax by the outdoor pool, and have use of a fitness center.

2.
Hawthorn Suites by Wyndham Monahans
1607 S Stockton Avenue, Monahans, TX 79756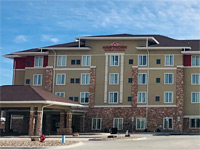 One of several hotels to open in Monahans in 2020, the pet friendly Hawthorn Suites benefits from a relatively quiet location, set back a little from the main road (Stockton Aveniue), two blocks north of the I-20 intersection, and a short walk from a good selection of restaurants. All accommodations are studio suites, with kitchen facilities, while general amenities are coin-operated laundry, a fitness center, bbq grills and a meeting room. Hot breakfast and wi-fi are complimentary.

3.
Holiday Inn Express and Suites Monahans - I-20
108 West 19th Street, Monahans, TX 79756
The Holiday Inn Express hotel adjoins the central of Monahan's three I-20 exits (Hwy 18 from Fort Stockton), built along a residential side street opposite an IHG sister hotel (Candlewood Suites). Guests are accommodated in 80 large, modern rooms & suites, all with microwave & small refrigerator; the suites have a full wet bar. A 24 hour fitness center, barbeque grills and outdoor saline pool/whirlpool are the leisure amenities. Good quality free hot breakfast buffet is prepared each morning. A business center and 744 sq ft meeting room are also available.

4.
Candlewood Suites Monahans
1902 S Stockton Avenue, Monahans, TX 79756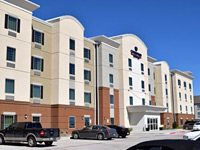 Like most hotels in Monahans, the Candlewood Suites is built beside the main I-20 exit for town (Stockton Avenue), next to several gas stations and restaurants; the central area is a few blocks north, while the neighboring cities of Odessa and Pecos are both around 40 miles away. The hotel provides modern, all-suite accommodation; all rooms have living space, a full kitchen and a large work desk. Meals may also be cooked on the bbq grills in the gazebo, while drinks & snacks can be purchased 24 hours a day from the Candlewood Cupboard convenience store.

5.
Best Western Plus Monahans Inn & Suites
2101 S Betty Street, Monahans, TX 79756-7502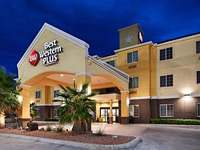 The first chain hotel to open in the small west Texas town of Monahans was the Best Western Monahans Inn & Suites, a modern, 50 room, three floor property on the south edge of the suburbs, one block east of exit 80 of I-20 (Stockton Avenue/TX 18). Monahans is about half way between El Paso and Abilene, and a useful stop for people traveling to
Big Bend National Park
from the north. The inn has an indoor pool/hot tub, exercise facility and free breakfast bar. There are several fast food restaurants across the road.

6.
Fairfield Inn & Suites Monahans
1517 S Stuart Avenue, Monahans, TX 79756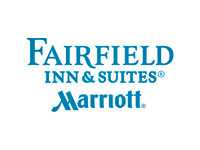 The 95 room/suite Fairfield Inn (open spring 2021) is the first Marriott hotel in Monahans, and the first hotel on the east side of the city - along the northern I-20 frontage road, opposite Ward County Event Center. There is one restaurant in the vicinity. Million Barrel Museum is one mile north, while most other facilities in town are between 2 and 3 miles away. Free breakfast is served each morning, including a selection of hot items; other amenities are a fitness center, outdoor pool and a business center.

7.
Comfort Inn & Suites Monahans
2200 S Stockton Avenue, Monahans, TX 79756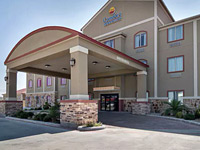 Comfort Inn & Suites Monahans is a spacious and comfortable hotel of 62 rooms, built just south of Interstate 20 along Stockton Avenue, close to a few restaurants & gas stations but situated in a generally quiet and residential area at the edge of the countryside. Free continental breakfast, an indoor pool, fitness center, laundry, business center and meeting space are the main amenities. Accommodations are bright and well-equipped, featuring a microwave, refrigerator, executive desk and pillow top mattresses. The nearest natural attraction hereabouts is
Monahans Sandhills State Park
, 6 miles east.

8.
Microtel Inn & Suites by Wyndham Monahans
813 W Service Road, Monahans, TX 79756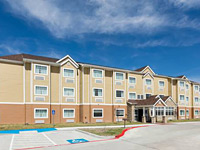 Microtel Inn Monahans sits along the northern I-20 frontage road by the Hwy 18 intersection, overlooking open fields to the west. All the oversized guest rooms feature a microwave and refrigerator, while the suites have a full kitchenette, and a sofabed. A barbecue facility provides an alternative to in-rook cooking, there are plenty of restaurants within walking distance, and the hotel provides free hot breakfast. Wi-fi is also complimentary. A pool and fitness center are available for relaxation.
9.
Motel 6 Monahans
701 W Service Road I-20, Monahans, TX 79756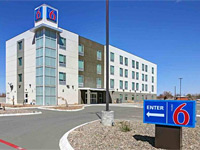 Open fall 2021, Motel 6 Monahans occupies a newly-constructed, four floor building, alongside the northern I-20 frontage road though set back a little and so offering a peaceful nights sleep. Amenities at the pet friendly property are free wi-fi, free coffee and coin-operated laundry. A few rooms have kitchenette facilities. The motel is part of the main group of lodging in the city, beside exit 80 of the interstate.