The Texas Hill Country begins a little way west of I-35 between San Antonio and Austin, and from here extends a large area of rolling hills and valleys with limestone canyons, clear-water rivers and only a few scattered towns. Most is quite densely wooded and can look rather featureless from a distance, with every hill covered with trees.

One exception is Enchanted Rock, comprising several large domes of pinkish granite rising 450 feet above the surrounding plateau, which has long been a useful landmark for cross-country travelers. The rock is a batholith, a protrusion of volcanic origin, and part of an underground mass of 90 square miles, one of the largest such features in the US.


Map of Enchanted Rock State Natural Area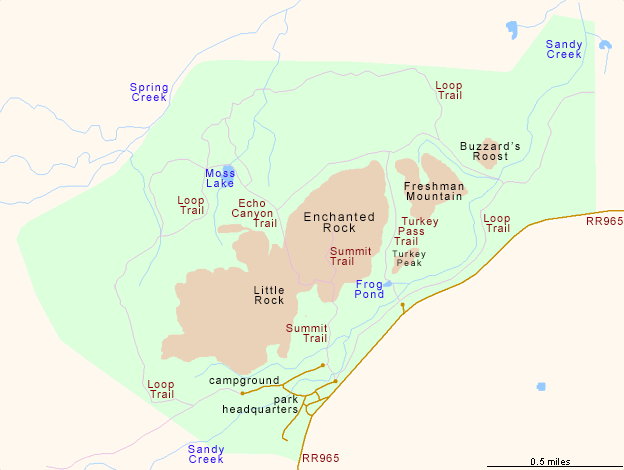 A Popular State Park
Enchanted Rock is situated towards the northeast of the Hill Country region, 18 miles from
Fredericksburg
along ranch road 965. It rather isolated and is not on a direct route to anywhere else, so some determination is needed to visit. The park is now a National Natural Landmark and part of the state park system, one of the most popular sites in Texas for several reasons - the scenery is unusual, the summit is easily reached and has fine views over the countryside, different habitats harbour varied wildflowers, cacti and other plants, and there are good hiking trails and rock climbing routes. Occasionally visitors are turned away if the carpark reaches maximum capacity. There are actually several different summits, and a few days could be spent exploring the area.
Enchanted Rock Trails
Near the state park entrance is a 46 site campground, for tents/cars only. Two trails start nearby and almost everyone who visits tries one or both of them:
Summit Trail - an easy, fairly direct route to the top of the highest rock (half a mile, elevation gain 425 feet).


Loop Trail - a circular 4 mile path that passes around most of the different granite peaks.

A Loop Hike

A good combination is to walk half the loop trail to the far side of the Enchanted Rock summit, use a short cut along a ravine (Echo Canyon) to link with the summit trail then take this up to the peak. The southern part of the loop trail climbs through pine woodland and past large granite boulders with many colorful wildflowers during spring. There is a short side trail to a viewpoint of distant lands to the west, while the main path continues past a primitive camping area and a large pond (Moss Lake) with fish and turtles, then meets the Echo Canyon junction. The trail through here passes one of the main rock climbing areas, then meets the summit trail half way to the top.


Enchanted Rock Summit

Plants and boulders are scattered over the lower slopes of the rock but the summit is just bare granite, with occasional fissures and hollows. There is a full 360° view from the top, but with no outstanding landmarks, only much empty wooded land crossed by a few straight roads. To the north of the summit lies Enchanted Rock Fissure, a deep, narrow, cave-like ravine with sheer drops and tight passages. Some climbing ability is needed to explore this feature.