1.
Hampton Inn & Suites Fredericksburg
515 East Main Street, Fredericksburg, TX 78624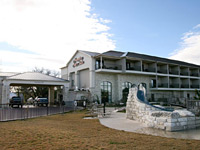 At the front of Hampton Inn Fredericksburg is a well laid out garden featuring fountains, a gazebo, hot tub and a large landscaped pool complete with two bridges and a waterslide; the parking lot is at the rear, away from the main road. Some of the rooms overlook the pool, but all have good views of the surroundings from their private balconies. The hotel is part of a leafy residential district a few blocks southeast of the city center, close to several restaurants; interior facilities are a fireplace lobby, a business center, fitness center and a dining room where the daily free hot breakfast is served. A selection of suites are available for guests needing extra facilities and space.

2.
Holiday Inn Express Hotel & Suites Fredericksburg
500 S Washington Street, Fredericksburg, TX 76824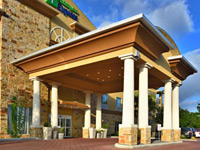 In a peaceful, mostly residential area on the south side of Fredericksburg, the Holiday Inn Express is situated along Washington Street (US 87), close to a few restaurants and small shops. Many more are found half a mile north on Main Street, as are other attractions like National Museum of the Pacific War and Vereins Kirche Pioneer Museum. Highlight of the 76 room hotel is the extensive outdoor pool area, which includes fountains, waterfalls, a water slide, a whirlpool and a partially submerged sun deck. Inside, the main facilities are a fitness center, business center, guest laundry and two meeting rooms. Free hot breakfast buffet is prepared each morning.

3.
Best Western Fredericksburg
314 E Highway Street, Fredericksburg, TX 78624-5010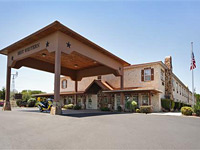 The Best Western Fredericksburg is another hotel just south of downtown, on the corner of Washington Street (US 87) and Highway Street - in a quiet, residential area a little separated from the main highway. Many state parks of the Texas Hill Country are within an hour's drive, including
Enchanted Rock
,
Pedernales Falls
, Kerrville-Schreiner and Guadalupe River. The hotel has a suitably Germanic design, and offers free continental breakfast, an outdoor pool and free high speed internet access. There are 56 rooms in the 2 floor building - somewhat aged but well enough maintained.

4.
Fairfield Inn & Suites Fredericksburg
513 Friendship Lane, Fredericksburg, TX 78624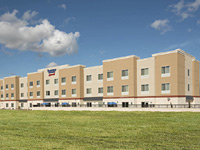 Marriott's first representative in Fredericksburg is the 78 room/suite Fairfield Inn, located along a quiet country road at the south edge of the city, partly surrounded by farmland. US 87 runs past a short distance west, reaching the city center in 1.5 miles. The nearest restaurants and supermarkets are about one mile away. All accommodations feature a microwave & refrigerator, while the studio suites have a sofa bed and partitioned living area. The free breakfast comes with a selection of hot items. The hotel also has a fitness room and an indoor pool.

5.
Comfort Inn & Suites Fredericksburg
723 S Washington Street, Fredericksburg, TX 78624
Along Washington Street (US 87), Comfort Inn Fredericksburg is situated a mile south of the downtown area, close to the edge of town and the start of the hilly farmland that surrounds Fredericksburg for many miles in all directions. The inn is quite a substantial, fairly new building with 57 rooms on 3 floors, plus an outdoor pool, hot tub, fitness center and dining area offering free full breakfast. Accommodation is spacious, well maintained, and equipped with ironing facility, microwave, refrigerator & wet bar; also available are several suites, featuring either a kitchenette or a whirlpool bath.

6.
Days Inn by Wyndham Suites Fredericksburg
808 South Adams Street, Fredericksburg, TX 78624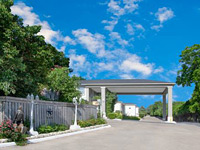 Days Inn Fredericksburg is part of a small group of motels along Adams Street (Hwy 16), close to Hill Country Memorial Hospital and the local high school, plus a number of restaurants and small shops. The nearest supermarket (HEB) is 0.4 miles north, while most sites in the historic city center are between 0.8 and 2 miles away. The pet friendly motel offers interior corridor lodging in a compact, two floor building of just 30 rooms, well shielded by large trees from the main road, with views of a small area of adjacent woodland. An outdoor pool, gazebo, and free continental breakfast are the main amenities. All guest accommodations contain a microwave, refrigerator and sofa bed.

7.
Econo Lodge Fredericksburg
810 S Adams Street, Fredericksburg, TX 78624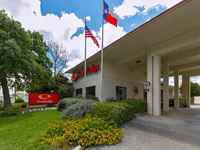 Like most motels in Fredericksburg, the Econo Lodge is situated a few blocks south of the town center, and it features 36 exterior corridor rooms all on the ground floor, some overlooking the outdoor pool & hot tub, and all having a microwave, coffee maker & cable TV. Free continental breakfast is provided, and there are several restaurants within walking distance. Although room rates are quite cheap, the inn receives some of the better reviews for Fredericksburg hotels on account of its general cleanliness, and the helpful staff.

8.
Super 8 by Wyndham Fredericksburg
514 East Main Street, Fredericksburg, TX 78624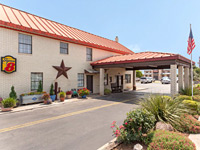 Super 8 Fredericksburg sits along Main Street, one block from George HW Bush Gallery and the National Museum of the Pacific War, and within a mile of most other attractions in the city center. The exterior corridor, refrigerator/microwave-equipped rooms face north or south, looking out across the spacious parking area to the tree-lined surroundings, a mixture of residences, other hotels and restaurants. Wi-fi and breakfast (continental) are complimentary. The motel also has a business center, outdoor pool and meeting space for up to 35 people.