1.
Hampton Inn Kerrville
2038 Sidney Baker Street, Kerrville, TX 78028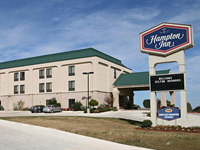 Although one of Hilton's older properties, the 60 room Hampton Inn Kerrville still offers quality accommodations at competitive rates, with a good range of amenities that includes free hot breakfast (take-out version available), fitness & business centers, a sauna, outdoor pool and meeting space for up to 80 people, together with a comfortable lobby where free coffee & tea are provided. The hotel has a northeasterly location in Kerrville near I-10 exit 508, close to several restaurants and a Lowes superstore. The main natural attraction in town, Kerrville-Schreiner State Park, is 4.5 miles south.

2.
Holiday Inn Express Hotel & Suites Kerrville
2114 Sidney Baker Street, Kerrville, TX 78028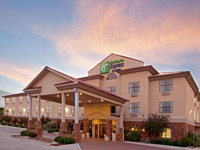 Kerrville's Holiday Inn Express is a relatively new hotel along Sidney Baker Street, set back a little from the highway and right next to interstate 10 (exit 508). The center of Kerrville, where most shops and restaurants are located, is 2 miles southwest, though there are several places adjacent to the hotel. The three floor, 64 room/suite property features a large outdoor pool and hot tub, both in the shape of Texas, and enjoying a sheltered, private aspect at the rear of the hotel. Good quality free hot breakfast buffet is served each morning

3.
Best Western Sunday House Inn
2124 Sidney Baker Street, Kerrville, TX 78028-2535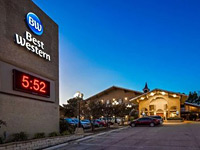 Most hotels in Kerrville are found along Sidney Baker St (TX 16), north of the town center and south of exit 508 of I-10. Best Western Sunday House Inn is the closest to the interstate, on the north side of highway 16, and has 97 rooms, a shady outdoor pool and an on-site restaurant which serves free full breakfast (except Mondays). Entrance is through a large open lobby, built in the style of a German mountain lodge. The hotel receives favorable guest comments on account of the good location, friendly staff, large & clean rooms, and the reasonable rates.

4.
Quality Inn & Suites Kerrville
2001 Sidney Baker Street, Kerrville, TX 78028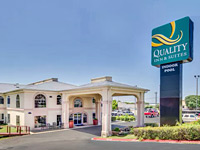 Another of the many motels at the north end of Sidney Baker Street in Kerrville, TX, the Quality Inn & Suites is situated on the south side of the road, half a mile from I-10 (exit 508), close to a fair selection of restaurants. The hotel has 55 quiet & comfortable rooms (all containing microwave/refrigerator), an indoor swimming pool and a dining area for the free continental breakfast, which has an above average selection of items.

5.
Days Inn by Wyndham Kerrville
2000 Sidney Baker Street, Kerrville, TX 78028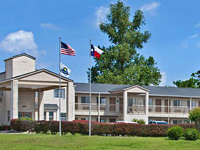 Days Inn Kerrville is a typical small, affordable roadside motel of 42 mostly exterior corridor rooms on two floors, with views of the parking lot and outdoor pool, which is situated at the front of the property close to the main road (Hwy 16). This location is 1.5 miles northeast of the city center and the Guadalupe River, close to the I-10 intersection. Guest rooms benefit from a microwave, refrigerator and free internet access; continental breakfast is also complimentary. A few accommodations contain a hot tub bath. At least a dozen restaurants are within easy walking distance.

6.
Super 8 by Wyndham Kerrville
2127 Sidney Baker Street, Kerrville, TX 78028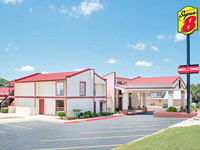 The Super 8 in Kerville provides the closest accommodations to Interstate 10, being located at the north side of town along Hwy 16, adjacent to several gas stations and restaurants though bordering a stream and woodland to the south. Guest rooms (all containing refrigerator/microwave) are divided between several two floor, exterior corridor blocks centered on a courtyard garden with hot tub and tree-lined pool, and most are well shielded from the main road, behind the office buildings. Continental breakfast is complimentary, as is wi-fi.
7.
Motel 6 Kerrville
1810 Sidney Baker Street, Kerrville, TX 78028
Rooms at Motel 6 Kerrville are basic but clean, and rates are low. The exterior corridor inn is situated along the main road through town (TX 16: Sidney Baker Street), though set back about 300 feet from the highway and so providing a quiet night's sleep. Some rooms contain a microwave & refrigerator, and all have free internet access; other hotel amenities comprise an outdoor pool, free coffee and a coin-operated laundry. There are several restaurants nearby, and a Home Depot just across the street.